Best 8 baby travel playpen & baby playpen gates
When traveling you need – just like you do at home – a few moments for yourself every once in a while, even if it's just to go to the bathroom.
But as we all know, a crawling baby or a curious toddler can turn a room into a war zone in about 3 seconds.
To prevent that from happening you'll want a care-free space. No pulling at cables in your Airbnb, no writing on the walls of your hotel room.
And thus we present to you: the baby travel playpen!
In general, it's a rectangular box made out of a mesh fabric in which you can put your baby without them being able to crawl out.
You might want to use this on your travels or maybe you need one at home too or for outdoors!
We will also help you determine whether you prefer a portable playpen or baby playpen gates.
There's a good chance this post contains affiliate links. This means that if you purchase anything through one of our links, we'll receive a small fee (it won't cost you anything, promise!). As an Amazon Affiliate, we earn from qualifying purchases. If you would like to learn more about our affiliate partners, click here for our disclaimer.
---
QUICK GUIDE: top picks
---
COMPARISON CHART
---
IMAGE
PRODUCT
SURFACE & WEIGHT
Summer Infant Pop 'n Play

compact fold | mesh sides | playpen with canopy

14sq ft | 12lbs
CHECK PRICE ►
Babyseater Infant Pop 'n Play

zip down side door | mesh sides | padded floor

21.5 sq ft | 15lbs
CHECK PRICE ►
Regalo My Portable Play

all-steel frame with foot locks | 2 sizes | 3 versions (regular, deluxe, canopy)

13.7/23 sq ft | 12.15/16.8 lbs
CHECK PRICE ►
Pop 'n Go Playpen

UV shade cover | extreme lightweight

59"x40" | 7.2lbs
CHECK PRICE ►
Evenflo Versatile Play Space

expandable with extra panels | stakes for stability outdoors | anti-scratch pads for indoors

18.5 sq ft | 16.88lbs
CHECK PRICE ►
Gupamiga Play Yard

expandable with extra panels | anti-slip rubber feet

25 sq ft | 32.8lbs
CHECK PRICE ►
Regalo Super Wide

from baby gate to playpen | adjustable in any area

19 sq ft | 31.3lbs
CHECK PRICE ►
INFORMATION GUIDE
---
Do I need a baby playard or baby playpen gates (when I travel)?
A child playpen offers several benefits, especially once your little one starts crawling around.
But even before that, a baby (gate) play yard offers a safe place where you can rest assured that they won't hurt themselves.
Whether or not you need a foldable playpen when you are traveling is, of course, entirely up to you.
However, in most cases taking an extra item if you are flying might not be the smartest choice. Your travel crib, for example, can easily double as a kids play yard.
On the other hand, should you travel by car or RV, you don't have to worry that much about space.
It could be nice to bring something extra to keep your child secure on top of their sleeping arrangements, especially if you can put it outside.
There are a couple of other situations in which a baby or toddler play yard can come in handy.
If you are co-sleeping with your child you don't bring a travel crib, but you might still be in need of a childproof area during the day.
Or maybe you'll receive a baby bed from the hotel, but it's not suitable for playing?
TIP: Bring some toys so your baby or toddler can play by themself for a little while. Although it is difficult to bring a pile of books on a trip, they are such an important item for playing and as a nighttime ritual. We always bring at least 3. Take a look at this article to learn more about the best board books for toddlers.
What are the benefits of an infant playpen?
Security: The first and main reason to invest in a baby playpen (gate) is for their security.
They provide a place to leave your child – not completely unsupervised obviously – but without the need to watch their every move like a hawk.
This is especially the case if you are living or staying at a place with open stairs or other high drop-offs.
Travel-friendly: They are great to travel with, as they are portable and usually lightweight.
Not all of them are suitable for air travel, but even the heavier and bigger ones are great to use at home, take with you to a friend's house, go to the beach, etc.
Independence: You can let your baby adjust to some 'alone play time' by putting them in the infant play yard with a couple of toys.
Because they are in an isolated and harm-free environment, you do not need to worry about them falling over and getting hurt.
Outdoor trips: An outdoor playpen is a great option for beach, camping or picnic trips.
You can pop them open and your child has a safe spot to play or nap, without getting bothered by the sun (either put it in the shade or buy one with a cover).
You don't have to worry that they will crawl off to a dangerous place like a lake or the ocean.
Versatility: Depending on what kind of playpen you choose, they can be used for both play-time and napping.
Sometimes, you can even add diaper changes into the mix as well.
Although if you are looking for a 3 in 1 playpen, take a look at our post about the best travel beds for babies and toddlers.
What to look for in a portable baby playpen?
flexibility: Do you want to use your travel playard only as a play station? Or does it have to double as a travel crib or diaper bassinet?
lightweight & folded dimensions: when travelling these 2 categories might be the most decisive.
However, if you are travelling by car you have a bigger margin than when you're travelling by air or public transport.
ESSENTIAL BABY & TODDLER TRAVEL ITEMS
THE BEST BABY TRAVEL PLAYPEN 2023: REVIEWS
---
Summer Infant Pop N Play Portable Playard
The baby boy or baby girl playpen is 48″ (122 cm) wide and 26″ (66 cm) tall and folds up to 38″x7″x7″ (96.5 x 17.8 x 17.8 cm).
The summer play yard comes with a travel bag as well as a strap to transport it easily.
Best of all is that it only weighs 12 pounds (5.4 kg), making it one of the lightest portable playards around.
It is available in 2 bright colors (blue and green) and you can opt for the regular, a half-canopy or a full canopy version.
---
Babyseater Infant Pop n Play
Furthermore, the Babyseater baby girl and baby boy playpen comes with a travel bag with strap for easy transport.
At 15 lbs (6.8 kg) it is still fairly lightweight.
Folded down the dimensions are 30.9″ x 9.4″ x 8.9″ (78.5 x 23.9 x 22.6 cm), but it opens up to 5 x 5 feet/21.5 square feet (1.5 x 1.5m/2m2) and 21.6″ high (55 cm). Which makes it a very large playpen.
When you want your baby to crawl in and out freely, you can just zip down the side door.
---
Regalo Portable Playard
The Regalo child play yard comes in two sizes.
The My Play 6-panel is 48″ (1.2 m) wide and 26″ (66 cm) tall, which gives your baby a play area of about 13.7 square feet (1.27 m2).
It weighs 12.15 lbs (5.5 kg). The My Play 8-panel is 62″ (1.57 m) wide and 26″ (66 cm) tall, which makes for a play area of 23 square feet (2.15 m2).
This one weighs 16.8 pounds (7.6 kg). There's also a deluxe version and an outdoor version available.
Unfortunately, the Regalo small playpen and baby playpen large are not available at Amazon UK .
---
Pop 'n Go Ultralight Playpen
The walls are made out of an extra strong mesh fabric and everything comes with reinforced stitching.
This all adds to the safety of this winter and summer playpen.
Setting it up is quick and easy: you simply fold it down and lift it up after which you cross your hands and give it a short and hard push until you hear a click.
The side door makes it easy for your baby of for an adult to crawl in and out.
Even with the canopy it is suitable as a large playpen for toddlers because from bottom to top it measures 40.6″ (103 cm).
The Exqline play pen measures 132cm across the surface area of the playpen, which gives it a square footage of 15.7 (1.46 m2)
The folding playpen doesn't come with a padded bottom but you can buy a separate self-inflatable play yard mattress to give your baby more comfort when they're playing or napping. Click here to check it out.
At Amazon Uk, you can find the same playpen, check the Exqline Playard out here.
---
THE BEST BABY GATE PLAYPEN 2023: REVIEWS
---
Evenflo Versatile play space
The baby gates playpen is quick and easy to assemble thanks to the hinge-system which requires no additional tools.
Because of this, it is also possible to buy an extra set and connect them all together to make a giant (outdoor) play yard.
This would make for an awesome toddler playpen.
If that is somewhat over the top, but you would still like to enlarge the play yard gate, it is possible to buy a 2-panel extension.
This will expand it to a big playpen of 34.5 square feet (3.2m2). Click here to see current prices.
Thanks to the foldable molded handle, the set is portable so you can easily take it with you on a trip.
At 16.88 pounds (7.6 kg) it is not ultra lightweight, but still very decent.
The playpen gate is available in grey, creme and a very bright multicolor.
Unfortunately, the Evenflo Versatile Play Space is not available on Amazon UK.
---
Gupamiga playpen gate
A standard set consist of 14 panels that make a square playpen of about 5'x5′ (1.5 x 1.5 m).
This makes a total of 25 square feet (2.25m2) of fun.
It is possible to buy extra panels to expand it into an extra large playpen. The total weight is 32.8 pounds (14.9 kg)
Unfortunately, this item is not available at Amazon Canada, but you can find very similar ones.
---
Regalo Superwide adjustable baby gate 4-in-1 playpen
A lot of parents use these baby gates in their own homes, but they are actually pretty useful on vacation as well.
Especially when you are renting a cabin or house that isn't childproof. The panels fold flat, so portability isn't a problem.
The Regalo superwide is a metal playpen with a walk-through door with safety locking.
You should attach it to the wall for added security (4 wall mounts are included in the package).
Unfortunately, the Regalo superwide 4-in-1 play pen is not available at Amazon UK
---

Mums on Flipflops is a participant in the Amazon Services LLC Associates Program, an affiliate advertising program designed to provide a means for sites to earn advertising fees by advertising and linking to amazon.com, amazon.co.uk, amazon.ca, amazon.de, amazon.fr, amazon.it and amazon.es. Amazon and the Amazon logo are trademarks of Amazon.com, Inc. or its affiliates.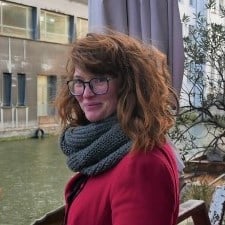 ABOUT THE AUTHOR
Babs Rodrigus is the co-founder and main writer of Mums on FlipFlops . She is absolutely crazy about traveling – especially together with her wife and kids. Babs loves animals, chocolate (what did you expect from a Belgian?), reading, and writing.
---