If you are looking for the best travel gifts for mom for her birthday or the holidays, stop your search and pick your favourite from this list.
Whether you need something for your mother, your wife or a friend, finding good gifts for travellers isn't always easy. You want a present that is useful or meaningful but it still has to be compact enough to take with her.
Together with travelling moms, we've compiled a list of over 50 activities or accessories that will be on the wish list of any globetrotting mom. To make it easier for you, we've divided them into three budget groups: small, medium and high.
There's a good chance this post contains affiliate links. This means that if you purchase anything through one of our links, we'll receive a small fee (it won't cost you anything, promise!). As an Amazon Affiliate, we earn from qualifying purchases. If you would like to learn more about our affiliate partners, click here for our disclaimer.
Travel gifts for moms: top picks
Gifts for moms who travel: Small, medium & higher budget
Small budget
Electronic organizer (#AffiliateLink)
---
Packing Cubes (#AffiliateLink)
---
Travel Jewelry Organizer (#AffiliateLink)
---
Travel Hair Dryer (#AffiliateLink)
---
Travel Document Organizer (#AffiliateLink)
---
Travel-themed jewelry (#AffiliateLink)
---
Collapsible Water Bottle (#AffiliateLink)
---
Cosmetic Bag (#AffiliateLink)
---
Waist Bag / Fanny Pack (#AffiliateLink)
---
Body Cream (#AffiliateLink)
---
Travel Journal (#AffiliateLink)
---
Infinity scarf with hidden pocket (#AffiliateLink)
---
Inflatable Footrest (#AffiliateLink)
---
Eye Mask (#AffiliateLink)
---
World Map Coloring Poster (#AffiliateLink)
---
Airplane foot rest (#AffiliateLink)
Tshirt with travel quote (#AffiliateLink)
Travel Memory Box (#AffiliateLink)
Pocket watercolor kit (#AffiliateLink)
Travel Scrapbook (#AffiliateLink)
Portable essential oils diffuser (#AffiliateLink)
Medium budget
Anti-Theft Travel Purse (#AffiliateLink)
---
Personalized camera strap (#AffiliateLink)
Portable Coffee Maker (#AffiliateLink)
---
Barefoot Travel Shoes (#AffiliateLink)
---
Organic Facial Sunscreen (#AffiliateLink)
---
Packable Rain Jacket (#AffiliateLink)
---
iPad Case (#AffiliateLink)
---
Nursing Pillow (#AffiliateLink)
---
Wrap Scarf (#AffiliateLink)
---
Travel Blender (#AffiliateLink)
---
Hip Seat Carrier (#AffiliateLink)
---
Mifold Grab-and-go Booster Seat (#AffiliateLink)
Higher budget
Ebook reader (#AffiliateLink)
TIP: If she already owns an ebook reader, a great alternative is Amazon's e-reader membership with over 1 million titles and thousands of audiobooks available for a fixed price per month. Click here to learn more.
---
Essential Oil diffuser in glass (#AffiliateLink)
---
Travel Backpack (with daypack) (#AffiliateLink)
---
Tieks foldable travel flats (#AffiliateLink)
Look, there's no way around it: Tieks are expensive. There. I've said it. But man, are they worth it!
Available in over 60 prints and both in leather as vegan ones, being trendy is not a problem at all. But the fact that they are super comfortable to walk around in all day and you can fold them to this tiny package makes them superb travel companions. They've been recommended by Oprah and many fulltime world travelers.
---
Metal World Map Wall Decoration (#AffiliateLink)
---
Baby Carrier (#AffiliateLink)
---
Filtered Water Bottle (#AffiliateLink)
Memberships
A subscription to something we like or need might be one of our personal favorites. It's an original gift and avoids the stacking of materialistic things. Nowadays, you can get a membership on just about anything.
Travel Magazine Subscription (#AffiliateLink)
---
National Geographic (history) subscription (#AffiliateLink)
---
Amazon Prime subscription (#AffiliateLink)
---
Netflix subscription (#AffiliateLink)
If your friend, partner or mom prefers tv and movies, another superb option is a Netflix membership. This way they can watch their favorite shows wherever in the world they are.
---
Photo storage subscription (#AffiliateLink)
Both parents as travelers have a big thing in common: they love to take an endless amount of pictures. So, when we're talking about a traveling mom, she'll definitely need some additional photo storage space.
Pick a cloud storage service to prevent ever losing those pictures.
You can find subscription plans at Google One, Flickr, Amazon Prime, Apple iCloud, Windows Onedrive etc. A subscription for 1 to 2 TB or space will usually cost around $10 a month.
Experiences
Activities are one of the best and most original gifts for travel lovers. Most travelers try to only take the bare minimum on a trip, so instead of giving them an item, you could give them something they'll remember forever!
Tinggly Experience or Getaway Gift Box
When you're looking for the ultimate gift for a mom who loves to travel, Tinggly is all you will need!
These gift boxes offer both unique experiences and amazing getaways and that all over the world. Without an expiry date and easy to exchange, Tinggly takes away the stress that often comes with receiving experience gift boxes.
An added bonus is that the company also thinks about the environment. They vow to remove 5 kg / 11 lbs of plastic pollution in the oceans (with the help of Plastic Bank) and they compensate 200% of the CO2 that was created during your experience.
Go ahead and follow their slogan: Gift Stories, not stuff
---
Flytographer
Have you heard about this amazing concept yet?
Many people love having professional photos taken on special occasions: their wedding, the arrival of their new baby, a family shoot. Flytographer takes that a little further and provides you with the opportunity to have these pictures taken at an exotic location (or wherever your next trip is taking you).
There are over 300 destinations at the moment and by booking this shoot you'll not only leave with wonderful memories and gorgeous pics but you'll get to know and support local artists as well!
Check out the Flytographer website (#AffiliateLink) to see examples of shoots and read reviews! When you use the code FLY25, you'll save $25 on your first shoot.
---
Experiences
Recommended by Bec from Wyld Family Travel
---
Spa Voucher
Recommended by Kylie from Visiting Dordogne
Travelling with your family is a wonderful life-changing experience. It creates a family bond that will last a lifetime. However, there are always those days when you need a little time to yourself when you need a little break from your wonderful kids, when some "me time" and a little pampering wouldn't go astray.
So when you're on the road and Mum needs a break, try a luxurious massage at a day spa. They're at most good resorts or available in many of the tourist hot spots around the world. And you don't always have to break the back to give Mum two or three hours of pure, kid-free, relaxation. The perfect travel gift!
Good cause
Not everything needs to resolve about the person you're buying a gift for. Many people – and especially travelers, since they see a lot of the world – would prefer it if someone else who would benefit more from it, could receive their gift.
Plan International
Plan International makes it possible to sponsor a child (and their community) somewhere in the world. This is a very personal way of donating as you can form a bond with that child (through letters) and you can even visit them if you'd like to. Supporting a child costs $35 a month.
FAQ
---
Mums on Flipflops is a participant in the Amazon Services LLC Associates Program, an affiliate advertising program designed to provide a means for sites to earn advertising fees by advertising and linking to amazon.com, amazon.co.uk, amazon.ca, amazon.de, amazon.fr, amazon.it and amazon.es. Amazon and the Amazon logo are trademarks of Amazon.com, Inc. or its affiliates.
---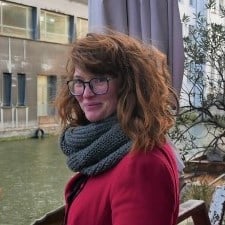 ABOUT THE AUTHOR
Babs Rodrigus is the co-founder and main writer of Mums on FlipFlops . She is absolutely crazy about travelling – especially together with her wife and kids. Babs loves animals, chocolate (what did you expect from a Belgian?), reading and writing.