13 Inspiring Ideas to create the Ultimate Travel Bucket list for Families
We always love discovering new places and immersing ourselves in new experiences, and now, with the latest addition to our family, our travels have become even more exciting!
We have travelled to different cities in Belgium, Colombia, and Cuba with kids, and the more items we tick on our family bucket list, the more new bucket list ideas we add! 
Children grow up so fast, and the next thing you know, they are already headed for their first day at their first job. But before that happens, try building memories with them because they will last all of you a lifetime.
A great way to start is to create a bucket list for families. This way, you can make beautiful memories together before the kids grow up and start travelling independently. 
We've experienced our fair share of family-friendly places and bucket list items but below you can also find some bucket list examples recommended by other families. 
There's a good chance this post contains affiliate links. This means that if you purchase anything through one of our links, we'll receive a small fee (it won't cost you anything, promise!). As an Amazon Affiliate, we earn from qualifying purchases. If you would like to learn more about our affiliate partners, click here for our disclaimer.
Ideas for a bucket list for families
#1 Visit Disney World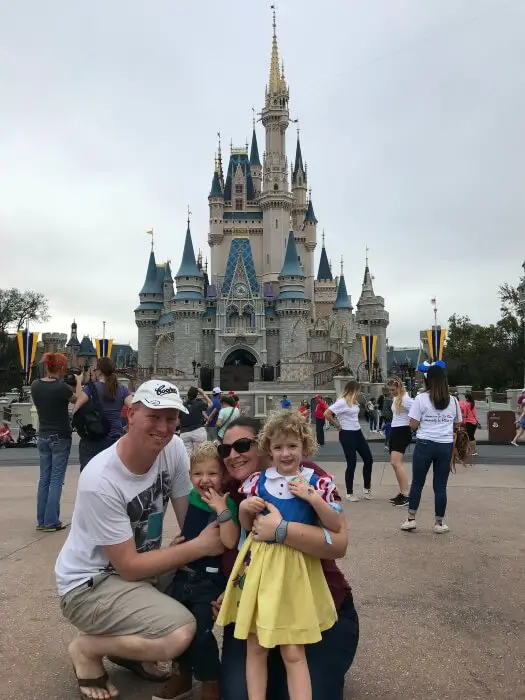 No matter how many places you visit, or even how many amusement parks you've been to, there is no bucket list family place more magical than visiting Disney World with kids.
The original Disney is located in Orlando, Florida, and consists of 4 separate theme parks: Magic Kingdom, Epcot, Hollywood Studios, and Animal Kingdom. Each theme park has a different theme but they all have rides and entertainment. In addition to the theme parks, Disney has themed hotels, water parks, golf courses, a campsite, and an outdoor shopping center with lots of entertainment options.
Magic Kingdom is the most magical of the theme parks, with Cinderella's castle, lots of chances for character photos, and classic rides. Kids can sing along to It's a Small World, Fly above London on Peter Pan's Flight, and blast off into the night sky on Space Mountain.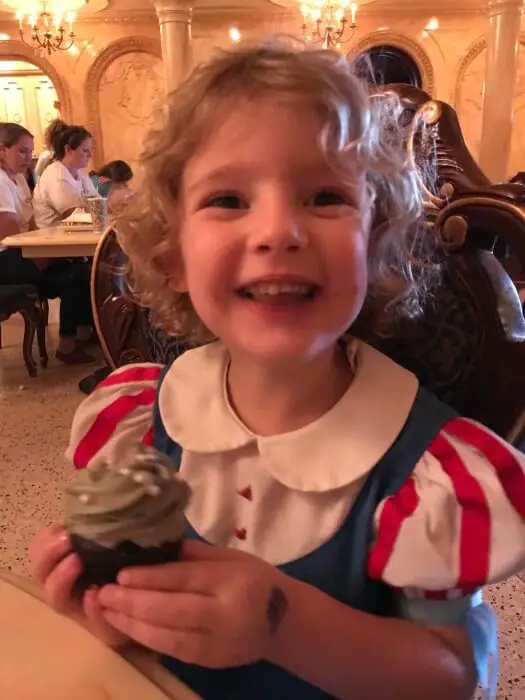 I grew up nearby Disney World and went yearly as a child. Taking my children for the first time was a whole new experience. The awe and wonder in their eyes, their smiles when seeing their favorite characters in person, and the fact that we managed to spend 12 hours at Magic Kingdom and made it to the fireworks display made the heat and the lines worth it. Each year we camp at Fort Wilderness where you can sing along with Chip and Dale before watching a Disney movie each night by the campfire. Even the campsite has Disney magic.
Contributed by Lanie | Make More Adventures
#2 Sleep in a real castle
When most people think of a castle, they might imagine knights in armor, dragons, and magical tales. But for parents with children, a castle can be the perfect vacation spot – full of myths, legends, and fantasy that will entertain the kids for hours on end. 
Castles are often seen as bucket list items for adults, but they can be just as fun for families. Many castles have special programs and bucket list activities designed specifically for families, so kids can learn about the history and lore of these unique buildings. Plus, who wouldn't want to stay in a real-life castle?
There are a few things to keep in mind when planning a castle vacation with kids. First, make sure you choose a castle that is child-friendly. Some castles are very formal and may not be appropriate for young children.
One such family friendly castle is Czocha in Poland, where they have run a school of wizardry numerous times a year and themed family hotel rooms. Our kids loved the night we spent in a castle, it's a memory that has stayed with them well into their teenage years.
Contributed by Mark | Wyld Family Travel
#3 Snorkel at a tropical destination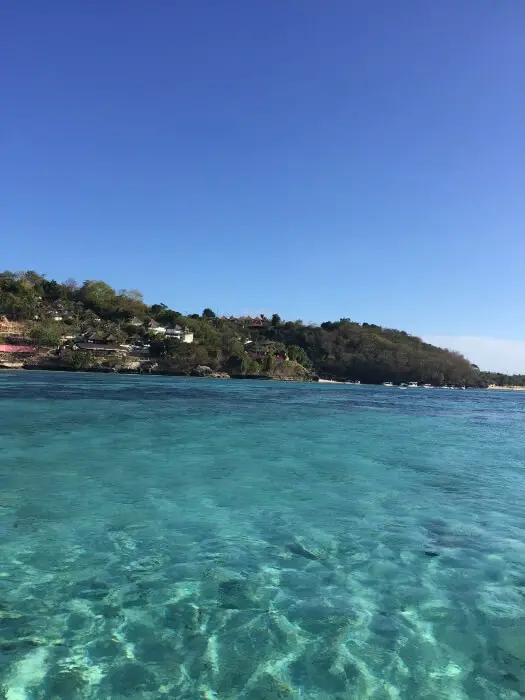 Before your kids grow up one thing you must add to your bucket list for family is definitely snorkelling. Snorkelling is such an exciting experience for little ones as they discover a completely new world underneath in the water. 
Our kids had their first snorkelling experiences in Fiji and Nusa Lembongan Island in Bali during our world trip. It was such a fun way to introduce them to the underwater world and a fun activity to do as a family. Our kids loved being surrounded by so many beautiful tropical fish. If you are lucky and in the right season you may also spot turtles, dolphins in the wild, and stingrays.
If your kids are trying snorkelling for the first time then here are a few tips on making their first experience epic. Make sure they are comfortable in the water, try out using the fins and snorkel gear in a swimming pool, wear the right clothing and of course relax and enjoy the water world.
Contributed by Asha / Home Travel Guide
#4 Bike through Yellowstone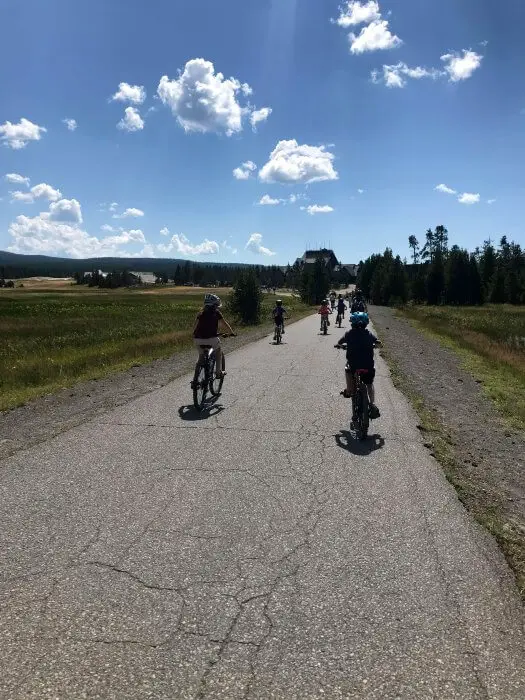 Yellowstone is one of the greatest National Parks in the United States, with more to see than most people can imagine.  To really slow down and soak it all in, consider biking around Yellowstone.  If you want to bike through large portions of the park, go in the spring or fall when major roads have been plowed, but are not yet open to visitors. 
Traffic can get really busy in Yellowstone, so this gives you a chance to bike through the park and see wildlife without the crowds and to slow down and appreciate all the scenery and wildflowers.  During the summer months, bikes are allowed on the roads, but we would not recommend it, due to the high volume of drivers and considering that most of them are more concerned with looking for wildlife than for bikers on the road. 
For a simpler bike trip through Yellowstone, consider biking on some of the trails that highlight major features like to Old Faithful or along the Natural Bridge bike trail. These trails are great for shorter bike rides and also perfect for biking with kids in Yellowstone.  
Contributed by Jessica | Biking Kids
#5 Go on a Disney Cruise
A Disney Cruise is the ultimate bucket list item for families with small children. You need to try one before your kids grow up because the experience will not be as magical when they're (almost) adults.  Your teen will know that mouse isn't real.  Kids who still believe the characters are real are at the ideal age for this trip.  We have had a lot of memorable bucket list experiences, but by far, our favorite memory is our first Disney Cruise with our young children, then ages three and five.  
A Disney Cruise is the perfect vacation option for families with young children because Disney caters to them in every way.  There are countless activities throughout the day, the pools and water slides are amazing, and characters run rampant throughout the ship.  The ships feature live Disney shows each night, and those people can sing. 
Everything else the cruise offers pales in comparison to the kids clubs which are included in your Disney Cruise Line fare.  These can be found both on the ship and Disney's private island, Castaway Cay.  You can drop your kids off as much as you want while you enjoy a much deserved cocktail.
Contributed by Adriane | Put on Your Party Pants
#6 Explore Every Continent
One of my best bucket list ideas is: Explore Every Continent before the Kids Finish High School!
When my daughters were in elementary school, our family set a bucket list challenge to explore every continent (except Antarctica) before the girls finished high school. For several years, we used their winter breaks to check off continents…until one fateful trip to Southeast Asia. We met a family carrying red Osprey backpacks identical to ours. But instead of traveling for a few weeks, they were traveling for a year! We came home from that Christmas trip with a new goal—to trade middle school for a global family journey.
The following year, we withdrew our daughters from traditional school and embarked on a world-schooling adventure. We spent five months outsmarting scam artists in Italy, enduring public nudity in Iceland, meditating in Vietnam, and surviving Bali belly in Indonesia, plus many more bucket list adventure ideas across 12 countries and three continents.
What started out as a family goal turned into a first-class education from economy seats and one bucket list destination to another. And that education has turned into The Passport Project: Two Sisters Ditch Middle School for a Life-Changing Journey Around the World. 
This TRUE, coming-of-age mashup of Nat Geo, Diary of a Wimpy Kid, and The Amazing Race reveals what it's really like to survive 24/7 family time while hopscotching across the world. Uniquely written from our 14- and 12-year-old daughters' perspectives, this travelogue will challenge readers of all ages to embrace the world beyond their bubbles. 
Contributed by Kellie | 4 Worn Passports
#7 Have a Family Gap Year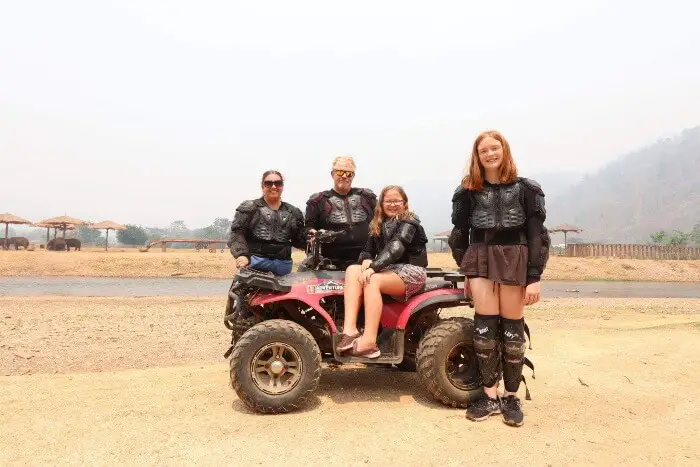 Planning a family gap year was one of the most stressful, rewarding, life-changing, and bucket list crazy ideas we have ever done. It is also something that everyone you know has an opinion on. Whether you decide to do a gap year with kids when they are smaller and not in school or when they are older like we did (our daughters were 11 and 13 when we left Australia), there is never really a right time to go, it just has to work for you.
Our decision came when Mark lost his dad and I lost my mother only months apart. It made us realise that we weren't getting any younger and neither were our kids. So we saved like mad for the next 2 years, created bucket list ideas fun for everyone, booked our tickets to Indonesia, and boarded that plane to a bucket list adventure. 
Over the next 14 months we visited 22 of the best bucket list countries, we stayed at nature parks, did ATV tours, cruised Halong Bay, caught early morning busses, late-night trains, learned a new basic language everywhere we went, immersed ourselves in different cultures, connected with locals, tried foods we would never have tried at home, drove around Europe and bonded with our amazing, brave and wonderful daughters.
Spending as much time on the road with the girls was important to us but long term travel is not for everyone and the way we did it was very different to most people. We went pretty fast for the first few months and once we were settled into the nomadic life it was easier to slow down. We knew at our daughters' ages we would have limited abilities to do this type of travel with them again so we wanted to do as much as possible in the time we had.
So why should you long term travel with kids? It is an experience like no other. You can bond with them on a level you don't get at home. There are no outside influences and time sucks that pull you away from them on a daily basis. They have your undivided attention and they can see you as a person, not just a parent. They can see you shine, fail and feel insecure, they can see the human who is just like them at times. They can see you grow and know that they are a part of that. 
Is it easy all the time? No, no it's not. I'd love to say it is, but like at home, there are always things that pop up. When you are travelling you have the time to work through something and find a solution. 
Family travel is a wonderful thing that builds unbreakable bonds with your kids. Even now we talk about our travels at dinner and it brings us all great joy, and laughter and gave us a family bond that is unbreakable.
Contributed by Bec | Wyld Family Travel
#8 Lost City Trek in Colombia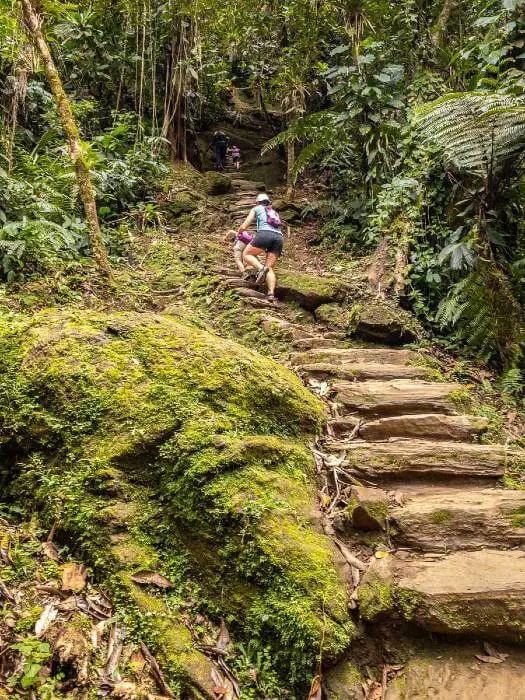 Families who love active bucket list adventures should add the Lost City Trek in Colombia to their bucket list! From incredible scenery during the entire trek, fun overnight camps with swimming in the river, and the opportunity to visit Ciudad Perdida (the Lost City), the entire experience is amazing.
When we first started planning our trip to Colombia, we had originally planned to trek to the lost city separately. The idea of completing this trek with kids who were 4 & 6 years old seemed pretty far fetched. While we knew our kids were strong hikers, we also knew the typical 4 day / 3 night itinerary would be a challenge for them. We just couldn't shake the idea of doing it all together.
After finding a company to help us plan a private tour with a slightly longer 6-day timeline, our dreams of hiking to the Lost City with kids became a reality. With an incredible guide and the added help of a translator, our kids hiked the entire distance to the Lost City! They needed a little help along the way, like the river crossing, but aside from that, they did it all on their own.
For anyone considering a similar trip, we urge you to read all the details on hiking to the Lost City with kids and ensure you and your kids are up for bucket list challenges.
Contributed by Celine | Family Can Travel
#9 Zipline Through a Caribbean Canopy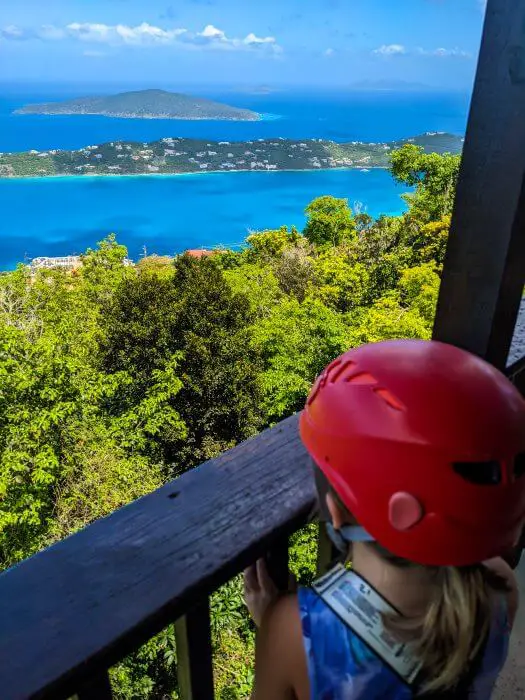 When we think about Caribbean vacations, we envision white sandy beaches, transparent seas, snorkeling, and frozen drinks.  But the Caribbean also is home to tropical rainforests and mountainous landscapes.  These provide the perfect backdrop for the next family bucket list activity: the Caribbean zipline.
Why zipline in the Caribbean?  Because not only do you fly through the air at lightning speeds (which your kids will love!) – you also get to experience the adrenaline rush in a unique tropical landscape. In Roatan, Honduras, for example, zipline through Gumbalimba Park, home to exotic monkeys and birds.  Zipline over an active volcano in Costa Rica's Arenal Volcano Park. Or above Jamaica's Great River and rural farmland at Lethe Estates.  
I recently took my daughter ziplining in St. Thomas, USVI to celebrate her turning 5 – the minimum age for ziplining at Tree Limin' Extreme.  She got a thrill, and together we enjoyed the stunning views: The zipline overlooks the island's most famous beach, Magens Bay.  Conquering something a little scary together for her birthday gave us a memory we'll have forever.  And isn't that why we travel with our kids in the first place?  
Contributed by Lee | Mango Tree Travel
#10 Spotting Pyramids and Cruising the Nile in Egypt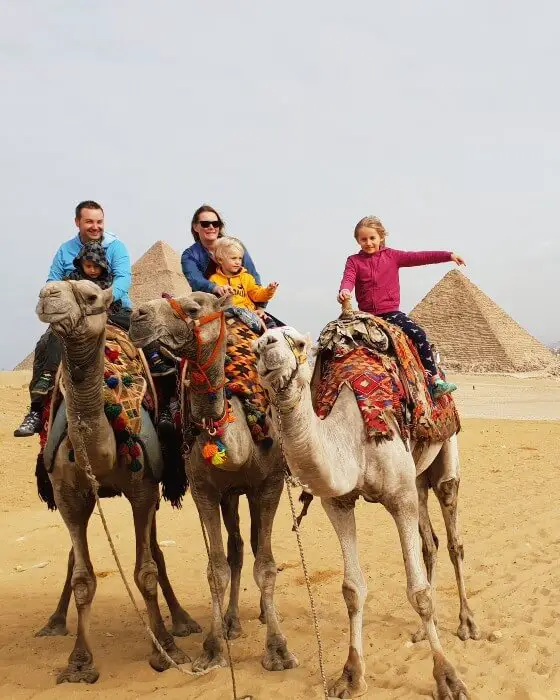 From the moment our kids first laid eyes on the Great Pyramids of Giza, it was clearly a captivating moment they would remember for a lifetime. It's not every day you see an Ancient Wonder of the World (in fact, the only one that still exists) in real life – nor ride a camel and meet a sphinx, all in one place!
Textbooks and Google search simply can't do justice to the vast reality of seeing and touching a 4,600 pyramid in the desert! But that's not where the awe and incredulous moments end. When it comes to bucket list places and moments, Egypt delivers in spades!
Taking a family tour of Egypt is a living walk through history. From the giant colonnades of the Karnak Temple Complex to the hidden burial chambers in the Valley of the Kings. Cruising down the Nile at sunset and hearing the call to prayer echoing across the Nile Valley is a pinch-yourself-it's-real-moment your entire family will cherish.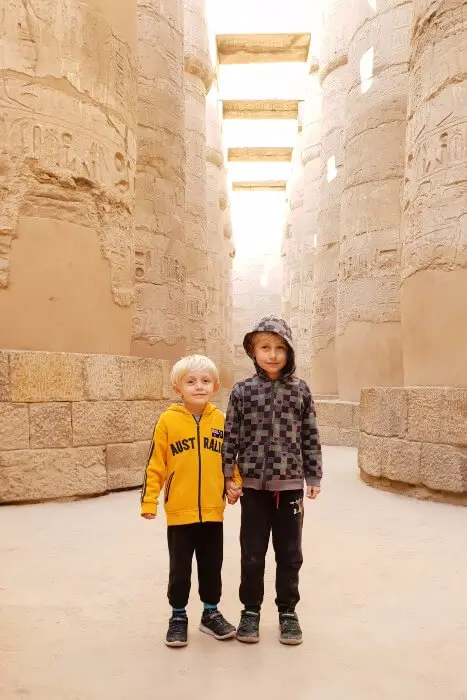 A family trip to Egypt is certainly one that requires a little more preparation than your average family vacation. What we enjoyed most was being joined by trained Egyptologists on all our day excursions, all of whom had children themselves. They were able to bring history to life with their animated storytelling and really enhanced our Egyptian family adventure.
Contributed by Keri | Family Travel in the Middle East
#11 Family Road Trip through Iceland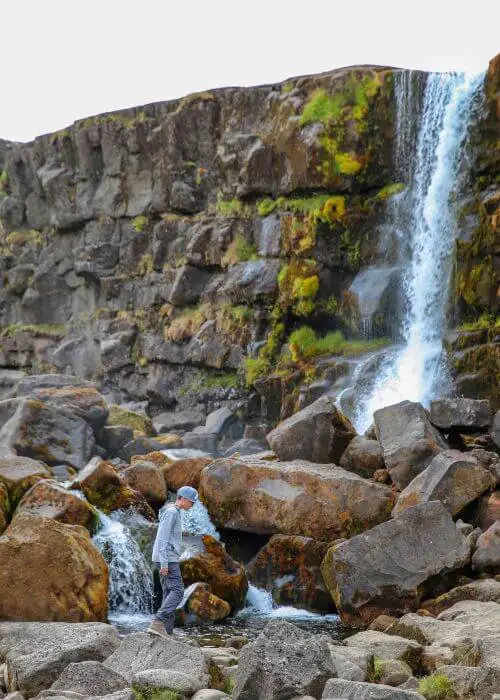 The top  bucket list idea is a family road trip through a country unknown. Every family should experience the joy of traveling hundreds of kilometers in a car or RV, exploring the country together, at least once.
An amazing family-friendly country to road trip through is Iceland! Where else can you find glaciers, volcanos, geysers, waterfalls, and northern lights in a country this small?
Start your ultimate family road trip in Reykjavik by picking up your rental. It doesn't matter if you only have a few days here to weeks. You'll get treated to gorgeous landscapes and many natural phenomena that will blow your minds, close to Reykjavik and far beyond the capital. Visit the famous Golden Circle with sights like Geysir and waterfall Gullfoss. Check out Jokulsarlon's Diamond Beach and Glacier Lagoon. Drive to the northeast for the Diamond Circle and book a whale watching tour at Husavik or relax at Mývatn Nature baths. The ultimate tip? Self-drive the Ring road and circle the entire country and see it all. It'll be a family vacation you'll never forget!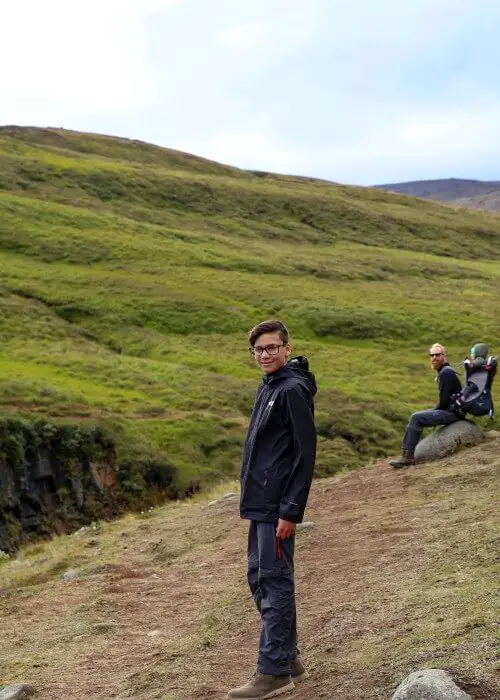 Our family of 4 road-tripped through Iceland for 3.5 weeks. Our kids loved the beautiful waterfalls, dipping in geothermal pools, and camping in nature. And so did we! The kindness of the Icelandic people and the great mix of hiking in nature and visits to cute small towns all over the country were a real treat to us. We will definitely go back one day!
Contributed by Saskia | Sas Crossing Countries
#12 Ride Camels to a Desert Camp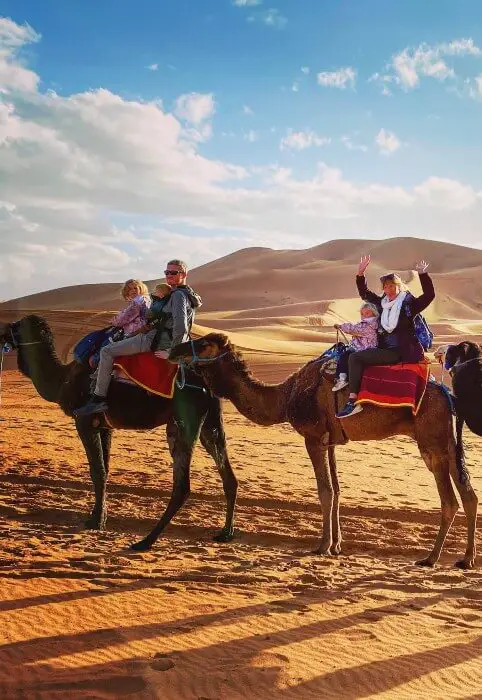 There is nothing quite like the calm, emptiness of the desert. With rolling sand dunes that seem like they could go on forever, deserts make beautiful places to visit for people of any age. For a truly magical experience though (especially for children), the best way to journey through the desert is on a camel. There is something special about following in the footsteps of countless generations of nomadic desert people as you venture out on the back of one of these hardy beasts.
Fortunately, where a stay in the desert once meant extreme hardship, the new explosion in luxury desert camps ensures that this is definitely no longer the case. You can now expect traditional desert hospitality, alongside modern comforts such as en-suite tents with luxury fixtures and fittings. Kids can enjoy the chance to sit around the campfire as the sun goes down, as well as marvelling at the clearest of stars after dark.
One of the best places to enjoy such a desert experience is in Morocco, with much of the activity centred around the town of Merzouga in the country's south. We visited as a family in January of 2020. We loved our overnight stay in a desert camp, as well as the camel ride there and back (that was long enough to be interesting but not so long that the children got tired of it). I have rarely seen the kids more excited than when we arrived at camp! We also enjoyed staying in a desert hotel and touring some of the other local sights. It is an experience that will stay with us forever.
Contributed by Rachel | Children of Wanderlust
#13 See Komodo Dragons Up Close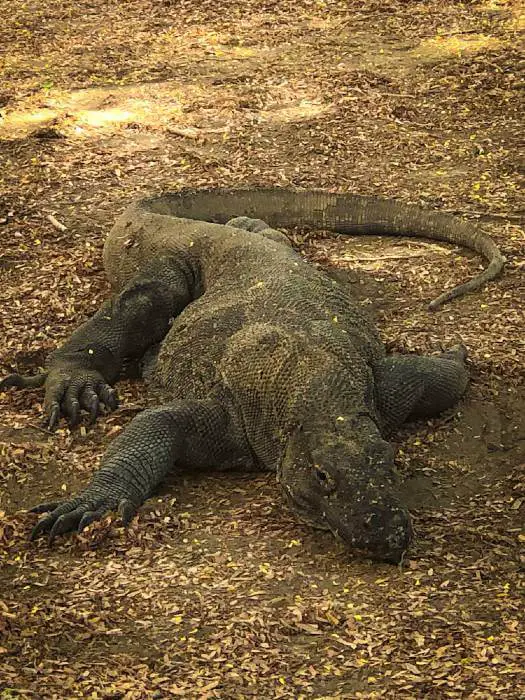 For families looking for adventure, a visit to Komodo Island in Indonesia is a must. The island of Komodo is located in the part of the Indonesian archipelago called East Nusa Tenggara. It's east of the islands of Bali and Lombok, and south of the island of Sulawesi. Komodo Island is home to the world-famous Komodo dragons and is part of Komodo National Park. 
Since there are no airports or hotels on the island, the only access to Komodo island is by boat. Families can book a multi-day live aboard boat tour from the islands of Bali, Lombok, or Flores. Alternatively, families can take a one day Komodo island trip from the town of Labuan Bajo on the island of Flores. 
Regardless of the tour, families will marvel at the experience of seeing Komodo dragons up close and personal, and learn more about these dangerous yet fascinating creatures. A Komodo island tour also takes families to other islands like Padar Island and Rinca Island. Besides seeing Komodo dragons, families can snorkel with manta rays and see coral reefs.
We loved our Komodo dragon experience. We were impressed with how massive they were and enjoyed seeing them in their natural habitat. But another part of the experience we enjoyed was seeing the wild natural landscape of Komodo, Padar, and Rinca islands. It was a vast contrast to the bustling cities of Java and the lush greenery of Bali. The experience truly showed us just how diverse Indonesia is.
Contributed by Astrid | The Wandering Daughter
Final Thoughts
Did you enjoy reading the bucket list for families? We'd love to know the places you plan to add to your travel goals and bucket list family Instagram and other social media accounts. Tell us exciting activities you've done and would like to see added to this list!
---
Mums on Flipflops is a participant in the Amazon Services LLC Associates Program, an affiliate advertising program designed to provide a means for sites to earn advertising fees by advertising and linking to amazon.com, amazon.co.uk, amazon.ca, amazon.de, amazon.fr, amazon.it and amazon.es. Amazon and the Amazon logo are trademarks of Amazon.com, Inc. or its affiliates.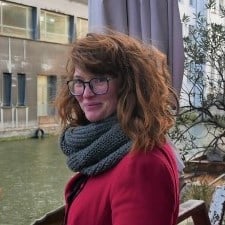 ABOUT THE AUTHOR
Babs Rodrigus is the co-founder and main writer of Mums on FlipFlops . She is absolutely crazy about travelling – especially together with her wife and kids. Babs loves animals, chocolate (what did you expect from a Belgian?), reading and writing.