30 Inspiring Christmas or Father's Day Travel Gifts for Dad – for every budget [2022]
While buying gifts for dads is often perceived as a difficult job, when you have a partner or dad who loves to travel, there's a whole world of cool travel gifts for dad opening up for you! Some of these presents will be useful for men who've only recently begun their journey into fatherhood, but most are versatile, fun or unique gifts for dads who travel.
Together with some family travellers, we've compiled a list of over 40 activities or accessories that will be on the wish list of any globetrotting dad. To make it easier for you, we've divided them into three budget groups: small, medium and high.
There's a good chance this post contains affiliate links. This means that if you purchase anything through one of our links, we'll receive a small fee (it won't cost you anything, promise!). As an Amazon Affiliate, we earn from qualifying purchases. If you would like to learn more about our affiliate partners, click here for our disclaimer.
Best travel gifts for dad: top picks
Small budget
Memory jar (#AffiliateLink)
A great travel gift for dads is a version of the 'memory jar', To save space when traveling instead of actually keeping memories in a jar, you could use a 'memory envelope."
Compiling a set of memories is personal, heartwarming, and inexpensive to buy. There is also no possibility of buying the incorrect brand, or spending too little or too much on a product depending on dad's taste.
Simply collate a list of precious memories surrounding dad and write them down. These can be funny moments; special family treats; or things that have gone wrong and are humorous after the event.
If very small children are completing the list then an adult can scribe for them. If older children are preparing the gift for dad then it can perhaps be written together during a family dinner, at which dad is absent. Once enough memories have been collected they can be put into an envelope for dad to take out and read while he's away. Younger children can be assigned the task of decorating an envelope with a heading, for example, "Precious Memories for Dad to Enjoy" or old printed photographs cut up and stuck onto the envelope. 
By sally from sallyflint.com
---
(Personalised) swiss army knife (#AffiliateLink)
It could be as simple as having a knife (good for cutting up fresh fruit from the local market), a corkscrew or a bottle opener (for opening a bottle of something to enjoy with a beautiful sunset) or a pair of scissors (to give the children's hair a quick trim). Red is the traditional colour, but they come in many colours these days and you can also get them engraved.
Ours has been invaluable on so many trips and is much loved by the dad in our family. (By Jacquie – Flashpacking Family)
---
Microfiber towel (#AffiliateLink)
Homesick candle (#AffiliateLink)
Beard grooming kit (#AffiliateLink)
Truckers religious keychain (#AffiliateLink)
Travel Pillow (#AffiliateLink)
Electronic organizer (#AffiliateLink)
Bluetooth item tracker (#AffiliateLink)
Travel journal (#AffiliateLink)
Medium budget
Solar power bank (#AffiliateLink)
Leather toiletry bag (#AffiliateLink)
Portable espresso maker (#AffiliateLink)
Leather Watch Travelling Case Roll-up Organizer (#AffiliateLink)
Wood nightstand organizer (#AffiliateLink)
Compact binoculars (#AffiliateLink)
Cordless hair and beard trimmer (#AffiliateLink)
Beard straightener (#AffiliateLink)
High(er) budget
E-reader (#AffiliateLink)
Wolffepack summit backpack – opens without taking it off (#AffiliateLink)
Filtered water bottle (#AffiliateLink)
Cordless muscle massage gun (#AffiliateLink)
Leather crossbody bag (#AffiliateLink)
Like this post? Pin it!
---
Mums on Flipflops is a participant in the Amazon Services LLC Associates Program, an affiliate advertising program designed to provide a means for sites to earn advertising fees by advertising and linking to amazon.com, amazon.co.uk, amazon.ca, amazon.de, amazon.fr, amazon.it and amazon.es. Amazon and the Amazon logo are trademarks of Amazon.com, Inc. or its affiliates.
---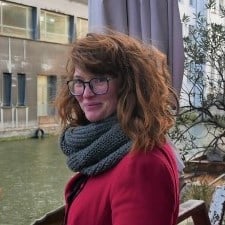 ABOUT THE AUTHOR
Babs Rodrigus is the co-founder and main writer of Mums on FlipFlops . She is absolutely crazy about travelling – especially together with her wife and kids. Babs loves animals, chocolate (what did you expect from a Belgian?), reading and writing.