3 Best Places to visit for A One Week in Cuba Itinerary
Deciding for a 24-day trip to Cuba was one of the best travel decisions we have ever made. From impeccable tropical beaches to idyllic sights, planning a Cuba itinerary took me days! If you are on a budget, a one week in Cuba itinerary can be extra challenging. From our experience in the country plus research, we made an itinerary sample that will make your vacation worth it!
There's a good chance this post contains affiliate links. This means that if you purchase anything through one of our links, we'll receive a small fee (it won't cost you anything, promise!). As an Amazon Affiliate, we earn from qualifying purchases. If you would like to learn more about our affiliate partners, click here for our disclaimer.
WHY CUBA?
---
Whether you're a history buff, a nature lover, a cultural connoisseur, or all of the above, you'll certainly have a grand time in Cuba—a lush archipelago surrounded by sparkling beaches and imbued with a ton of diversity. Tradition and artistry are both well-preserved in the country, and countless sites across the land are endowed World Heritage status by the United Nations Educational, Scientific and Cultural Organization (UNESCO).
The classiest vintage cars and famous Cuban rum and cigars are the talks of the town, but there's more than meets the eye. Its awe-inspiring landmarks and architecture are unmistakable. Fascinating museums and galleries plus verdant hills and forests make for a varying experience, and its cuisine doesn't fall short of expectations! At one point, Cuba was the only country across the globe to meet sustainable development guidelines that the World Wide Fund for Nature Inc. (WWF) had set.
There's no need to fret! Read on and find out the best way to have a vacation at one of the most exotic destinations in the world.
WHY STAY FOR ONE WEEK IN CUBA?
---
Of course, it will seem like there's never enough time to fully take in the seemingly infinite number of ways you can explore the country. To make the most of it, one week is best for those who can manage to take a relatively short break from it all without having to stress out about work or anything else. It might surprise you how many iconic locations you can come across in just seven days and find out what to do in Cuba!
WHY THE ITINERARY?
---
Planning is fun (for some people), but it is definitely draining. It's much better to at least have a clear picture of how your trip will go way beforehand rather than becoming too spontaneous along the way because speaking from experience, it's impossible to not have a day-to-day outline of what you'd like to do and still be able to enjoy your trip to the fullest, stress-free.
Don't worry though! Our itinerary, which is very reasonably designed based on our travels, doesn't simply tell you what to do. You are free to change it up and add to it in any way you want based on your personal taste and preferences. The most important thing is that you have somewhere to start from, and our one-week itinerary also takes you away from the typical tourist traps, focusing on a more intimate connection with the local lifestyle.
WHEN SHOULD I VISIT?
---
The best months to visit Cuba are from November to April, the dry season. March to mid-April is the more popular time to stay in the country as the weather is more likely to be just right—warm and dry with very little chance of rain. Hurricane season falls around June to November, so consider yourself duly warned!
Take note that although these are generally said to be the best and worst seasons to visit, it won't hurt to still check the climate around the time of the year you intend to go to Cuba. It's proper to always stay prepared for the changing seasons.
HOW DO I GET STARTED?
---
Getting started is already half the battle! The best way to do it is to simply browse the itinerary below and familiarize yourself with the destinations and discover what to see in Cuba, including how the trip will go. This is especially beneficial if you aren't used to working with itineraries before and discover what to do in Cuba for a week. Once you're convinced that you're liking how the journey will unfold, then you can go from there, booking accommodation and making reservations at the most ideal spots suitable to your taste.
ONE-WEEK ITINERARY: HOLGUÍN, SANTIAGO DE CUBA, & BARACOA
This trip centers around Eastern Cuba, away from your typical tourist trail. If you're more on connecting with the traditional face of this beautiful country, then this is just the Cuba 7 days itinerary for you! We begin in Holguin, the fourth largest city with a nice mix of natural parks and spectacular beaches. After that, Santiago de Cuba provides your cultural fix with its rich history, music, and festivities, and finally Baracoa, the most isolated destination of the three—perfect for pleasant hikes and winding down near the end of your adventure.
DAY 1: THE CITY OF PARKS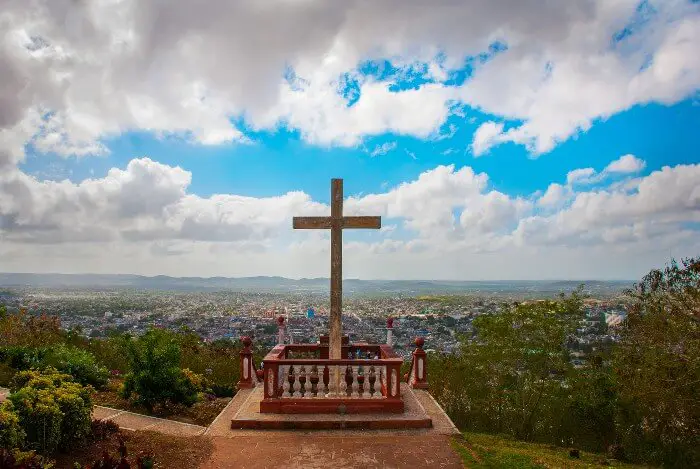 On your arrival and first day in Holguin, you'll spend most of the time sightseeing and exploring the area to gain familiarity and pace yourself for the rest of the trip. Holguin is known as the City of Parks for a very good reason! Gorgeous spots and plazas such as the sunny Las Flores Park or Parque Peralta and the family-friendly Parque Calixto Garcia are well-known to both tourists and locals. Needless to say, there are many more sights to see in 7 days in Cuba, which include churches, museums, and wonderful viewpoints.
Visit the architectural marvel that is Iglesia San Jose, which is located in the heart of the city. Then, tour the birthplace of Fidel Castro, the Museo Conjunto Histórico de Birán, and discover more about the city's roots at the Provincial Museum of History. If you want a more immersive experience, the historical village of Campina Taina is a trip to the past with its ancient artifacts and preserved traditions. If you'd like, local farms where you can taste the freshest produce are also open to tourists!
As the sun sets, Loma de la Cruz is a popular viewpoint where you can take in the beauty of the entire city, the rolling hills, and the surrounding mountains. If you're a theater buff or would simply like to experience a night of culture, Teatro Comandante Eddy Suñol offers classic sophistication such as musicals, ballet, operas, and such. End the first day of your 7 days in Cuba itinerary with a delectable dinner at 1910 Restaurante & Bar, well known for their grilled specialties such as charred octopus!
For only a couple of meters away from museums and cafés, you can stay at a B&B. Xanadu offers a continental breakfast and is located 300 meters from Calixto García Central Park, markets, and other restaurants. If you want to feel at home, book at a casa particular in Privateroom App 2022 ##. You can also get a free tour to the sea for advance bookings. 
DAY 2: PARADISE ISLAND & SAFARI
Cayo Saetia, also known as Paradise Island, is frequented for its stunning beach, exotic cuisine, and unexpected safari tours! To reach this destination in the Cuba 7 day itinerary, take the morning bus and ride a catamaran (a watercraft similar to a yacht) where you can have a nice time relaxing, having a drink, taking in the views, and making chit-chat with the locals.
When you arrive, have a swim in the morning, snorkel, or relax on the sandy white shores. Don't forget your sunblock and sunglasses! Once you're feeling peckish, eat to your heart's content for lunch at a buffet that serves simple yet scrumptious and authentic food options including wild boar, fresh fruits, and rice.
After lunch, you can either continue enjoying the beach or hop on a truck and get a tour of the exotic nature reserve in Cayo Saetia as part of your Cuba itinerary 7 days destinations. You might expect that there'd be little variety in animals, but you'll find that the area is flourishing with life with plenty of biodiversities to see! You can also get a free bottle of rum and go horseback riding on the beach.
DAY 3: SIGHTSEEING IN SANTIAGO DE CUBA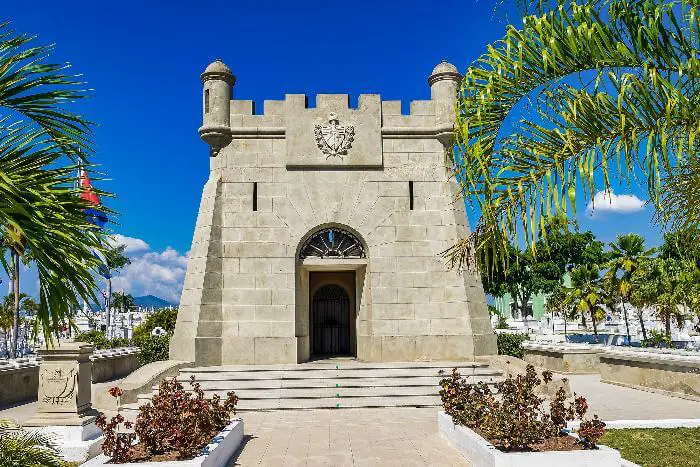 For under $20, you can take a four-hour bus ride from Holguin to Santiago de Cuba. Located at the very center of the country, this city in our Cuba travel itinerary is distinguished for its history and music. There are a number of must-see landmarks in the area, which include the marvelous and enduring Cathedral of Our Lady of the Assumption, a holy monument showcasing both domestic and European art—famous for having withstood several catastrophic events throughout the years.
You can stay at a casa in a colonial-style house near the Céspedes park; every room is spacious in your 1 week in cuba. The owners can help you plan an extra trip to Santiago de Cuba. Despite being in the center of the city, the accommodation offers a quiet retreat to travelers. But if you have an extra travel budget, you can stay at ACA Authentic Old House. The authentic ancient house. You can also enjoy the city's view while eating breakfast on the terrace. 
Visit the Santa Ifigenia Cemetery, where many prominent figures in the past are situated in their resting places. Afterward, go to Parque Cespedes where live music and locals love to gather. Many attractions are also nearby including museums, restaurants, and shopping districts. Take a tour of the Diego Velazquez Museum, an impressive establishment itself that dates back to the 1500s, and gain an appreciation of its culturally significant artifacts.
Head on over to Calle Heredia where you'll find an abundance of street vendors and local craftsmanship. You can find the Moncada Barracks at Avenida de los Libertadores; the inner museum recounts the stories of Fidel Castro's attack on the past dictatorship. Finally, Avenida Manduley is where you can find good food at one of the many restaurants in the area. Try having an authentic meal at the Thoms Yadira Restaurant!
DAY 4: LA GRAN PIEDRA HIKE & PLAYA SIBONEY
In Baconao Park, La Gran Piedra is a mountain range well-known for the huge boulder sitting at the top, magnificent biodiversity, green surroundings, and an 18th-century Isabelica coffee plantation included as a UNESCO World Heritage Site. Hiking up to this national monument will take some effort, but it's well worth the incredible views of the sunset and the coast at the peak! After a tiring adventure within a week in Cuba, have a meal at Cafetería 1234 to regain some energy before moving on to the beach.
Playa Siboney is only around half an hour from La Gran Piedra, so it's best that you at least give it a visit as it's not out of the way. Fortunately, the natural beauty of the area has been retained, and there are plenty of restaurants at your convenience as well. You can have a more tranquil time here as the area is more frequented by locals than tourists. Do expect that the area may be a bit rocky though!
DAY 5: BARACOA CACAO & HIKING AT EL YUNQUE
Less touristy than most, Baracoa is the ideal place to relax during the latter part of your 5 days in Cuba itinerary! Of course, don't expect that the city itself will be as pretty as the more visited ones such as Havana—Baracoa has its own charm in terms of nature, simplicity, and forming an intimate connection with the local way of living. You'll only need a few hours to fully explore this small, hidden gem of a city, but many more attractions are nearby to visit in Cuba in a week.
You can stay at Villa Esmeralda with a view of the beach and just 120 meters away from the center. You can find it in a humble, quiet neighborhood, ideal for good rest and sleep. Taxi service, minibar, internet, and laundry are also available. If you have lots of time to spare, you can work with the owners to give you the best nature excursions.
What can you do in Cuba on the 5th day? By bus ride from Santiago de Cuba, the trip will take around five hours. When you arrive in the city, after a bit of rest at your accommodation, take some time wandering around the municipality. Make sure to spot well-known spots such as the Cathedral and the Malecon. You just have to try the most delicious seafood dishes such as grilled lobster, shrimp, octopus, or fish cooked in a unique coconut milk sauce that you won't find anywhere else in the country.
On your way to El Yunque, you'll find plenty of cacao plantations where you can get a tour of the entire process. Try out some authentic Cuban chocolate and/or chocolate milk straight from the farm in your itinerary for Cuba. You can have more chocolate drinks at Casa de Cacao (what some might refer to as the Chocolate Museum) in Calle Maceo 121.
Before going to the iconic and paradisiacal El Yunque National Park, make sure to have packed the essentials for hiking. Bringing a hat, sunscreen, sunglasses, a swimsuit, towels, and a pair of hiking boots will ensure that you're well-equipped to take on the adventure. To get to the start of the hike, you have to go through a river and a cocoa plantation, and from there, it'll take two hours to get to the top—a vantage point where you shouldn't miss out on taking the most memorable pictures in your life! 
DAY 6: YUMURI CANYON & PLAYA MANGLITO
A tour of the Yumuri Canyon makes for a great day trip as it's only around 30 kilometers from the city. Make sure to leave early in the morning to enjoy your 1 week in Cuba itinerary! You'll embark on a boat ride across the deep canyon and even get the chance to swim in the refreshing waters (perfect under the beating sun). There's a diverse collection of flora and fauna in the area as well, and you can even snorkel to discover a few unfamiliar species for yourself.
After your trip to the canyon, relax at the spectacular beach that is Playa Manglito. Dubbed as an absolute paradise by some, here you can enjoy a thirst-quenching mojito and excellent seafood after a good swim. Try some lobster and a passion fruit mojito in your Cuba itinerary 1 week activities! The waters are uncrowded, and service is excellent, making the beautiful seaside even more attractive to stay at and get away from the hustle and bustle of city life.
DAY 7: DEPARTURE
Sad to say, all good things must come to an end as you depart for the airport. After such a well-rounded trip in our travel blog Cuba itinerary, we're sure that you'll be hoping for a longer stay next time in this wonderful country by the time you get home!
OTHER DESTINATIONS & DAY TRIPS
There's always more to see when you're going to one of the most culturally diverse countries in the world. If you have more time or would like to change your 1 week Cuba itinerary up a bit, here are a few other locations that might pique your interest!
BAYAMO
Known as the City of Horsecarts (Ciudad de los Coches), Bayamo is just around an hour from Holguin. Its enchanting and quiet air complements the historic value of the region, with plenty of classic colonial architecture still standing even after its dark past in 1869 when a blaze destroyed much of the city. Some top attractions to include in your one week Cuba itinerary are the peaceful Parque Céspedes, the verdant Jardín Botánico de Cupaynicu, and the ancient Casa Natal de Carlos Manuel de Céspedes museum, where the first President of Cuba was born.
GUARDALAVACA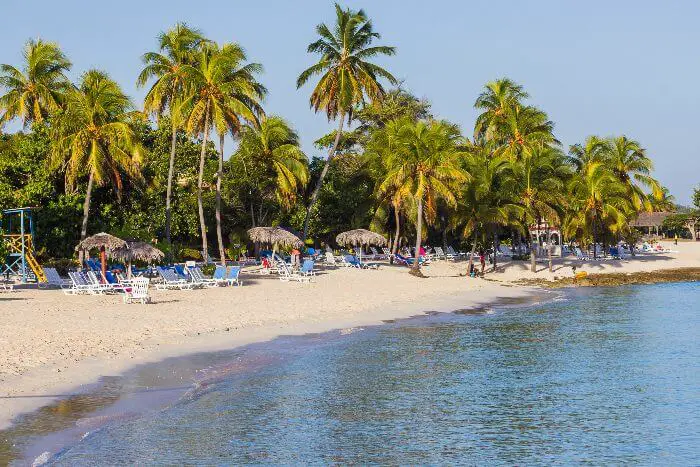 Only an hour east from Holguin, this region is dominated by fine beaches and numerous diving sites. It's worth noting that Guardalavaca may be best visited as a day trip as there are fewer accommodation options here than most! If you're enthusiastic about swimming under the sun, then the town's beaches are worth seeing. Just to name a few, Guardalavaca Beach, Playa Esmeralda, Playa Caletica, and Playa Pesquero are all nice choices to have a splashing time.
If you want to spend most of your Cuba one week vacation at the beach, staying at Lily's Apartment in Guardalavaca is the best choice. The accommodation is just a few steps away from the waters. 
CAMAGÜEY
Camagüey, the City of Churches, is the largest Cuban province with some of the most picturesque plazas and buildings you'll find in the country! A little more than three hours by vehicle from Holguin, Camagüey is undeniably a prime example of sophistication and artistry that sets it apart from other areas. Some great highlights to add to your Cuba in one week itinerary are Che's mausoleum, Fidel's Camp, and the Bay of Pigs. In just one day, you can see most of the city's hotspots with a nice balance of beaches, art, architecture, and commerce.
Final Thoughts
In your one week in Cuba itinerary, we suggest touring around the eastern part of the country and enjoying the local lifestyle. Add other locations to your itinerary, and tell us your favorite destination in the comments!
---
Mums on Flipflops is a participant in the Amazon Services LLC Associates Program, an affiliate advertising program designed to provide a means for sites to earn advertising fees by advertising and linking to amazon.com, amazon.co.uk, amazon.ca, amazon.de, amazon.fr, amazon.it and amazon.es. Amazon and the Amazon logo are trademarks of Amazon.com, Inc. or its affiliates.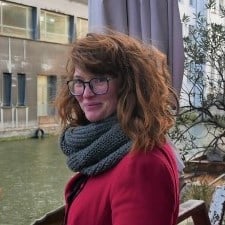 ABOUT THE AUTHOR
Babs Rodrigus is the co-founder and main writer of Mums on FlipFlops . She is absolutely crazy about travelling – especially together with her wife and kids. Babs loves animals, chocolate (what did you expect from a Belgian?), reading and writing.