Planning a Cuba itinerary: our amazing 24-day trip
When we booked our plane ticket to Cuba in November 2019, I immediately researched the best Cuba itinerary I could find. As usual, it took me a long time to come up with the perfect route, but in the end, I was pretty happy with what we came up with. However, once we were there, it turned out that it's easier to plan a trip to Cuba than to follow through with it (at least, if you're watching your budget).
Cuba is such a fantastic place, and your first visit will only be scratching the surface of what the island has to offer. Take some mesmerizing contrasts in the capital, add some tropical beaches and shake it up with lots of charm. The Cuba cocktail you'll get will leave you craving for more!
There's a good chance this post contains affiliate links. This means that if you purchase anything through one of our links, we'll receive a small fee (it won't cost you anything, promise!). As an Amazon Affiliate, we earn from qualifying purchases. If you would like to learn more about our affiliate partners, click here for our disclaimer.
WHAT TO SEE IN CUBA
---
Cuba has long been a popular, exotic tourist destination with its favorable climate and beautiful beaches. Aside from its world-renowned coffee, rum, cigars, and vintage cars, the country is also famous for its Baroque and Neoclassical architectural styles. To help you select the top go-to locations and make the most out of your trip, check out this fantastic list we've prepared of the top spots to see in Western, Central, and Eastern Cuba!
WESTERN CUBA
HAVANA
Being Cuba's largest capital city, it goes without saying that Havana is where the action is. This is proven by many of its must-see spots! If you love history, you'll relish Old Havana, a UNESCO World Heritage Site listed in 1982. With its classic architecture, rich forts, and artsy museums, one can't help but feel transported to the olden days.
The next stop is Castillo De Los Tres Reyes Del Morro, also known as El Morro. Built to serve as protection from persistent pirate attacks, it has maintained its original look since it was built from the late 16th century to the early 17th century. 
A 15-minute walk from El Morro will then take you to Fortaleza De San Carlos De La Cabana, the Spanish's biggest and most expensive fort ever built. Once a military prison and pre-revolution headquarters, it now houses several attractions and museums—one of which is the Museo de Comandancia del Che, the former office of Che Guevara. 
From a cabana, we now head to El Capitolio, which remains to be a remarkable piece of architecture that has always been likened to the White House in Washington, D.C. Lastly, if you're an art enthusiast, you have to visit Museo Nacional De Bellas Artes (National Museum of Fine Arts), the home of Cuban art since having been founded in 1913.
VIÑALES
Located in north-central Pinar del Río Province, Viñales is a place with lots of woody bungalows and veranda. Viñales Valley is the heart of its tourism. Its long practice of traditional tobacco-growing methods drove it to be registered on the UNESCO World Heritage List in 1999, and the Viñales Municipal Museum would be its first attraction. 
Originally, it was the home of Adela Azcuy Labrador—captain of the Cuban revolution. Eventually, it evolved into an exhibit of the island's rich history. For plant lovers, check out Casa De Caridad Botanical Gardens. Expect a mix of orchids, flowers, fruit trees, and more. Finally, take time to savor El Palenque. A cave that once served as a hiding place for runaway slaves in the early days. Today, it has a resto-bar as well as extensive chambers, which you can explore with the help of a guide.
VARADERO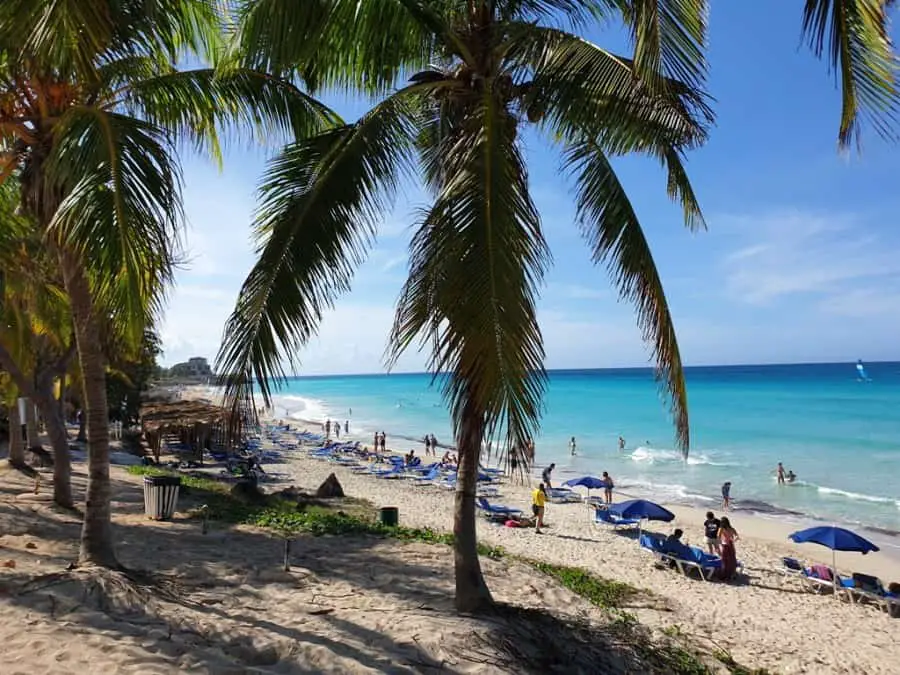 Just two hours from Havana, Varadero Beach has everything you need for a perfect island getaway. Its white sands and crystal-clear waters make it one of the world's best beaches in the 2019 TripAdvisor's Traveler's Choice Awards. First on the list is Las Americas. Formerly called Xanadu Mansion and once home to American millionaire Alfred Irénée Dupont de Nemours, it was built in 1930 and was proclaimed a National Monument in 2013. 
Today, it has become a deluxe restaurant specializing in French cuisine. For much-needed quiet time, you may want to visit Santa Elvira Church. Made from stone and wood, this Catholic church dates to 1938—small in size but big in beauty. If the language barrier isn't an issue, feel free to attend the Holy Mass. If you're into sea creatures, make time to see Delfinario (Dolphinarium). Opened in 1984, both kids and kids at heart can enjoy daily shows with the dolphins. You also swim with the dolphins for a few minutes for a small charge! 
If you want to take a break from the beach, Reserva Ecológico Varahicacos (Varahicacos Ecological Reservation) is a great place to go. It's a well-preserved forest with naturally formed caves, an ancient burial ground dating back 2500 years ago, and various plants, including a 500-year-old cactus.
PLAYA LARGA
If diving is your passion, Playa Larga is the place to be. Highly recommended is the route with two destinations—one at Punta Perdiz and the other at Cenote Mar. The latter has gained fame due to La Cueva De Los Peces, a natural pool of unsalted water. If you're into fauna and flora exploration, go to Zapata National Park and expect to see various birds, reptiles, and mammals.
The pink flamingos are its ultimate attraction. If you're curious about Cuban history, explore the Bay of Pigs Museum, which is a must-see to have a glimpse of the hardships of Cuban revolutionaries. Do take note that information is in Spanish only.
CENTRAL CUBA
CIENFUEGOS
In the 1960s, Cienfuegos developed into Cuba's industrial centers, specifically in the energy and sugar departments. However, it's also known for its historic buildings that can be seen in the Historic Center of Cienfuegos. Due to its Neoclassical architecture, it was included by UNESCO in the 2005 World Heritage List. One such structure is the Cienfuegos Cathedral (Our Lady of the Immaculate Conception Cathedral), built in 1833. 
Another attraction would be the Jardin Botánico De Cienfuegos (Jardín Botánico de Cienfuegos). It's one of the oldest botanic gardens on the island, with a vast array of exotic tropical plants. From there, discover Cementerio La Reina (La Reina Cemetery)—the oldest cemetery in Cienfuegos. Inaugurated in 1837, it is a resting place of Spanish soldiers who died during the Independence war.
One of its notable features is a statue called Sleeping Beauty which is said to be a tomb of a 24-year-old lady who passed away due to heartache. Lastly, explore Castillo De Jagua, a fortress designed in 1738. To the delight of visitors, it now houses a museum and restaurant.
TRINIDAD
Since 1988, Trinidad has been a UNESCO World Heritage site for contributing to the sugar trade in the 18th and 19th centuries. The Plaza Mayor is the historic center of the town, and one of the many structures to see is the Iglesia Parroquial De La Santisima Trinidad (Church of the Holy Trinity) with its 18th-century wooden image of Christ. 
Another notable item in the building is the big altar for Our Lady of Mercy (Nuestra Señora de la Piedad). Just a few steps away stands the Brunet Palace (Palacio Brunet), built in 1812 by José Mariano Borrell y Padrón, patriarch of the wealthy Borrell clan. It now has a museum called Museo Romantico (Romantic Museum), which houses artifacts owned by the Borrell family. The house still has the original marble floor, frescoes, and neoclassical interior.
SANTA CLARA
Santa Clara is the fifth-most populous town in Cuba. The focal point of this city is Parque Vidal (Plaza Central). In 1998, it became a National Monument due to its impressive architecture and historical monuments such as Plaza del Mercado Central (old municipal hall), Colonia Española de Santa Clara (center of dance), Teatro La Caridad, and many more. 
Another interesting edifice is the Mausoleo Del Che Guevara (Che Guevara Mausoleum) which preserves the remains of the revolutionary leader, Ernesto "Che" Guevara, and his 29 fellow warriors. A bronze sculpture of Guevarra can be seen in the area. If you want to taste nightlife, check out El Mujenje (Spanish for The Mixture), an LGBT cultural center. Nevertheless, everyone is welcome to come for a night of music and laughter!
SANCTI SPIRITUS
One of the oldest Cuban European settlements, Sancti Spiritus, has maintained its old yet energetic soul with its legendary architecture. One of those stands out is the Iglesia Parroquial Mayor Church, the oldest temple in Cuba. It's also the most visited by tourists as a National Monument built in 1977. 
Another notable structure is the 19th-century Yayabo River Bridge. It connects the former Paso de las Carretas to the Colon Neighborhood. Legend has it that the bridge has stood the test of time because of the cow's milk used for the lack of cement during its construction. It's also worth exploring the city's nature side through Hornos de Cal Caves, once home to native Indians, and the Sierra de BanaoCave, where archeological relics were discovered.
CAMAGÜEY
In July 2008, this ancient town was listed as a UNESCO World Heritage Site due to its intentionally confusing alleys, beautiful architecture, and important contribution to early Spanish colonization and agronomy. Undoubtedly, the largest attraction here is Santa Lucía Beach in Cayo Sabinal. Its blue waters and fine sand make it a must-see for tourists. 
Catholicism is very much alive in this city that even narrow streets have churches such as the Cathedral of Our Lady of the Candlemas, which was built from the money raised during the 1998 visit of Pope John Paul II, and the Church of Our Lady of Mercy, the most stunning colonial parish in Camagüey. 
Apart from churches, many museums pay homage to significant figures of Camagüey's history. The Museum of the House of Ignacio Agramonte is a fantastic colonial structure dedicated to Ignacio Agramonte, a hero of the Cuban liberation. In the Museum of Saint John of God, you will see elements of Camagüey's history and some artworks of the locality.
Another one would be the House of Carlos J. Finlay, named after its owner, a scientist known for his yellow fever research. Finally, there is the House of Nicolás Guillén, where you can learn about Nicolás Guillén—the most highly regarded poet in Cuba.
JARDINES DEL REY
Situated in central-eastern Cuba, Jardines del Rey comprises 10 breathtaking small islands with white sand and clear waters, called Cuban cayos or keys. Some of the most renowned keys are Cayo Coco, the most visited key, and Cayo Guillermo, a good place for scuba diving. Other notable keys are Cayo Santa Maria, Cayo Las Brujas, Cayo Ensenachos, Cayo Coco, Cayo Guillermo, and Cayo Romano. Each key allows beachgoers to enjoy the sea, the sand, and the sun while witnessing water species like dolphins that swim close to the shore. 
EASTERN CUBA
BARACOA
Three forts were built as protection in Baracoa, Cuba's first capital to defend against pirates in the 18th to 19th centuries. The first one is Fuerte Matachin, which was built in 1802. It currently houses the Museo Municipal, showcasing the history of Cuba's early settlers from ancient times to the revolution. 
On the west side is Fuerte La Punta, which came into existence in 1803, and the third fort is El Castillo. Originally, it was called the Ceboruco Castle or the Santa Barbara Castle, built from 1737 to 1742. Today, it is called El Castillo Hotel. It is situated on a hill which can be seen anywhere from the city and where guests can enjoy an excellent view of Baracoa.
Another attraction is the Nuestra Señora de la Asunción Cathedral—home to the Cruz De La Parra (The Sacred Cross of Parra), a relic that is said to be the wooden cross brought by Christopher Columbus when he landed in Cuba during his first voyage in 1492. 
Just a few steps away, you will see the Archdiocesan Museum and enjoy a mix of art and religion. From there, take time to visit the Museum of the Historical Cuban Atmosphere, which gives a glimpse of Cuban society from the 16th to 19th century. It is made up of two old houses built at different times, and the museum is often visited by students from different schools for educational purposes.
HOLGUIN
Holguin is the fourth largest city in Cuba. Its perfect mix of blue waters and green forests makes it one of Cuba's important natural spots. On top of it, there are plenty of nature parks to enjoy. One is Parque Natural Cristobal Colón (Cristóbal Colón Natural Park). This park came to life in 2001 to shield and preserve its beautiful ecosystem brought by numerous damages, such as the return of endemic fauna. 
Next on the list is the Parque Nacional Monumento Barjay (Bariay Monument National Park), where Columbus landed in the past. Lastly, Parque Bahia De Naranjo (Bahía de Naranjo Park), on the northern coast, boasts the Delfinario Cayo Naranjo—its most well-known attraction, where you can swim with dolphins and watch a sea lion show.
If you're craving to be sun-kissed while enjoying the sea, you should see the beaches such as Playa Esmeralda (Esmeralda Beach), Playa Pesquero (Pesquero Beach) or Playa Guardalavaca (Guardalavaca Beach), all with several water activities to engage in!
SANTIAGO DE CUBA
Santiago de Cuba is the second-largest city in the country, and its modern architecture gives this capital a youthful and colorful vibe. To start off, Parque Cespedes is highly recommended. It's a plaza surrounded by outstanding structures such as Casa De Diego Velazquez, which used to be the official home of the first Cuban governor.
Currently, it's a museum of furniture and decor. Another notable building is the Cathedral of Our Lady of The Assumption of Maasin, alternatively known as Santiago de Cuba. Established in 1526, it became a national monument of Cuba centuries later, in 1958. 
Another historic venue is the Cementerio De Santa Ifigenia, where remains of some of Cuba's famous military personnel, along with persons of affluence and infamy, are preserved. If you're into beautiful old homes, the Vista Alegre is a must. It used to be a high-end residential area, and most houses were built in the 1920s and 1930s. As you walk along its wide streets, visualize the life then of wealthy Cubans who once lived in these palatial residences. Many of them have become schools, offices, and restaurants.
CUBA ITINERARY EXAMPLES
---
The "where" is the easy part—the "how" is where you might need help! Knowing Cuba's best destinations is one thing, but it's another challenge to plan out your Cuba travel itinerary. To take away your troubles, we've prepared a flexible, comprehensive selection of itineraries which you can choose from to perfectly suit your travel needs and desires. Read on to design the ideal trip for you and your loved ones!
3 DAYS IN CENTRAL CUBA
If you're limited on time, 3 days in Cuba is far from realizing the country's entire beauty. Nonetheless, this quick itinerary should be able to give you a good glimpse! You'll be staying in Trinidad for the trip as it's one of the most popular towns in the central region.
DAY 1: ARRIVAL IN TRINIDAD
If you're coming in from outside the region, take the bus or taxi from Cienfuegos to Trinidad. The route should take less than a couple of hours. Situated away from the city life, expect your stay in town to be more relaxed in nature as you relish its well-preserved heritage and colonial architecture. That said, it's also one of the country's tourist hotspots with many stylish restaurants and shops.
Visit the Yellow Belltower for an overlooking view of the town. You can also mingle with the locals and sightsee for the day at the Plaza Mayor. You'll find that most of the superb landmarks surround the main plaza, such as the Museo Romántico with its 19th-century artifacts and Mansión de los Conspiradores with its wonderful cafe and art gallery. Finally, partake of a traditional meal at Sol Ananda, a colonial-era restaurant south of the plaza.
DAY 2: BEACH DAY & MUSIC NIGHT
After being taken back in time in the cobblestone streets of colonial Trinidad, Playa Ancón is a nice change of pace—a well-known beach among tourists for its fantastic waters and resort. Scuba diving excursions are available at Cayo Blanco, which is just a few minutes away by vehicle and under half an hour on foot. Rustic La Boca is less visited, but this charming little beach is only around fifteen minutes away via taxi if you prefer it to the touristy feel of Playa Ancón.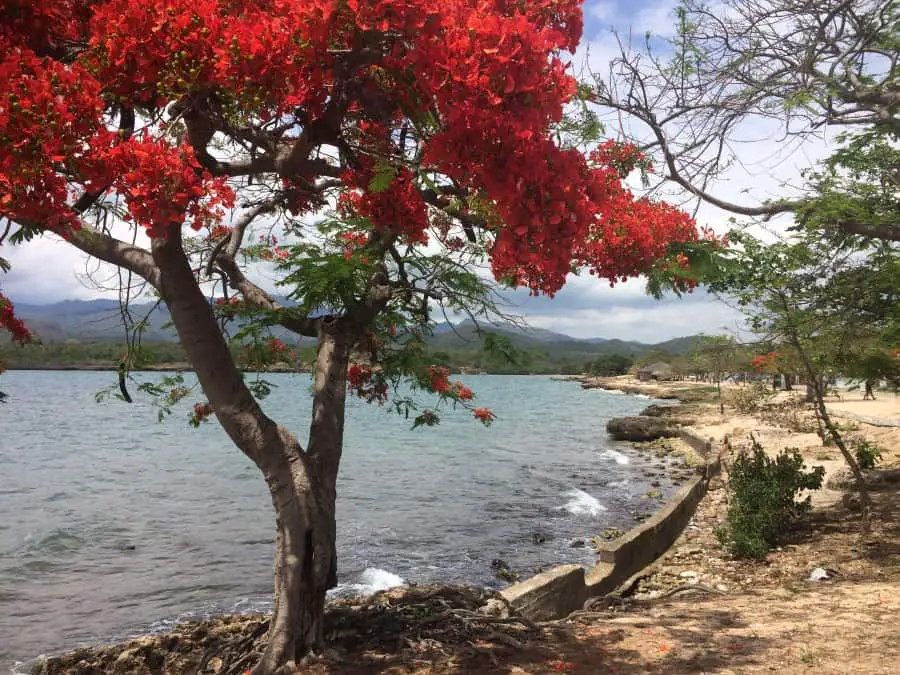 The best way to end an adventurous day? Start the evening with even more thrills before you make a hasty departure tomorrow! Salsa becomes alive at Casa de la Música within Plaza Mayor, where live bands frequently play. Pizza and drinks are available almost everywhere, and you can have dinner at Obbaiala Restaurante, a rooftop restaurant where the sunsets are most captivating. If you feel like partying the night away, dance machines can go to Disco Ayala—a club inside a cavern!
DAY 3: VALLEY OF THE SUGAR MILLS
In the morning, we recommend visiting Valle de los Ingenios, also known as the Valley of the Sugar Mills. The area's stunning views are easily reachable by train or taxi in under 15 minutes. The verdant, tropical beauty of the sugar mill ruins is great for picture-taking before you depart from town.
Many haciendas had undergone restoration, so make sure to check out Hacienda Manaca-Iznaga and Sitio Histórico Guaímiro. The former features a seven-story tower where you can visit the top, and the latter takes pride in its beautiful wall murals and chapel. A restaurant serving authentic Cuban food is also right next to the tower!
4 DAYS IN EASTERN CUBA
Fortunately, you can find an ideal mix of cultural and nature-related activities in the eastern region. Sightseeing, dancing, boat tours, hiking, and swimming are just a few examples of these, so for sure, you'll enjoy your 4 days in Cuba in the second-largest city and Baracoa!
DAY 1: ARRIVAL IN SANTIAGO DE CUBA
To get to the city if there are no direct flights, you can fly to Holguín, and from there, take a four-hour ride to Santiago de Cuba. Tourists from Europe may find themselves luckier as they can fly directly to the capital from their homeland. When you arrive, start the day with a tour of Casco Histórico, the historic district of the city. The main square is practically always a good point to begin exploring any town or capital because that's where the action is! 
Around Parque Céspedes, you'll find the top sights such as the Museo Municipal Emilio Bacardí Moreau and Casa de Don Diego Velázquez, both museums with exquisite collections of art. Also visit stunning marvels from the past such as the longstanding cathedral and the Ayuntamiento. Finally, stroll along the streets and have a nice meal before leaving for the remarkable Cuartel Moncada and San Juan Hill, where significant battles and events in history have taken place.
DAY 2: THE PLAZA, CASTLE, & MUSIC
The Revolution Plaza or Plaza de la Revolución pays respects to the astounding monuments of Antonio Maceo, the city hero, and grand, enormous machetes. The plaza is surrounded by shops and a food market, so you can also walk around to discover something you might like! Cementerio de Santa Ifigenia is also notable as many historical figures are given honor there.
Next, the castle of Parque Histórico El Morro, a World Heritage Site, dates back to the 17th century and features a pirate museum and a cannon-firing ceremony at sunset. From there, you can take the ferry to Cayo Granma, where a couple of restaurants and casas particulares can be found as well. Lastly, in the evening, enjoy Cuban music and some amazing performances at Casa de la Trova within the neighborhood of Tivoli!
DAY 3: HIKING, SWIMMING, & SALSA IN BARACOA
In the morning, take a bus ride to Baracoa, the country's first capital famous for its cocoa and coconut plantations. You better leave early as the ride takes around five hours! Hopefully you've reserved enough energy for the excursion through Yumuri Canyon, where you can take a boat ride, dive in natural pools, and even birdwatch or observe plants and animals with the spectacular biodiversity in the area.
Later in the afternoon, have a couple of drinks or a late lunch at Playa Manglito. This striking beach, reachable by taxi, is mostly inhabited by locals and includes a restaurant by the waters. You should try having Baracoa's specialty for dinner—grilled seafood in coconut milk—as this unique and flavorful dish is exclusive to the area. If you're up for a good night, Casa de la Trova is a good venue to practice some salsa or enjoy a show!
DAY 4: COCOA TO CHOCO
Craving for some authentic Cuban chocolate and a taste of real chocolate milk? That's exactly what you can get by touring a farmer's plantation! Learn about the entire process in creating chocolate and other products from cocoa first thing in the morning before prepping for your way back to the airport. Don't forget to take home some souvenirs!
5 DAYS IN WESTERN CUBA
You'll get to explore all the top destinations in the western region with almost a week or 5 days in Cuba! If you're into history, fine dining, vintage cars, and the beach, Havana, Varadero, and Viñales will be just the fix for a diverse, well-rounded experience of what to do in Cuba.
DAY 1: ARRIVAL IN HAVANA
Old Havana and Vedado are the best areas to stay in, with various accommodations ranging from luxurious hotels to budget-friendly casas particulares. The first is the city's historic center, while the other is the more contemporary business district. To avoid confusion, take note that Old Havana is one of the municipalities of Havana itself! Where you'll want to stay is purely a matter of preference. There will be plenty to see near the city center or the district, which are not that far from each other either.
The mainstay of the city is its rich Cuban history and culture. These are perfectly encapsulated in the streets of Old Havana, particularly Obispo. Fine restaurants, local shops, and craft markets abound the place, and the street takes you toward the Malecón—a long strip bordering the sea where locals enjoy scenic views and the sunset. You'll eventually reach the iconic Hotel Nacional, where you can find the Santa Clara Battery, a former fortress and now a World Heritage Site. Have a taste of appetizing, traditional dishes with a modern touch at Cafe Laurent in Vedado.
DAY 2: CUBAN CUISINE & THE NIGHTLIFE
Start the day off early with a morning walking tour in Parque Central. It's technically free, but you can't forget to at least give a tip. Perfect for getting even more recommendations on the hotspots within the city, the tour will dig deeper into the city's roots with the guidance of the locals themselves.
Also, remember to find a vintage cameraperson and get a classic photo to take home. You can then ride in style in a pristine, well-preserved vintage car from the 50s! Expect to pay around $25 to $50 per hour to go wherever you want or simply tour the city with a driver.
Have lunch at Doña Eutemia, a famous restaurant in Cathedral Square of Old Havana. Their picadillo is highly recommended by reviews. Even if you're not much of a dancer, you should try taking a salsa lesson at Casa del Son later in the afternoon. Not every day do you learn about the culture in the most intimate way possible! Make sure to book in advance, though, to secure your spot.
For dinner, The Hideaway or La Guarida offers fine dining in a luxurious mansion, and if you feel like basking in the nightlife right after, drink and dance the night away at La Casa de la Musica. As another alternative, you can have it all at La Fábrica de Arte Cubano—a premier art gallery and club that fuses food outlets, bars, music stages, and a variety of other options that will surely be complete the evening!
DAY 3: SPLASH AT VARADERO
Enough tours and sightseeing for today. The two-hour drive to the tourist resort of Varadero will be more than worth your while. As they say, it's the country's most splendid beach, recognized internationally! You can book a taxi, rent a car, or take the bus as a more affordable alternative. Relax on the white, sandy shores and bathe in the blue waters under the beating sun. Scuba diving, snorkeling, and cave excursions are available if you're up for some adventure.
Looking for a getaway nearer to Havana with kids? Santa Maria del Mar is under half an hour away by bus or car. Last we checked, it was around $25 for a taxi and $10 for a bus ride. If you can, you might want to bring something to munch on or drink because there aren't many food options besides a few small outlets or shops! Varadero, on the other hand, is surrounded by restaurants, bars, and cafes, considering its status as a world-renowned resort.
DAY 4: TOUR OF VIÑALES
Two hours from Havana, the rural town of Viñales takes pride in spectacular views, tobacco farms, and the local lifestyle. This agricultural zone is found in a verdant valley declared a World Heritage Site, so rest assured that the breathtaking landscape looks good as it does in the pictures! Have brunch at a casa or a farm if you're feeling peckish, and it's best that you also book a guided tour either near the main square or online for a more complete experience at the hands of the locals themselves.
Walking, bicycle or horseback riding tours are available, and you can go through traditional tobacco farms and factories, the wonderful Silent Valley, the fantastic Loz Jasmines, and even cave excursions at Cueva del Indio and Cuevas de Santo Tomás. After a tiring venture, 3J Bar de Tapas is a great place to cool down or relax with a mojito, a serving of tapas, or a cup of coffee. With its scenic viewpoint and Barrio's grilled lobster, Balcon de Valle is also an excellent recommendation for lunch and dinner.
DAY 5: PLAZA DE LA REVOLUCIÓN
Before bidding farewell to Havana, make sure you've visited Plaza de la Revolución—one of the most historically significant destinations as it pays tribute to Che Guevara, a prominent iconoclast in the Cuban Revolution. If you feel like shopping for souvenirs on your last day, don't forget the golden rule: haggle, haggle, haggle! Most items sell for less than half the price if you're good. Also, try to buy from legit stores if you want assurance that you're getting authentic products when the quality matters. This is especially true for Cuban cigars!
CUBA IN A WEEK 
Getting through all of the best places through 7 days in Cuba or less is a formidable feat. Practically every itinerary for Cuba includes Havana and the rest of the western region, as tourists most visit these areas. Our itinerary takes a more alternative route as it exclusively features the eastern region, so buckle up and read on if this piques your interest!
HOLGUIN
Holguin isn't exactly a tourist hotspot with many attractions and marvelous edifices, but this is also what makes it a charming and unique destination for those seeking a lifestyle that's more in touch with the locals. Beautiful beaches in the humble town of Guardalavaca include Playa Esmeralda and Playa Pesquero, where you can enjoy the cool waters in peace without the crowd, and the abundance of natural parks makes it the ideal destination for nature-lovers and hikers alike.
SANTIAGO DE CUBA
Filled with picturesque plazas, historical sites, and elegant art collections, a trip to this city will more than satisfy your cultural interests! From the museums and monuments in Parque Céspedes to the sunset and cannon-firing ceremonies of Parque Histórico El Morro, you'll have plenty of chances to engage in tradition. The visit to Santiago de Cuba is much more enjoyable with the friendly locals and the exuberant nightlife at the Casa de la Trova and Tumba Francesa—venues for live music and traditional dance.
BARACOA
Chocolate and coconuts are two buzzwords that nicely describe attractions in Baracoa! One thing you shouldn't miss here is a tour of a cocoa plantation; you will learn firsthand how cocoa is processed, and you'll also get to sample the freshest, most authentic Cuban chocolate and chocolate milk in the country.
There's also the Yumuri Canyon excursion, a guided tour of Parque Nacional Alejandro Humboldt, superb paladares (private restaurants), swimming at Playa Manglito, and various museums and fortresses to visit. One week in Cuba indeed isn't enough to realize everything the country can offer, but after this trip, we guarantee you'll be satisfied with your time!
CUBA 10-DAY ITINERARY 
Since you're staying longer, don't forget to stock up on snacks from home because convenience stores are not abundant in the country. This 10-day Cuba itinerary features the top destinations for tourists and is still relatively jam-packed as we want to experience the most in the least amount of time possible. That said, we ensured that you still have the leeway to be immersed across the journey and savor every moment that matters!
HAVANA & VIÑALES
What to see in Cuba? The perfect answer is the city of Havana—the capital where some of the most culturally significant and well-known tourist destinations can be found! Explore the historic center and heart of the city that is Old Havana, and for a more modern or avant-garde experience, sample some of the most delectable and luxurious cuisine at Vedado. Just a couple hours from the city, take a day trip to Viñales and embark on a tour of tobacco farms, scenic valleys, and captivating caverns.
SANTA CLARA & CIENFUEGOS
Right in the center of Cuba, Santa Clara is well-known for the Che memorial, an essential remnant in the history of the Cuban Revolution, the National Monument of Parque Vidal, and El Mujenje, an inclusive club and LGBT cultural center open to all. Cienfuegos is by no means a bombastic tourist destination, but the uncrowded streets add to this pretty town's charm.
Take a stroll down Paseo del Prado, the longest street in the country, be taken through the tranquil waters of Laguna Guanaroca, tour El Castillo, and marvel at the incredible waterfalls of El Nicho!
TRINIDAD & CAMAGÜEY
Considered to be the most well-preserved town in terms of colonial architecture, Trinidad is known for the historical Palacio Cantero and the beautiful waters of Playa Ancon. Outside, you can hike in Topes de Collantes, an enormous natural park, and even go horseback riding! On the other hand, the rustic town of Camagüey encourages a deeper connection with the locals as a more closely-knit community. The area has common gathering in the streets, aesthetic courtyards, and labyrinth-like alleys.
SANTIAGO DE CUBA
Cuba's second largest city has several architectural and historical attractions, such as the Cathedral of Our Lady of The Assumption of Maasin, a national monument, Parque Histórico El Morro, a World Heritage Site, and Plaza de la Revolución. Savor a moment's luxury by dining on breakfast at the cafe of Hotel Casa Granda on the roof terrace—sipping coffee and fruit juices while gazing upon the city. Finally, you can't leave Cuba without a whiff of its prized Cuban liquor at the Museum of Rum.
2-WEEK CUBA ITINERARY 
Half a month in the country is definitely a game-changer! You'll get to soak in Cuban culture much deeper and spend more time living the local lifestyle. The 2-week Cuba itinerary below allows for longer intervals between travels to the next destination, so you'll have more time to live out the adventure at a much more relaxed pace suited to your liking!
HAVANA
With much more time, you can expect to stay in Havana for three days and take the chance to appreciate the sights. Wander the streets, walk the Malecón, and see the city's highlights, such as the iconic El Capitolio and Museo Nacional De Bellas Artes, where you can discover the origins of Cuban artistry. Embark on a guided walking tour of Habana Vieja, and sip on a mojito or craft beer at one of the many bars and breweries across the capital once you're feeling a bit thirsty!
VIÑALES 
Three more days in the resplendent town of Viñales is a great chance to people-watch at the main square and absorb the cultural nuances you wouldn't have noticed in a rush. Take every moment to take a picture as the surrounding countryside is something you won't see every day! Try taking a horseback riding tour if you're up for it and visit coffee and tobacco plantations, valleys, and caverns. The Gran Caverna de Santo Tomás, in particular, is the largest in Cuba and takes two hours to fully explore.
PLAYA LARGA
A couple of days in Playa Larga is more than enough for most visitors and diving enthusiasts. The shores aren't as crowded as most mainstream beaches, so that's a plus if you're looking for a more tranquil stay. Indeed, aside from scuba diving or snorkeling in the Bay of Pigs, chilling and watching sunsets is the mainstay on this particular stretch of sand—that and perhaps a delectable meal of freshly cooked seafood by the shore! Zapata National Park and La Cueva De Los Peces are also nearby if you want to acquaint yourself more with nature.
CIENFUEGOS
This simple town has been dubbed the Cuban Pearl of the South. It was, in fact, discovered by French migrants in the 19th century. A World Heritage Site, Cienfuegos features historical highlights such as the Castillo de Jagua, a fortress from the 1700s, and Jardín Botánico, the oldest exotic garden in the region. Rancho Luna is a lovely beach resort if you're in the mood for relaxing by the waters! Two days in the town would be best as it's already plenty of time to explore the top spots.
TRINIDAD
Two hours away from Cienfuegos by bus ride, Trinidad is yet another World Heritage Site worth seeing with its cobblestone streets and unique structures. Climbing the bell tower in the town center, diving at Playa Ancon, and horse-riding in the Topes de Colantes nature reserve are just a few activities you can engage in apart from sightseeing the famous monuments across the area. After two days, you can spend your last day in Havana for souvenirs before finally leaving for the airport.
3-WEEK ITINERARY CUBA 
If you're lucky enough to have almost a month of vacation on your hands, this 3-week Cuba itinerary provides the most extended stay you can have. The following expedition gives you ample opportunity to experience the best of the Western, Central, and Eastern Cuban regions—allowing you to get to know the country on a more intimate, authentic level! To maximize your time, even more, plan ahead and book online reservations for restaurants included in your itinerary.
HAVANA
As the face of Cuba across the world, Havana is the top destination for most vacationers in terms of history and cultural significance. Any itinerary that includes Havana mentions the vintage car tour, and there's no reason not to try it! You'll feel like you're living on the cover of a magazine with the colorful colonial buildings and the cacophony of classic convertibles as you go on a guided tour across the capital.
Of course, a visit to this city isn't complete without the Museo de la Revolución, Habana Vieja, Plaza de la Revolución, and the famous walk along the Malecòn.
VIÑALES 
Only two hours via taxi from Havana, Viñales is full of surprises for a seemingly simple town in the countryside! Internet is available at the park, and the restaurants in town, such as La Cuenco serve delicious traditional meals. You can't miss the viewpoint of Los Jazmines where you can find a cafe overlooking the entire town. Aside from horse riding and tobacco plantation tours, remember to spot the Mural de la Prehistoria as it's a marvel everyone who's ever been to Cuba should have witnessed.
SANTA CLARA
Santa Clara, a lively and populous town with highly idiosyncratic vibes, is far from your typical tourist trap. A stay here is definitely worth your while because it shows a side of Cuba that most trails would not even consider. Despite this, there are multiple attractions across the area, such as the mausoleum of Che Guevara, an important revolutionary figure, and Parque Vidal, which contains several iconic monuments such as the Plaza del Mercado Central and Colonia Española de Santa Clara, among others.
SANCTI SPIRITUS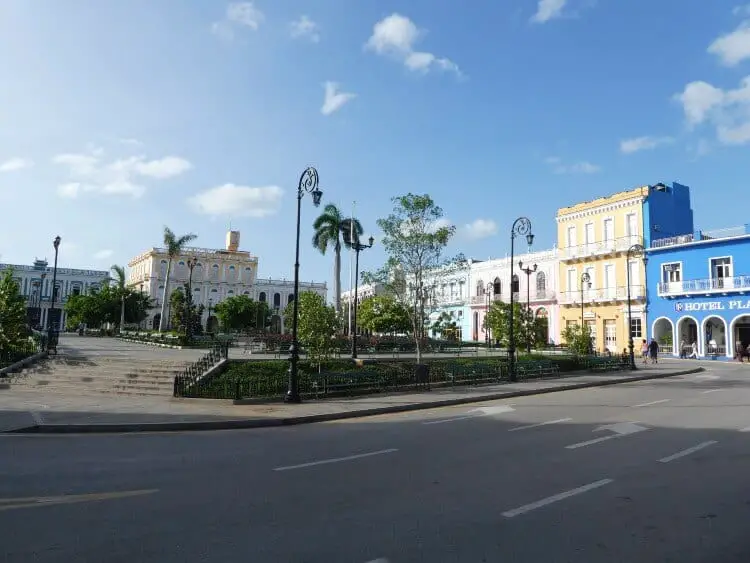 Near the center of Cuba lies Sancti Spiritus, an ancient European settlement. This province is considered off the main trail as it is seen as quite similar to Trinidad but without a horde of tourists—which is a charming characteristic for many. Prominent sites include the legendary Yayabo River Bridge, the enigmatic Sierra de Banao cave, and the classical Iglesia Parroquial Mayor Church. If you like guavas, it might interest you to know that the town is a major fruit grower!
SANTIAGO DE CUBA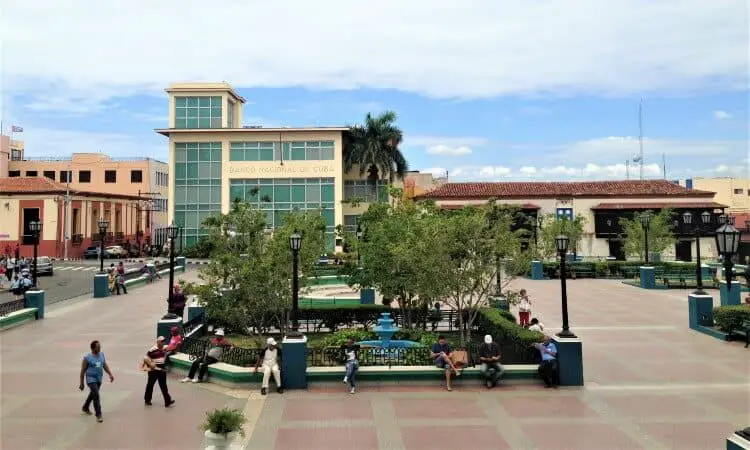 For most who've been to Cuban cities, the culturally diverse origins of Santiago de Cuba set its atmosphere apart from the others. Going to the busy Parque Cespedes is essential because most of the notable destinations in the city, such as the cathedral and the neoclassical city hall, are right nearby. La Casa Granda is also a must-see as you can enjoy a few drinks while viewing the sunset from the terrace, and Calle Heredia is the place to be for world-class artistry and music!
BARACOA
Finally, as your last stop, Baracoa is the perfect destination to slow down before ending this particular itinerary, given its natural beauty and simple traditional feels! The municipality offers quite a diverse range of activities. If you're missing the beach, Playa Manglito is the best place to quench your thirst for refreshments by the shore.
Cocoa plantations where you can sample fresh chocolate products are famous in the area, and the Yumuri Canyon is the mainstay for nature lovers and hikers who love lush surroundings and biodiversity. Culturally significant establishments such as Parque Central, the three fortresses, and the Sacred Cross of Parra are also worth visiting!
Our trip: 24 days in Cuba itinerary
---
Day 1-4: Havana
Day 1
We arrived in Cuba's capital on February 25th, 2020, around 8 in the evening. When we got into our first Cuban casa particular and met our host, we were quite ready for bed. However, at about 2AM – just about when the loud blasting music had stopped – jetlag kicked in, and Little Elf couldn't sleep anymore. After a particular groggy night/early morning, we ventured out for breakfast (luckily for us, our host mentioned where we should go if we wanted to eat before 10AM). 
Day 2
On this first real day, we didn't do much more than hang around the Plaza Vieja and go for lunch. Our jet-lagged kiddo fell asleep in the late afternoon, so we had a quiet evening. Until she woke up in the middle of the night again.
Day 3
After another early morning and yummy breakfast, we decided it was time to discover Old Havana (La Habana Vieja). Armed with the Lonely Planet walking tour, we wandered around charming streets, beautiful plazas, and crumbling buildings, and we soaked up the many colors of Cuba's biggest city. We especially liked the Plaza de Armas and the Plaza de la Catedral – and we found an excellent place for lunch too: La Pirata, a cozy inclusive (!) restaurant just 2 steps from the Plaza de la Catedral.
Day 4
Now that we could at least have a semi-decent night of sleep, we thought it time to venture outside Havana Vieja. From our casa, we took a bicitaxi to Calle Obispo and walked this pedestrian shopping street (real shops in Havana! It's a sight in itself!) to the end. We found the tourist office and made some inquiries about the T3 hop-on, hop-off bus that would supposedly stop at the castle on the other side of the water. Turns out the stop was just a couple of meters further, so that was pretty easy. 
After some people-gazing at Parque Central (take your time for this, there's so much to see on this square!), we hopped on the bus, and after a mere 20 minutes, we were dropped outside the gate of Fortaleza de San Carlos de la Cabaña. We spend a couple of hours walking around this enormous fortress – there are lots to discover!
From the ancient walls with canons to small chambers and hidden passageways, we visited during the day and had the place entirely for ourselves, which was pretty cool. We had lunch inside the castle walls. The restaurant is a little dark inside but also had a couple of tables outside in the fortress' yard. The price is excellent here – stock up on drinks because it's cheaper than in the stores!
Day 5-9: Viñales
Day 5
We took a 2-hour taxi colectivo ride from Havana to Viñales around noon. After settling into our awesome casa particular Casa Milagros y Yamilé (the best of our entire trip!), there wasn't much more to do than go for a late lunch and play a bit more at our casa before Little Elf needed to go to bed. Oh, we also discovered a rather big shop in a touristic communist-style – it's a sight! Go check it out! It's also the only 'real' shop we encountered in our entire shop, and you can buy cornflakes and marmalade, so seriously, go check it out!
Day 6
After a fantastic breakfast, we set out to wander around Viñales town. When passing the main square, we saw the hop on, hop off double-decker bus and decided to (shocking really) hop on it! We didn't plan on getting off somewhere. So instead, we stayed on for the entire loop. It is an 8, as some sights are in the South of Viñales and the North).
Sitting in the last row of the top floor, we were in for a bumpy but glorious ride! When we arrived back in the center (the tour takes about 90 minutes), it was time for a late lunch at El Olivo (one of the best restaurants in town) and some well-deserved play-time. Oh, and an ice cream in the late afternoon, because, you know: act like the locals.
Day 7
One of the main things to do in Viñales is a horseback riding tour to a coffee farm in the Viñales National Park and today was the day. We found it quite exciting since it was Little Elf's first time on a horse (and Kath's fifth or so), but we actually had a lot of fun (and painful legs and booties, but what did we expect). Nobody fell off (although we came pretty close – luckily, my riding instincts kicked in even after 17 years!), and we enjoyed the amazing landscapes and the tour of a small family-owned coffee farm. We finished the day with a late lunch and some downtime at our Casa.
Day 8
We finally survived the jetlag and made it through an entire night of sleep! Little Elf is now waking at her regular hour of 6 in the morning (which is still way too early but she loves playing on her own while we get to stay in bed for a bit longer). Today, we went for another ride with the hop on, hop off bus (unfortunately, the double-decker bus broke down, so no more nice views and bumpy rides filled with laughter).
This time we got off at hotel Las Jazmines to enjoy the 5-minute view (the bus actually allows you to get off for a couple of minutes to take a quick picture of the wonderful view of the valley) and then went all the way to the other end of the tour: La Cueva de los Indios. As we had 90 minutes before our returning bus, we wandered around and explored the cave.
It was a fun, though very touristy trip. Busloads of tourists are dropped frequently (at least when we were there), so it wasn't possible to enjoy the calmness of the cave. There's also a short boat ride, which was weird but fun enough when traveling Cuba with kids. 
When we arrived back in town, we had a late lunch and explored a bit more of the centre (including the small handicraft market!).
Day 9
As the weather was only ok-ish the last few days, we saved our beach trip for the final day. A colectivo classic car (with room for 9 people!) took us on a very long, hot, and bumpy ride to Cayo Jutías, the closest beach to Viñales. We absolutely loved this day trip and enjoyed this picture-perfect tropical beach very much.
There are more secluded areas and shade, you can rent chairs and umbrellas, and the water is crystal clear and very calm and shallow (great for small children!). The only downsides are the distance (or, better to say, the road conditions) and the restaurant. But hey, nothing worth staying home for! 
This was a very long day: we left at 9AM and arrived back at our casa at 6.15PM, so after a quick sandwich it was already bedtime for Little Elf!
Day 10-12: Soroa
Day 10
As our taxi colectivo was only leaving in the early afternoon, we decided to hang out in Viñales town a bit more. We ate ice cream, bought some souvenirs, went to the bank and discovered the botanical garden.
We had a lot of trouble finding a taxi colectivo (and a private taxi would've been just as tricky! Transport in Cuba it's not as easy as it seems), but eventually, our host Yamilé managed to track one down. Turned out we were sharing the car with a bunch of Cuban workmen who were going home (read: a tiny village along the highway). After another VERY hot car ride with a lunch stop at a house/food cart (we brought food, so we didn't try) without any shade, once more 9 persons + a child in a classic car and hitting a large bird when driving on the highway, we safely arrived in sleepy Soroa.
The rest of this travel day was spent chilling in our casa particular Isabela. We also had an early dinner here before putting the little one down for the night.
Day 11
Soroa is a very tiny town (more like a couple of houses along the main road), so today, we ventured out to see two main sights: the Orchid garden and the pool of Villa Soroa.
We actually enjoyed the orchid garden quite a lot. It features a steep climb at the start, but you have lovely views from the top, and there's a nice little cafe with overpriced drinks to relax. When we visited, there was also a live band playing, and we spent almost an hour drinking, playing cards, and dancing to the music. We loved the band so much, we even bought their cd! A couple of people passed by, but we were mostly on our own.
We promised Little Elf to go swimming in the afternoon, so instead of eating at our casa (which would've been the wisest choice), we decided to have lunch at the hotel. Not our wisest decision, that one. The hotel was outdated and with many defects – which we have learned to be usual for the Horizontes hotel chain, but we had fun in the pool nevertheless! The weather changed rather quickly, though, and while we thought we had to take cover in the banana-roof restaurant for a bit, the downpour would last for several hours.
Through the rain back to our Casa it was where we waited some more until the rain let up. By that time, the host's daughters had arrived home from school and turned out to be great play buddies for Little Elf.
Day 12
Our last day in Soroa started with a trip to nearby Las Terrazas. This town is a bit bigger and a lot more touristy. We regretted our stay in Soroa and would've preferred to come here for a couple of days. There's a big lake and a ton of tiny artistic shops splattered around town. We've also found our trip's first and only playground (a bit rusty but still lots of fun)!
As we had an early morning, we decided to head back around lunchtime – that had absolutely nothing to do with it being the weekend and thus N's friends being home all day – noooo, not at all!
As we wanted Little Elf to have some playtime before we would leave again, Kath decided to check out another destination in Soroa herself: the waterfall. And boy, we were glad we didn't bring the little one. The steep steps kept on going up and up and up! But it was very peaceful and a lovely hike. Almost at the end, the path forks. With the left arm, you head to the bottom of the waterfall. Then, with the right arm, you climb all the way to the top.
Day 13-15: Havana
Day 13
Our taxi colectivo to Havana was planned for 9.30AM, but we all were a little confused the following day when we woke up at 6, and our clock told us it was already 7. The hour changed, and our host forgot to mention it. So I thought it would be smart to start packing already and what a good thing I did, because the taxi was early at 9AM. After a rushed goodbye, we were on our way (in a new yellow taxi, what a treat!) to the capital!
In our original plan, we wanted to take as many buses as possible, but we ended up taking none… If we had known that, we wouldn't have made another stop in Havana and booked a colectivo straight from Soroa to Playa Larga.
But home sweet home in our apartment in Havana. After a great lunch at our favorite restaurant, we walked towards the Almacenes San José covered artisan market at the waterfront in Havana Vieja. This is also the only place we encountered kids asking for candy and money. The rest of the day was spent wandering around Old Havana, taking pictures, discovering new mural paintings, and relaxing at our home base because Kath wasn't feeling too well. 
Day 14
Things went down today as both Babs and Little Elf got sick during the night, so we ended up only dragging ourselves to our breakfast joint. Somewhere around noon, we got a little better, so we decided to go for a trip with the hop on, hop off T1 bus.
This tourist double-decker bus has its final stop at the San José artisan market, which happened to be only 2 blocks from our apartment. Hooray for not having to walk very far! In the next 2 hours, we saw a large portion of Havana, from Parque Central to the Malecón, Hotel Nacional, the large Colón cemetery, and the filled-with-embassies waterfront neighborhood Miramar.
As we weren't in the best shape and it was already late afternoon, we decided to just ride the tour without hopping off anywhere – but we still had lots of fun and saw many different sides of the capital.
Day 15-24: Playa Larga
Day 15
We had initially planned to take the 7AM Viazúl bus to Playa Larga (we even managed to book tickets online!), but we decided to take a taxi (no colectivo as our host couldn't find one that was going to Playa Larga, which in hindsight was probably not true) because of how we were feeling. After another night of a little one throwing up, we were very glad about our decision.
A little over 2 hours later, we arrived in the laid-back town of Playa Larga where we had planned to stay for 4 nights. After settling in our room (fresh pineapple juice as a welcome drink!), we walked towards the beach for some lunch. Little Elf wanted to jump right into the ocean off course, so after a quick stop to pick up our bathing suits, we spent the rest of the afternoon on the beach. We also met an Italian family that had their flights canceled due to Covid-19 – our first real contact with the times that would soon come.
Day 16
Not much to write about this day. We decided to have a chill day at the beach. The rest of the time was spent relaxing in our casa (which has an awesome big garden with lots of hummingbirds and other tropical birds) as we were still not feeling 100 %.
Day 17
As Kath was still very sick today, I took N. for a trip to the crocodile 'rescue centre'. We checked beforehand with our hosts about which type of center it was because we did not want to support any farmlike things. Unfortunately, it turned out to be exactly that: little cages and baby crocodiles holding photo ops. Busloads of tourists are being dropped here to take a quick look and head off again.
Yeah, if there's one thing that is a big no-no on our list, it's things like this… So, after a very short 20-minute visit, we were ready to head back home.
We ate lunch at our casa, and Little Elf and I went to the beach for swim fun. As we could use the free wifi from the beach restaurant, I checked my emails, and it turned out that the first 4 Covid-19 cases that were discovered in Cuba (which we had heard about on the news this morning) happened to have stayed in the casa we had booked for Varadero (what are the odds!). That host had to go into home quarantine, so our stay was canceled.
It took us little time to decide we were better off staying here in calm Playa Larga with limited contact than trying to find new accommodation in a city with so much coming and going. Luckily, there were some cancellations for our casa, so we could stay!
Day 18-21
As we were trying to keep a low profile due to the virus (no trips to nearby cities or other places where there would be many people), these days were very similar. The mornings were spent eating a relaxed breakfast while N. went to play with our Cuban family. We would then read a bit or play UNO in the garden.
We had lunch at the only place we deemed ok (yes, we ate there every day!), and that happened to be on the beach, and afterward, we would spend the rest of the afternoon playing on the beach and enjoying the Caribbean Ocean! As Covid-19 started to affect all travelers, we had many conversations about canceled flights and changes of plans.
The Italian family had a new confirmed flight on the 11th of April – a month later than their original flight home! They ended up leaving for Trinidad, so we don't know what happened to them and if they had to stay until April.
We also ate the occasional ice cream and wandered around town for a bit. Oh, and our flight got postponed by a day due to the virus.
Day 22
After 4 days of doing nothing, we felt like we should head out and see something again.
So, we headed over towards the national park office at 8AM just like the officer had told us to (ok, fine, it was 8.40). As there weren't any other people to share a taxi with, we ended up having to wait for our own private one. After maybe an hour, we took off – guide included – to the Salinas.
A quite long road (with many potholes!) brought us to the migratory bird sanctuary, where we could see flamingos, ibis, black hawks, and many more birds. Unfortunately, it was a full-on breeding season during our visit, so there were very few birds in the wetlands. But we still enjoyed this tour a lot!
As it was only a half-day tour, we had plenty of time for our daily lunch and swim at Playa Caletón.
Day 23
Under normal circumstances, this would've been our travel day back home, but we were allowed some extra time! For our last full day in Playa Larga, we planned nothing spectacular. Our Little Elf was already very much in love with our hosts from the casa particular, and we wanted them to have as much playtime together as possible. We also went for some obligatory beach fun!
Day 24
Exciting times as we didn't receive an email yet that our flight got cancelled, so we got to go home (although it wasn't all that straight forward and we were almost stuck in Paris). A lot of swimming, playing, hugs and goodbyes later we stepped in a classic car for our trip to Havana airport.
Final Thoughts
From the historic Castillo de la Real Fuerza in Old Havana to the turquoise waters of Playa Maguana in Baracoa, you'll find the magnificence of Cuba to be more than satisfactory by the end of your journey. You now have the answers to where to visit in Cuba, so what are you waiting for? Make the most out of life, and fulfill your cravings for cocktails on the beach and cultural endeavors all in one elegant country!
---
Mums on Flipflops is a participant in the Amazon Services LLC Associates Program, an affiliate advertising program designed to provide a means for sites to earn advertising fees by advertising and linking to amazon.com, amazon.co.uk, amazon.ca, amazon.de, amazon.fr, amazon.it and amazon.es. Amazon and the Amazon logo are trademarks of Amazon.com, Inc. or its affiliates.
---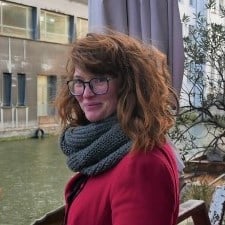 ABOUT THE AUTHOR
Babs Rodrigus is the co-founder and main writer of Mums on FlipFlops . She is absolutely crazy about travelling – especially together with her wife and kids. Babs loves animals, chocolate (what did you expect from a Belgian?), reading and writing.