Hi there, we're very flattered that you would like to know even more about "The Mums"!
We are Kath and Babs, a 30-ish couple from Belgium addicted to travelling the world. Ever since we met (over 15 years ago – yes that means we were 16 and 19!) we've been exploring the most beautiful parts of the earth together. The highlight of those travels was our 6-month trip from Brazil down to Patagonia and all the way up to Ecuador and the Galápagos Islands. But we've ventured through Europe, Sri Lanka and Thailand as well!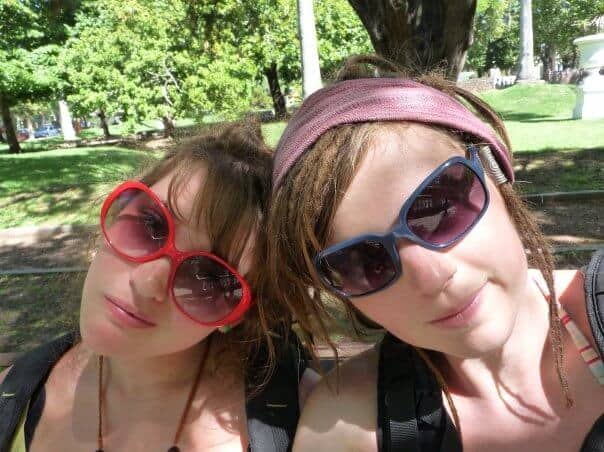 4 years ago, we welcomed N., our little crazy Elf, into our life. And thus we became mums! A lot of people give up on longterm and far-away travelling when they're having a baby, but we firmly believe that by doing this kind of trips we're both tightening our bond and creating wonderful lifelong memories. We value memories more than material stuff.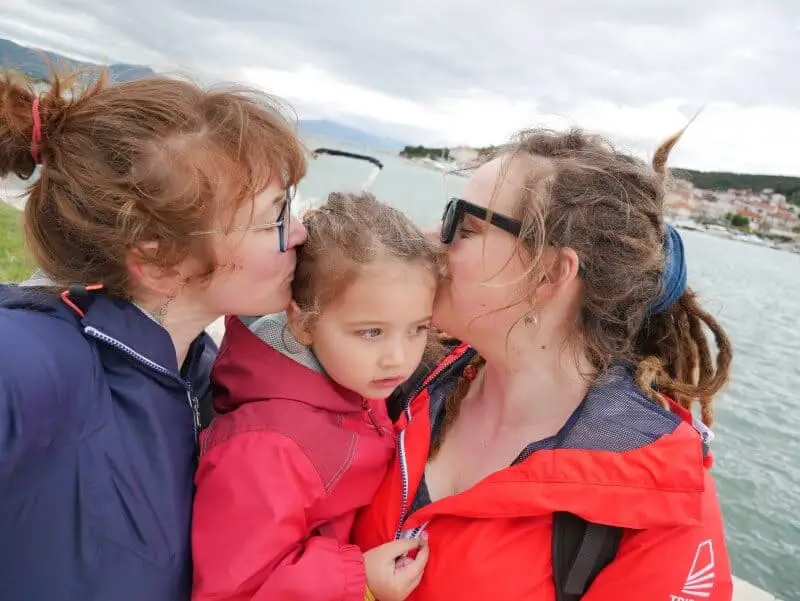 Keep on scrolling if you would like to know even more about us! If you prefer to click away now, go on and head towards our destinations page, read some travel stories or get some travel gift inspiration.
Our travel family
Babs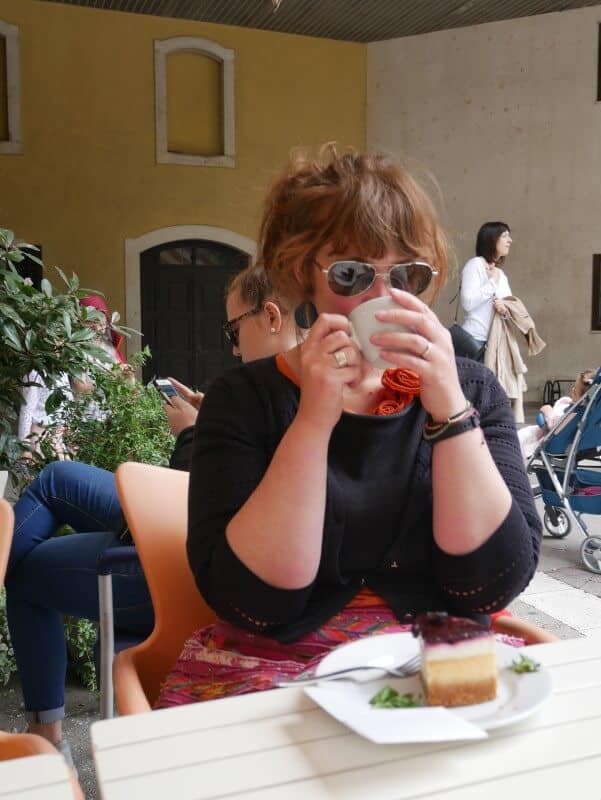 I am Babs (or Barbara if you'd like to use my full name) and I am the main writer of this site. Ever since I was little I've been travelling with my family, thus planting the seeds for my travel addiction. I was really fortunate to meet Kath at such a young age so we could set out and explore the world together.
Apart from my obvious passion for travels, I love reading, blogging and walking as well. Whenever the sun is shining I feel like I'm on top of the world. So yes, I prefer countries with a lot of sunshine!
Up until a couple of years ago, I've been a teacher, teaching Dutch as a second language to adults. A very interesting and rewarding job, that's for sure. But I wanted more. I wanted to set out and explore whenever we felt like it, I wanted to tell our stories and inform others (you!) on how to travel with children around the world and I wanted to improve my skills mainly focussing on blogging, social media and photography. So in 2019, I became a fulltime travel blogger.
Since Covid-19 things have been weird of course. The travel industry took a big hit, so in the last couple of months, I've been focussing on other online projects as well.
Kath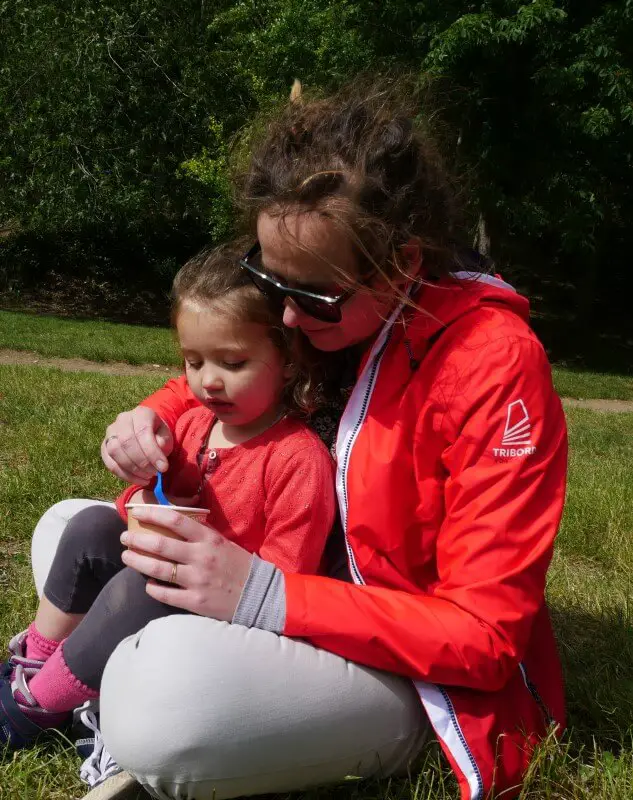 This is Kathelijn, but about half of the time she's known as Kath. Though she doesn't have such a writing bug, I firmly believe she is the one who is going to make this blog big, because whenever she puts her heart into something, she will do everything to make it work. Ever since we met she's been craving to see the world and loved all the adventures we've been on. She is a big fan of slow travel, especially now with N., giving ourselves time to really get to know a place.
She has been working at the office of her dad for the last 10 years, but in reality, all she ever wanted to do was work with her hands. Give her a bit of wood and she can make the most beautiful things!
Kath is also the kind of person to give everything for the people she loves (N and me are so lucky!) and she has such a great sense of rightfulness. She'd love to join the crew of the Rainbow Warrior or chain herself to ancient trees in the rainforest but since that is rather difficult with a little one, she is constantly seeking for other places where she/we can help.
Also, Kath absolutely hates being on pictures, so you might often find her back on our pics because that's about the only time I can snap one.
Little Elf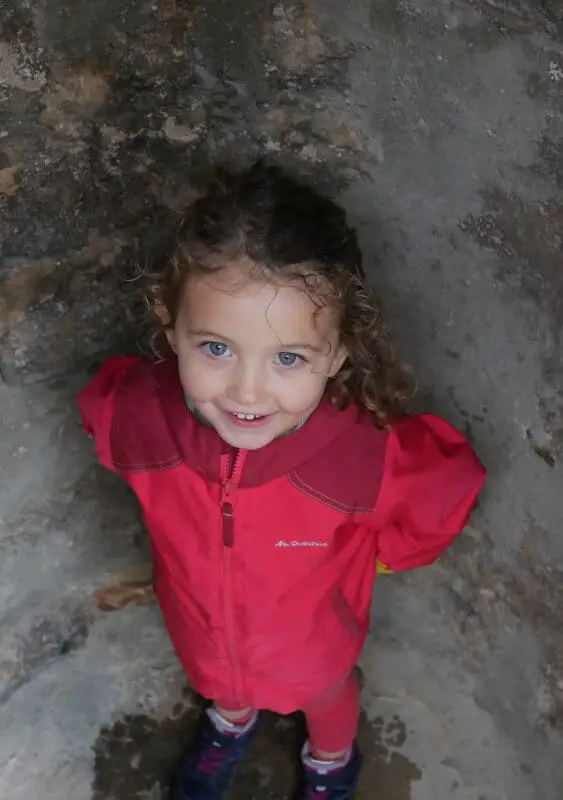 N was born in November 2015 and has filled our lives with joy from the second she was born (and even before that!). She is such a caring little human being, for humans and animals alike. She loves to travel the world with us, making friends and swimming in pools wherever we go. However she does not like to be touched by strangers (which can be rather difficult, especially in Malaysia) and she's the only one in our family that doesn't mind going to cold(er) places.
Why we travel
We love to explore little cities, meander through streets and watch the sun set in a new place. We enjoy the feeling we get when arriving somewhere new and trying to get the feel of the surroundings. Working out where the supermarket is and the most convenient route to get there.
What we like even more than travelling, is travelling with a child. It's rather obvious that you won't be doing the same things as you would have pre-kids, the same way your life isn't the same anymore. Of course, there will be difficult times and tantrums, just like at home. BUT you get to show your little one(s) the most wonderful things and you get to be around them way more than at home. It's also amazing what a conversation starter a child is. We also love the memories we are creating both with an for our daughter. And we do believe that this is going to shape her personality, make her open and understanding to different cultures, beliefs and people in general.
Our travel history
We started traveling "with kids" when we were 8 weeks pregnant as we went on a luxury 4-day get-away to Mallorca. A few weeks later we completed the babymoon feeling with 3 weeks in Thailand.
When N was 4 months old we went on a trip to Cape Verde, but that was not our biggest success. Because of that and some financial difficulties we didn't travel until N was 20 months! We booked tickets to Kuala Lumpur, Malaysia and in the months leading up to our vacation we decided we wanted a different kind of life. We had been talking a lot about that in previous years as well. We had a lovely 3 weeks in Malaysia, but it felt we were moving from one place to another way to fast. So we're definitely going to look into slow travel a bit more.
At the end of 2017, we made a circle counterclockwise in Colombia in about 7 weeks. We completely fell in love with the country and found travelling with a 2-year-old to be absolutely amazing. She slept soundly on the long-distance night buses and we could still carry her a lot in the baby carrier – which gave us the freedom to see a lot of things.
In 2018, we were busy building our tiny eco house, so we didn't get to travel :).
In May 2019 we went on a 3-week-trip to Croatia, discovering a bit of Europe with kids for the first time. Due to some bad luck with the weather, we couldn't enjoy Croatia's lovely beaches, but we had an amazing time anyway!
In February and March 2020, eventually, we planned another far-away journey, to Cuba this time. By the time we were about to come home, the Covid-19 madness had already started, but we had such a wonderful vacation in this extraordinary country.
Our travel future
Since Covid-19, things have been unclear for everyone and that's not different for us. We don't know when we'll be able to travel again, but we'll make sure you're the first to know! (subscribe to our newsletter to stay informed!)
For the time being, we decided to focus on saving money and work hard on our other projects. Especially our Belgian travel website will be getting our undivided attention in the coming months – which means lots of weekend trips in our nearby future! Go and check it out on Next Stop Belgium!
If you got all the way to the end, well, great job and thank you! We'd love hear from you anytime! If you'd like to follow us along on our journeys, don't forget to subscribe to our newsletter.
Would you like to read more about laid back family travel through rainbow coloured sunglasses?
We'll send you a monthly update in our newsletter!