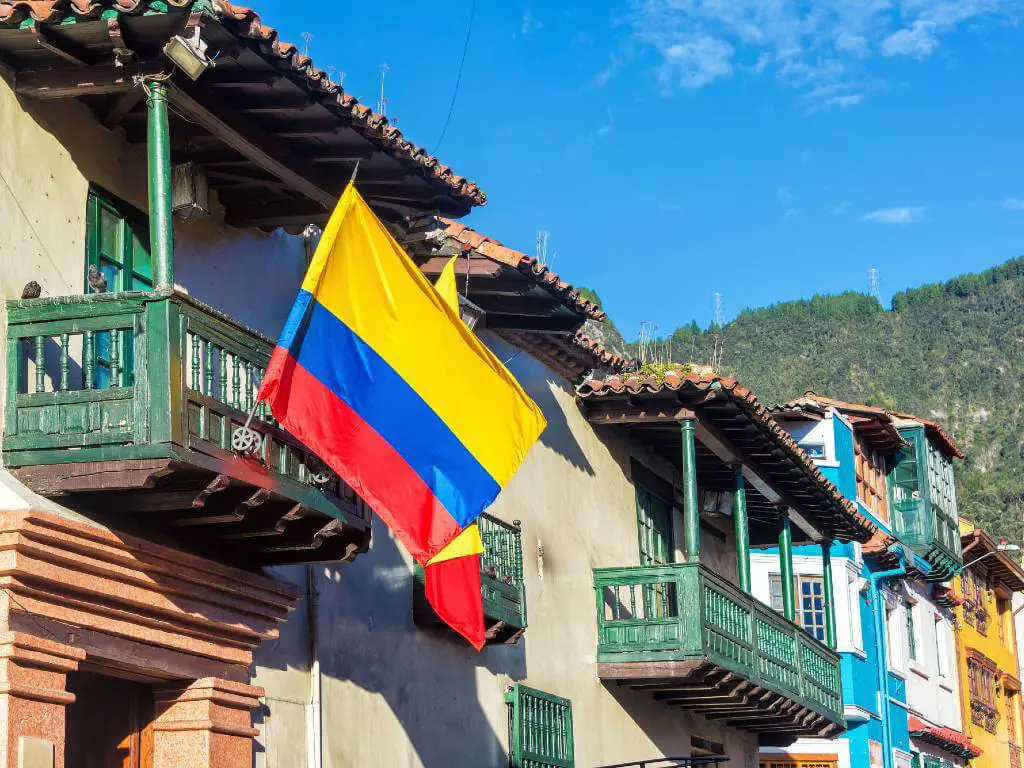 ONE WEEK IN COLOMBIA ITINERARY FOR FAMILIES
We have been to several countries worldwide, including Cuba, Croatia, Thailand, and of course, cities in Belgium. But what stuck with us the most was our 7-week long adventure to Colombia. Now, we realise that most people don't have the luxury to spend such an extensive amount of time in the country but also if you only have 7 days in Colombia, there's a lot to explore. Plan your Colombia itinerary 7 days to dive into the wonders, sights, and activities of this South American country.
The country is a wonderful vacation destination for (LGBTQ+) families and backpackers. We suggest spending your vacation here for seven or more days, and indulging in the many activities, from idyllic beaches to the finest coffee products! Here are some ideas that you can do in a one-week Colombian vacation.
There's a good chance this post contains affiliate links. This means that if you purchase anything through one of our links, we'll receive a small fee (it won't cost you anything, promise!). As an Amazon Affiliate, we earn from qualifying purchases. If you would like to learn more about our affiliate partners, click here for our disclaimer.
Why Colombia?
---
With its exhilarating nightlife, magnificent waterfalls, serene villages, verdant valleys, world-class coffee, and magical sunsets—the easy answer is "why not?" The gateway to South America and a land of extremes, you'll find grasslands, snow-capped volcanoes, and tropical beaches near strikingly modern cities all in Colombia.
Some of the most well-known cities in the country are Bogotá, Cartagena, Medellín, and Cali, and it's guaranteed that every one of them will make your stay a memorable one! Living with the locals is a cinch because you have plenty of options to stay for as long as you know the right places and the right people.
Bringing your kids? Don't worry! Colombians are particularly family-oriented and friendly with foreigners. If you're thinking Escobar, that's a thing of the past—neighborhoods are safe and sound, and as extra assurance, there are plenty of recommended locations where most tourists stay for some peace and quiet.
Why a Colombia itinerary of 7 days?
---
Not all of us have the luxury of time. With work and family in mind, you have to make the most out of every trip. You definitely can't fully appreciate the vastness of Colombia in just seven days, but this span of time ensures that you'll see some of the best destinations with these jam-packed itineraries!
Why the Itinerary?
---
Derived from our personal experience, this itinerary Colombia gives you a detailed, day-by-day outline of how you can spend your time in some of Colombia's best of the best without wasting a single moment. As everyone has a lot of unique tastes and preferences, we've included other recommended locations along with the main itinerary for you to check out.
Of course, given any itinerary for Colombia, you don't have to follow it exactly step by step, but it's crucial that you know where to go and stay so that you don't have to spend so much time on planning. Learn how to conveniently get around Colombia with the recommended modes of transportation and a clear overview of its ins and outs. Allow us to save you the time and trouble of researching it yourself!
When Should I Visit?
---
While you can visit Colombia any time of the year, the best months would be from December to March in terms of weather and temperature. These dry months expect the least rainfall, which means you can enjoy more time outdoors with ease. Do expect bigger crowds and higher prices though as this is peak season. You can extend your Colombia itinerary 7 days to 10 days in Colombia or more!
Regardless, on your travels, it's recommended that you bring a raincoat or umbrella and check the weather because there's no guarantee with the changing seasons. The country is perfectly fine to visit outside of peak months as prices do tend to be lower and tourists are fewer, so it's all still up to you!
How Do I Get Started?
---
Read on to get started on your journey to Colombia's best. Since seven days is the shortest you can stay in the country and still have enough time to enjoy the sights, it's ideal that you travel to one major city and another key location only.
We've provided a variety of top destinations to see below. Check all of them out to find which suits you the most!
Bogotá & Villa de Leyva
This 1 or 2 weeks in Colombia itinerary starts out in Bogotá, the largest city in Colombia with mind-boggling variety and the most urban wonders to see. You can always sign up for a Bogotá City Pass for discounted and affordable airport transfers and tours.
The stark contrast between the busy capital and the tranquil Villa de Leyva (which we enjoyed longer than expected) makes for a well-rounded trip, helping you appreciate two sides of Colombia. If you have a bit more time, you can add a third location to your 10 day Colombia itinerary.
Day 1: Arrival in Bogotá & la Candelaria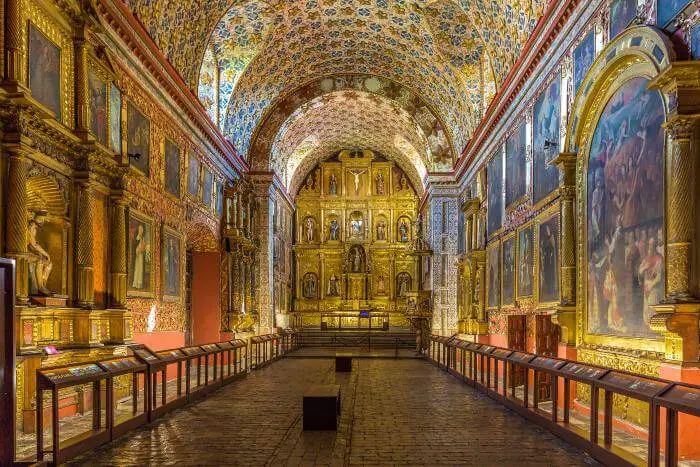 We found that Bogotá is a great starting point, and although it doesn't necessarily best represent the beauty of Colombia as a city, knowing where to go makes it well worth your while! La Candelaria, the historic heart and neighborhood of the capital founded in the 16th century, is where most tourists stay given its remarkable architecture, culture, and gastronomy.
After arriving at the El Dorado airport, take the bus to Universidades at the Transmilenio station inside as this is the cheapest and quickest way to get to your accommodation in La Candelaria, costing around $2 and lasting an hour depending on traffic. You can also rent a car for as low as $15. Needless to say, plan ahead on where you'll be staying and how exactly to get there!
From Universidades, you can then walk if where you're staying nearby, but you can book a taxi or download a ridesharing app if it's a ways away or if you're unsure of directions. If you're traveling alone, it's not recommended that you flag down a taxi to ensure your safety.
After settling down at your accommodation in Colombia, for your first day in Bogotá, walk to the nearby Plaza de Bolivar where you'll find a lot of action in the main square—a nice place to leisurely spend time with the family or the kids if you're bringing them. Familiarize yourself with the free two-hour graffiti tour to soak in the vibe of the city and get a feel of the local culture. Make sure to tip as it's a custom!
Day 2: Markets & Andrés Carne de Res
As there's a cafe around every corner in La Candelaria, skipping breakfast is a sin. Try a warm, smooth beverage of chocolate con queso, which is hot chocolate with a savory spoonful of white cheese, and order arepa—a cheesy, meat-filled corn cake that's sure to get you stuffed.
Visit the Paloquemao Fruit Market and sample some exotic products, and then take a trip to the Usaquén Flea Market to shop for some authentic, local handicrafts, antiques, and bags! Jewelry is also sold at a relatively low price. You can then have lunch later at La Puerta Falsa in the main plaza and savor their signature ajiaco and tamale.
For dinner, have a taste of the more exuberant side of the nightlife at Andrés Carne de Res, which is an enormous club restaurant that can accommodate well over thousands of goers with five dance floors. A bit on the pricey side, but fairly worth it—sample Colombian gastronomy with their scrumptious dishes and high-class variety. They do have a supervised zone if you're bringing your kiddos along!
Day 3: Monserrate and Botero & Gold Museums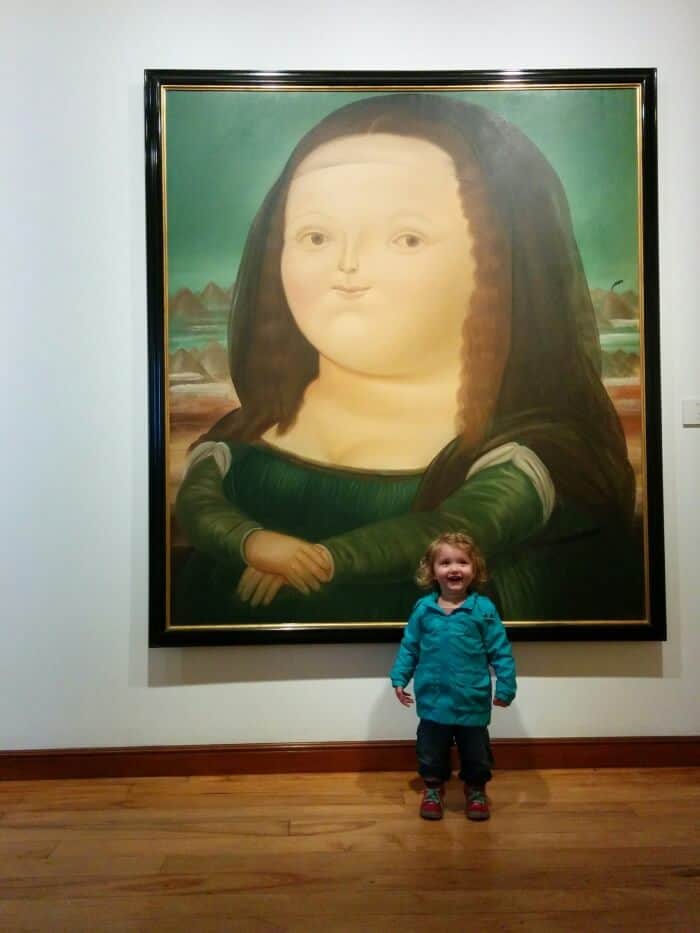 Both Mount Monserrate and the Botero and Gold Museums take pride in some stunning views and some of the most superb art within the region. To get to Monserrate in under an hour, either take a taxi or bus, and then to get to the summit, they offer three options: the pedestrian path, funicular, or cable car. The mountain path and museums are closed on Tuesdays, so take note of the days where this Colombia travel itinerary will fall!
If you want to take the challenge of walking to the top, make sure to reserve one or two hours from 5:00 AM to 1:00 PM, which is the span of time when the path is open. Of course, this one is only recommended if you're fit and not bringing kids or elders along! The more convenient alternatives would be the funicular or cable car, costing only around a total of $5 which includes both the way up and down (even cheaper on Sundays and holidays).
If you decide to walk on the way up, you'll come across some local vendors, elegant sculptures, and the Virgin of Montserrat. With the other two options, you get to enjoy a beautiful view of the city as you slowly climb the mountain.
The summit of the ten thousand foot-tall mountain boasts a large plaza with several gift shops and restaurants where you can enjoy both traditional and international dishes. El Señor Caído is a sacred statue overlooking the capital, and the viewpoint boasts one of the most picturesque perspectives in Bogotá given a magnificent sunset. Don't forget to also visit the Well of Wishes and the most wonderful gardens at the top!
Afterward, take a ten-minute ride to the Botero and Gold museums and take in the elegance of Latin America's most significant international collection of art. In two of the well-visited tourist spots in the capital, you'll find a gallery of pre-Columbian gold artifacts and other pieces made from sacred metal or stone, pottery, and the like—featuring the land's rich indigenous culture and history.
Day 4: Zipaquira Salt Cathedral & Zona Rosa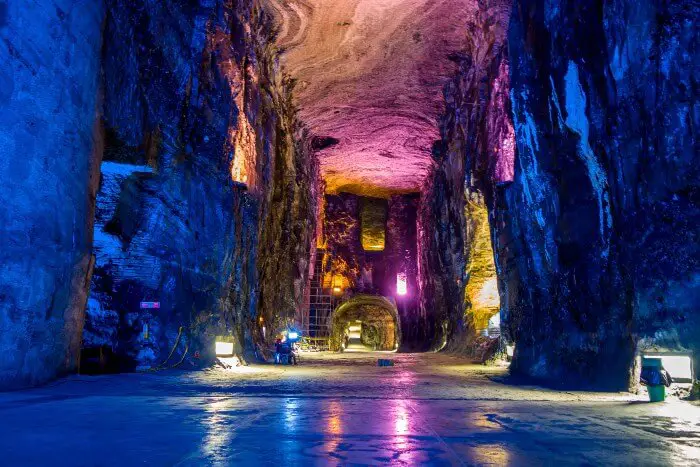 The salt cathedral is a must-see in any travel itinerary Colombia involving Bogotá. An underground religious landmark established decades ago, this architectural marvel houses the biggest underground cross worldwide. Rave about the wondrous line of marble and salt sculptures illuminated by multicolored lighting—bringing out a mystical atmosphere and a captivating feel. The basic entry package costs under $20, but it's more than enough to fully take in and appreciate the phenomenal artistry at work!
Take a bus from the Transmilenio North station or from the transportation terminal to get to Zipaquira in under an hour. Then, you can walk from the Zipaquira terminal to the salt cathedral as it's only nearby with several signs pointing you in the right direction. But if you want to save yourself from the hassle of public transportation, there are tour companies that offer shared transportation, a travel guide, and travel insurance (though it'll cost you a little extra).
After you're done with the tour, you can visit other nearby attractions such as the Archeological Museum and Brine Museum. Before dinner, you should be on your way to Zona Rosa (half an hour south of Bogotá) via bus ride, which takes almost two hours, or taxi, which takes less than an hour, from Zipaquira.
Zona Rosa, or Zona T, is a nightlife district in Southern Bogotá featuring only prime restaurants, cafes, bars, discos, malls, and designer shops. Relish a diverse, upscale selection of traditional and international cuisine in fine dining setups. Then, before you leave for Villa de Leyva tomorrow morning, experience the Colombian way of living life for one last time and party it out at one of the many bars and discos in the area!
Day 5: Arrival in Villa de Leyva & Marques de Villa de Leyva
After a bustling stay in the capital, now's the best time to settle down and relax in the tranquility, charm, and laid-back vibes of Villa de Leyva. To get there from Bogota, go to Terminal del Norte via Transmilenio first by taking the B74 until the last stop. At the terminal, you'll find a three to four-hour bus ride taking you directly to your destination costing only around $10 or so.
With the town's 400-year old colonial architecture and cobblestone pavements, we felt like we were transported back in time. Seeing the scenic streets and all-white buildings will make you take photos all day long, and the visuals are so striking that simply wandering around the small town is highly enjoyable!
Check out the numerous artisan and handicraft shops to take home a few goods you won't find anywhere else. Also, a few minutes out of town, you'll find a house designed by Architect Octavio Mendoza entirely made out of clay—said to be the largest pottery work in the world.
Take note: Villa de Leyva is renowned not only as a Colombian National Heritage Town but also as a wine region! With that in mind, you can't miss out on having a few sips with a delectable cheese and meat platter in the middle of a verdant field. The wine is surprisingly inexpensive yet smooth and delicious.
As evening comes, roam about the Plaza Mayor, the largest main square in the entire country, and choose from a variety of restaurants surrounding the area once you're feeling a bit peckish. The plaza is practically empty in the early hours, but as it gets late in the afternoon and nightfall arrives, locals start to gather and enjoy a nice, cold beer for only a dollar or so. The town is also abundant with artisanal coffee houses, bakeries, and cake shops with warm, homey interiors hiding some impressive and tasty treats!
Day 6: Pozos Azules & Desert Quad
From town, you can walk, cycle, horse ride, or ride a bus to Pozos Azules or the blue wells of Villa de Leyva—artificial wells that take on a blue-green hue under the midday sun. It's a half-hour walk from the center of town (which becomes pretty tedious if you're bringing kids along in the heat), so you might want to consider buying a ticket to Santa Sofia at the bus transport station instead as taxis can be unreliable in the area.
Make sure to go see the wells while the sun is shining! Otherwise, they might take on a less spectacular, brownish hue if it's rainy or cloudy. The waters are not that remarkable and swimming isn't allowed, but the surrounding arid landscape contrasted with trees and greenery makes it great for sightseeing and the like. It's worth visiting considering that the entrance fee is only under $5.
For a bit of an adrenaline rush, take a quad or motorbike tour and explore the desert! There are adventure companies in Villa de Leyva with some pretty affordable offers at a per hour rate, so make sure to check them out. Other attractions outside the municipality include the Archaeological Park of Moniquira, the Muisca observatory, and El Infiernito and El Fosil paleontology museums.
Day 7: Back to Bogotá & Departure
Before getting back to the capital, have a hearty breakfast with a few empanadas or waffles at El Rincon Argentino or La Waffleria de la Villa, and make sure to take a few pictures in the spectacular cobblestone streets in town for one last time! Hopefully, you've at least visited the market and souvenir shops to bring home some memorabilia.
To get back to Bogotá, purchase a ticket at the bus terminal in Villa de Leyva for under $10 and then get off at either Terminal del Norte or Terminal Salitre. In the former, you can take the Transmilenio line J70 or J72 until Universidades, the last stop. If you're going from Terminal Salitre, you can take a taxi or Uber to the city.
Bogotá and Villa de Leyva won't give you the entire picture of what Colombia could be, but with this itinerary, you'll definitely have an adventure that's well worth your time and effort! Other nearby attractions you can visit for your 7 day trip to Colombia, but keeping your journey limited to two main destinations will help you enjoy your vacation to the max without the feel of having to rush anything.
OTHER DESTINATIONS & DAY TRIPS
---
If you have some extra time on your plate or would like to see other attractions, then feel free to customize your 1 week in Colombia itinerary any way you want! Below are a few other locations and day-trip travels that might help you decide on what you want to add to your trip.
Hacienda Coloma
In the humble town of Fusagasugá, take a coffee plantation tour at Hacienda Coloma, which is two hours away from Bogotá by car. Sip on a fresh cup of world-class coffee as you watch the entire process from start to finish, learning how some of the finest coffee is made in Colombia.
Chicaque Nature Park
A wonderful spectacle of diverse flora and fauna two hours south of the capital, Chicaque Nature Park is the prime spot for every nature-loving wildlife enthusiast out there. Everything from avian wonders to tropical animals in the middle of forests and waterfalls make it the most natural setting you'd ever see since your stay in the city.
San Gil
Reckoned as the adventure capital, this destination is not for the faint of heart. San Gil is known for offering extreme sports that will boost your adrenaline levels to the max! Rappel in Cascada Juan Curi, bungee jump, paraglide, and many more to your heart's delight. A four-hour bus ride from Villa de Leyva will get you to your destination.
San Agustin
Although this UNESCO World Heritage Site and Archaeological Park are well out of your way, the enticing cultural significance of San Agustin is every history-lover's haven. You're sure to be fascinated with the hundreds of mysterious statues and sacred monuments. The fastest way to get there from Bogotá would be via a chartered plane and a subsequent car ride, taking around three hours in total.
---
Mums on Flipflops is a participant in the Amazon Services LLC Associates Program, an affiliate advertising program designed to provide a means for sites to earn advertising fees by advertising and linking to amazon.com, amazon.co.uk, amazon.ca, amazon.de, amazon.fr, amazon.it and amazon.es. Amazon and the Amazon logo are trademarks of Amazon.com, Inc. or its affiliates.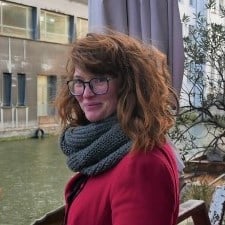 ABOUT THE AUTHOR
Babs Rodrigus is the co-founder and main writer of Mums on FlipFlops . She is absolutely crazy about travelling – especially together with her wife and kids. Babs loves animals, chocolate (what did you expect from a Belgian?), reading and writing.