COLOMBIA 3 WEEK ITINERARY WITH STUNNING DESTINATIONS
We always love weeks and even months of family travels. It gives us ample time to find beautiful beaches in Cuba and discover delectable food and culture in Thailand. Another country we stayed in for weeks was Colombia. The stunning country has so many sights that you shouldn't miss. Check out historical trips and preserved natural beauties with our recommended Colombia 3 week itinerary.
There's a good chance this post contains affiliate links. This means that if you purchase anything through one of our links, we'll receive a small fee (it won't cost you anything, promise!). As an Amazon Affiliate, we earn from qualifying purchases. If you would like to learn more about our affiliate partners, click here for our disclaimer.
WHY COLOMBIA?
---
Colombia is the epitome of diversification when it comes to culture, appeal, and lifestyle as a tourist destination—meaning wherever you go, you're likely to enjoy a vastly different experience from any other region within the country. You could go trekking in the Jurassic-like Tayrona Park, diving in the Rosario Islands, appraising centuries-old monuments in San Agustin, or even salsa dancing the night away in Cali!
The country is home to some of the most breathtaking sights with its striking natural wonders such as roaring waterfalls, snow-capped mountains, turquoise waters, and verdant meadows. Without a doubt, Colombia offers a lot of viable options for aspiring vacationers bringing either their friends, family, or kids. Whether you're looking for more kid-friendly or affordable alternatives, you're guaranteed to find the ideal places you'd like to explore.
WHY A COLOMBIA 3 WEEK ITINERARY?
---
In just under a month, 3 weeks in Colombia is an ample amount of time to go through all of the country's top hotspots at a relatively steady pace. You'll have plenty of leeway to soak in the entire experience, enjoying it to the fullest with the freedom of making this itinerary your very own as you add or change destinations!
WHY THE 3 WEEKS COLOMBIA ITINERARY?
---
A Colombia 3 weeks itinerary or guide is crucial to making the most out of your trip. With three weeks on your hands, you don't want to spend too much time thinking about where to go next and how to get there conveniently. Let us do the brunt of the work for you! All you have to do is keep on reading to learn how you can make the best memories on your Colombian vacation.
WHEN SHOULD I VISIT?
---
December to March are the peak months for tourism in the country. This is because the climate tends to get wetter as April approaches, and no one wants to have to spend a lot of time indoors on their holiday. That said, you can still venture to Colombia backpacking trip outside of these months as you can expect fewer crowds and discounted accommodation. Just make sure you're always prepared for a little rain in any case.
HOW DO I GET STARTED?
---
Getting started with your Colombia itinerary 3 weeks plan is the least of your worries, as everything below is outlined for you. Whether you already have a clear image of what you expect to see or are still looking for ideas on what the country is like, we're sure our itinerary will answer the questions you have in mind. You're ready to begin as long as you open yourself to adventures and keep an enthusiastic attitude!
Let's start with the budget. Ah… yes, we know. Planning a long trip may take a lot from your travel savings, and we also took some time to research to make our trip a little more affordable. Here's what we recommend for an inexpensive stay.
Some of the fantastic cities we recommend below, which were suggested by locals when we were in the country, are Bogotá and Medellín. Grab a Medellín City Card and a Bogotá City Pass for a more affordable adventure. Both cards offer incredible deals, discounts, and free passes for family-friendly destinations and outdoor adventures. 
You can also plan your backpacking Colombia travels and list the spots you want to visit like we did in your 3 week Colombia itinerary! We selected the best locations to include in your weekly trip to this beautiful place in South America. 
THE CITY LIFE, THE COFFEE REGION, & THE CARIBBEAN COAST
This 3 week itinerary Colombia will highlight the three different faces of the country: the fast-paced city life, the more laid-back and authentic local experience, and the breathtaking paradise that includes no less than the islands, forests, and valleys of Colombia. In between capitals, beginning with Medellín, you'll stop by the Coffee Region and a few other destinations you can't miss. Finally, the Caribbean Coast will be the last part of your vacation as you'll spend the most time here!
DAY 1: TOUR IN MEDELLÍN
Medellín is a metropolis teeming with innovation, eclecticism, and history—you'll find it all in the neighborhood of El Poblado with the best cafes and restaurants, including the exuberant nightlife district of Parque Lleras! On your first day in your 3 weeks Colombia itinerary, the free walking tour or the Comuna 13 and graffiti tour is a must. Not only will it give you a better grasp of the area, but it will also take you deep into the city's transformational past and give you insights as to its progressive culture.
DAY 2: SIGHTSEEING IN EL CENTRO
In downtown Medellín, you just have to see the famous 21 statues by Fernando Botero at the plaza, world-renowned art at Museo de Antioquia, and the Palace of Culture among other elegant attractions. You should book a free tour in El Centro at least a day before for your convenience and safety in your 3 weeks in Colombia itinerary. Just make sure you get there before ten in the morning and reserve time for breakfast because the tour can last up to three hours!
DAY 3: GUATAPE ADVENTURES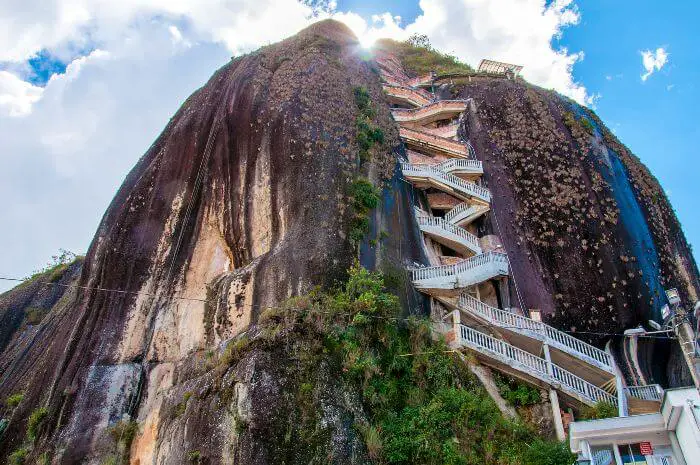 Take the bus to Guatape, a small town only a couple of hours east of the city. The colorful town is a breath of fresh air in your Colombia travel itinerary 3 weeks with its creative zocalos, fun-filled ventures, and beautifully designed homes. The main attraction in town, of course, is the El Peñol Rock—a monolith over 700 feet tall where you can get no less than the best pictures and a legendary view! Do choose your adventure in town, which includes cruising, jet-skiing, ATV tours, paintball wars, swimming in a lake or waterfall, El Peñol Rock and visiting Guatapé Lake on a boat, and a whole lot more.
DAY 4: ECOLODGES IN JARDIN
Only three hours from Medellín by bus, this captivating town boasts some of the most enchanting gardens and landscapes you might ever find. It's one of the rare regions where you have the option of staying at an ecolodge, which is a unique type of accommodation set remotely in natural areas with minimal impact on the environment. It would be remiss of you if you don't go to Cueva Del Esplendor, a hidden waterfall, and Cafe Jardin in this part of the Coffee Axis!
DAY 5: SALENTO & VALLE DE COCORA
Moving on to a modest yet popular town to your travel Colombia itinerary, you'll find that this representative of the Coffee Region offers more than your typical caffeine fix. Coffee tours, shopping in Calle Real, and hiking in the Cocora Valley and Coffee Farm are the mainstays of a great visit to Salento. The verdant meadows and enormous wax palms in the valley are unparalleled. The quaint municipality of Filandia and the Santa Rita waterfall is a great addition to your itinerary for Colombia and it is also nearby!
DAY 6: CALI AND THE ARTS
The city of Cali, indisputably known as the Salsa Capital worldwide, is also known for its high form of artistry! The energetic feel is prevalent (especially in the nightlife) as you hear music on practically every corner. Go see Delirio, an international salsa circus where world-class performers display a powerful show of culture, and stay in San Antonio, a neighborhood home to historical monuments including the eminent Cristo Rey.
DAY 7: SALSA DAY
Juanchito and the Granada suburb are the famed salsa dens in the city for your travel itinerary Colombia plan. What better way to start the day than with the RiCo Salsa Tour. If you can't dance, then it'll be your reason to take at least one salsa class in Cali for the books! Participate in one session at a salsa school such as the Manicero Escuela de Baile, and then put your moves to the test at a club or bar after dining out in the evening.
DAY 8: THE WHITE CITY
Aside from being known for its whitewashed buildings and beautiful architecture, Popayán is also known as the Creative City of Gastronomy. Sample traditional cuisine in the restaurants within the city, and sight-see in Parque Caldas to find the main points of interest: the Torre del Reloj clock tower, the El Morro del Tulcán archaeological site, and the Baroque-style churches within the area.
DAY 9: MONUMENTS OF SAN AGUSTIN
The archaeological park of San Agustin is known as the largest necropolis worldwide and another must-visit in your three weeks in Colombia plan. Hundreds of enigmatic statues created centuries ago are scattered across the area, and their well-preserved integrity is an astounding sight not only for historians but also for anyone who sets eyes upon the elaborate monuments. The mysterious design and origin of each artifact give deep insights into the region's cultural history.
DAY 10: GRAFFITI TOURS IN BOGOTÁ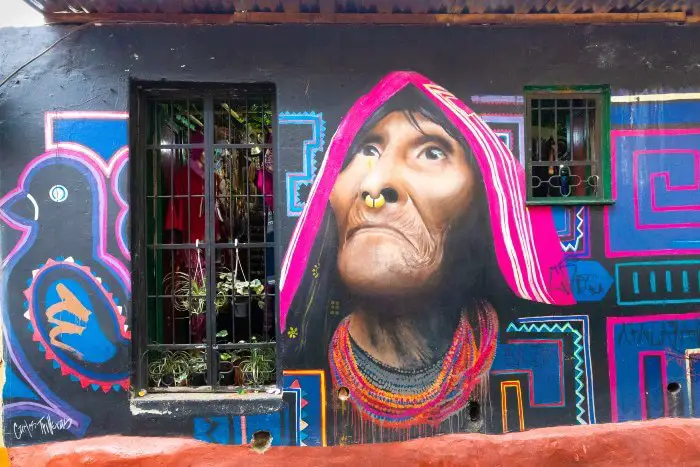 At this point, you'll have arrived in the largest capital in the country! The historic yet trendy La Candelaria is the best neighborhood to stay in with its wide range of accommodation and diverse venues within arm's reach. The free two-hour walk tour or a graffiti tour in La Candelaria is your main activity for the day as you explore the city and take in the local vibes. Afterward, include the the busy Plaza de Bolivar in your Colombia three week itinerary. It is a great place to hang around and pass the time after spending 10 days in Colombia.
DAY 11: MONSERRATE, MUSEUMS, & ANDRÉS CARNE DE RES
The climb to the top of Mount Monserrate by foot, funicular, or cable car is an essential part of any visit to the main capital. The Well of Wishes, the statue of Señor Caído, and shops, and restaurants await you at the top, aside from an astonishing sight of the city. Tour the Botero and Gold Museums for their internationally recognized collection of artworks and artifacts, and then finally have dinner and party the night away at the huge upscale club-restaurant that is Andrés Carne de Res!
DAY 12: THE SALT CATHEDRAL & ZONA T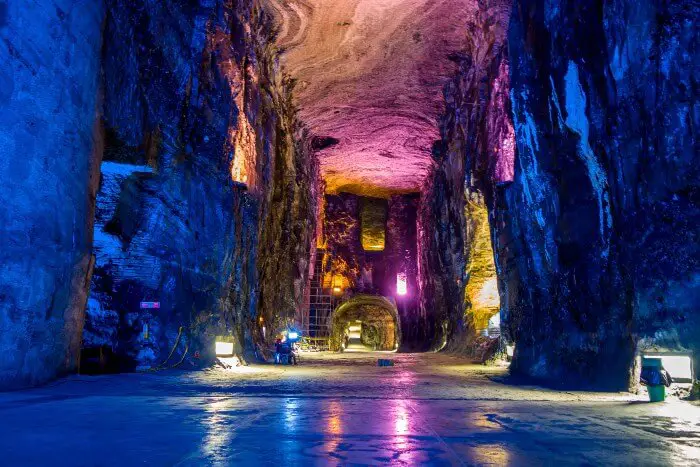 A tour of the Zipaquira salt cathedral is well worth your time and money—this underground church made entirely out of salt is one of a kind. Its intricate design, beguiling atmosphere, and well-designed interior make it an unforgettable experience for any visitor. Then for the evening, dine out in Zona T, which is less than an hour south of the city. You'll find all the prime venues for your Colombia 3 week travel itinerary in the nightlife district there!
DAY 13: VILLA DE LEYVA & PLAZA MAYOR
For a notable change of pace, Villa de Leyva is the best stop to gather your senses, live the moment, and simply relax in the tranquil air of this delightful town. We stayed a lot longer, but since we want to make the most out of three weeks, you can actually go through the main attractions in a day or two or take a 5 hour Villa de Leyva city tour. Stroll the streets of the neighborhood, and as dusk falls, enjoy a few drinks with the locals at the Plaza Mayor.
DAY 14: OUT-OF-TOWN & MARQUÉS DE VILLA DE LEYVA
Since the town is also known as the wine region, you better visit Marqués de Villa de Leyva and have a taste! If you're a wine connoisseur yourself, a sip of red wine with meat and cheese will surely satisfy your cravings. Out of town, you can visit Ráquira, a town famous for its pottery and Sunday market, or you can go to the El Fósil Museum, Centro de Investigaciones Paleontológicas, or El Infiernito for a bit of history or archaeology.
DAY 15: THE ADVENTURE CAPITAL
If you enjoyed the activities in Guatape, then you'll have an even more thrilling time in San Gil! Extreme sports are famous in the area because of the highly diverse surrounding landscape featuring canyons, rivers, and mountains. Paraglide, bungee jump, rappel, and bike to your heart's delight—if your heart can take it, that is!
DAY 16: CARTAGENA & THE WALLED CITY
Marking the beginning of your journey on the Caribbean Coast, the old town of Cartagena takes you back in history with style, luxury, and culinary prowess. Take a tour and visit remarkable spots such as the Parque de Bolivar and Adolfo Mejía theater, then dine at La Vitrola to sate your appetite for authentic, traditional classics. San Diego is suitable for midrange accommodation within the Walled City, where many restaurants and other venues are located at your convenience. One of the most recommended and stylish accommodations is ETHNIC Thematic Hotel. Its vibrant walls and distance from Marbella Beach are some of the reasons why it is the best place to rest and take a walk near the beach. 
DAY 17: SWIMMING AT THE ROSARIO ISLANDS
For a destination akin to a Caribbean paradise, take a two to three-hour boat ride to the secluded Rosario & Baru Islands. Much less crowded and with crystal-clear waters, this is a favorite of honeymooners and the like. Swim and bathe under the sun as you have yourself a drink in one of Colombia's more extravagant locations! The Oceanarium is also open to all if you'd like to appreciate life underwater.
DAY 18: SANTA MARTA
A world heritage site, Santa Marta has retained its cultural diversity over the years and is home to various indigenous ethnic groups. Go to Quinta de San Pedro Alejandrino and Museo del Oro Tairona to appreciate the town's historic value, and travel to Taganga, a simple fishing village near the town untouched by excessive modernization. If you're feeling it, join a beach party at Playa El Rodadero or the less crowded Playa Blanca too!
DAY 19: TUBING IN PALOMINO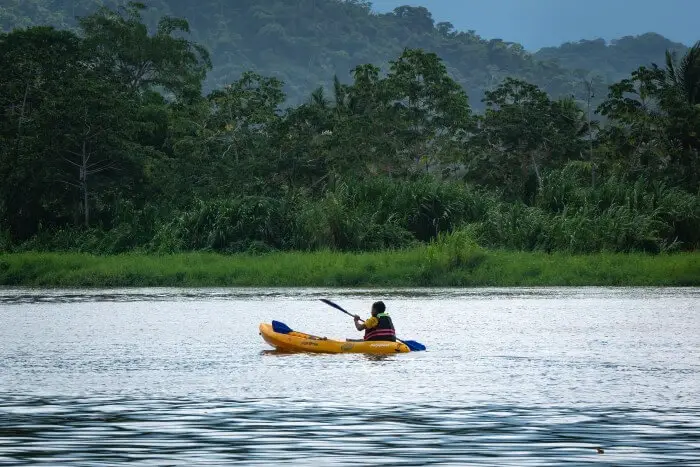 Indeed, river tubing and rafting in Palomino are the highlights of every tourist's visit to this beach town. It's best done during the middle of a clear day, so you should be able to get there by early morning as it's only under two hours from Santa Marta. Take note that you can also go horseback riding or participate in surfing lessons at the beach where the currents are strong!
DAY 20: EXPLORING TAYRONA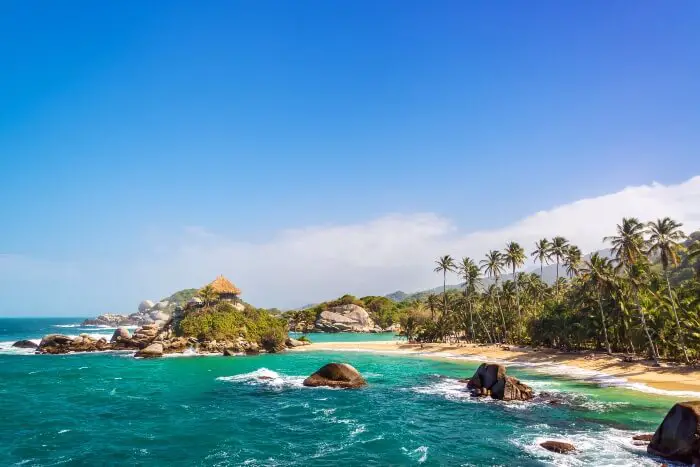 Your last day trip is Tayrona National Park, a huge region for those who are either in it for the expedition, the beaches, or the biodiversity. The mirrored beaches of Cabo San Juan are a must-see as you're certainly not going to find such a sight anywhere else! So take a hike and beach day inside Tayrona National Park. Birdwatchers will also be thrilled to find rare species for the first time, and archaeological museums and ruins are also found throughout the park for those who take an interest.
DAY 21: DEPARTURE FROM CARTAGENA
Hopefully, you've enjoyed the best of the three faces of Colombia as you pack your bags and get ready for the airport. 21 days might seem like a long stay for some, but trust us, you'll be wanting more by the end of your trip—just like we did! Definitely better grab the chance to traverse the region more if you can afford a few additional days.
OTHER DESTINATIONS & DAY TRIPS
Whether you have extra time or are planning to change up your trip, you might want to explore the other great locations we've listed below! As most of the cities included in the main itinerary are busy or fast-paced, we've included destinations leaning towards a more relaxed and authentic experience with the natives.
FILANDIA
Perfect for getting in touch with the locals' way of life, the less-visited sleepy town of Filandia is truly a hidden gem. The simple yet beautiful neighborhood isn't crowded at all, and several thriving family-run coffee farms surround the region. Aside from sipping on authentic Colombian coffee at a cafe overlooking the area, you can also play a traditional game of Tejo at a local bar!
BARICHARA
Sitting on the edge of a canyon near San Gil, the old town of Barichara brings you back to Spanish colonial times with its relaxed ambiance and charming venues. Visit the main square and El Mirador for a breathtaking view of the sunbathed region. The El Camino Real hike to the tranquil village of Guane is also popular among tourists as the easy, downhill trail only takes two hours to complete—complete with picture-perfect sceneries.
MINCA
Similar to sleepy towns such as Villa de Leyva and Popayán, this humble mountain village is certainly worth visiting given the neighboring natural wonders such as the Marinka waterfall, the Real El Dorado, and various coffee and cacao farms. Birdwatching and hiking tours are also pretty famous in the area!
Final Thoughts
Get in touch with some of the natural and historical wonders in South America with our Colombia 3 week itinerary. The coffee tour was one of the most memorable activities for our family. Tell us yours in the comments!
---
Mums on Flipflops is a participant in the Amazon Services LLC Associates Program, an affiliate advertising program designed to provide a means for sites to earn advertising fees by advertising and linking to amazon.com, amazon.co.uk, amazon.ca, amazon.de, amazon.fr, amazon.it and amazon.es. Amazon and the Amazon logo are trademarks of Amazon.com, Inc. or its affiliates.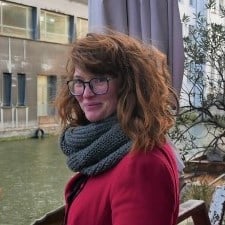 ABOUT THE AUTHOR
Babs Rodrigus is the co-founder and main writer of Mums on FlipFlops . She is absolutely crazy about travelling – especially together with her wife and kids. Babs loves animals, chocolate (what did you expect from a Belgian?), reading and writing.