With Toddlers on the Beach: 20 Great Tips for Parents
We finally took our toddler to the beach! It was a lovely day, and our kids had a blast. The preparations were not all that sunny, even though we experienced packing beach essentials for babies. Our little ones can now move around and eat everything they can grab! We realized we needed to pack other items for toddlers on the beach to play with and think of activities to do!
There's a good chance this post contains affiliate links. This means that if you purchase anything through one of our links, we'll receive a small fee (it won't cost you anything, promise!). As an Airbnb Affiliate, we earn a commission when you book through our link. If you would like to learn more about our affiliate partners, click here for our disclaimer.
Tips for Parents to Bringing Toddlers on the Beach
When our kids were months old, our only goal was to pack everything our babies, but that changed when they reached toddler age.
At ages 1 to 3 years old, toddlers on beach liked exploring their surroundings, which involved reaching out to items and biting them, and this happened at the beach too! But we're not here to scare you to take your toddlers to the beach. Instead, we want to help you prepare everything you need before and after your trip to the beach!
Create a good memory with your toddler and the whole family when you have everything planned.
#1 Create a Beach Packing List for Toddler
Get a paper and start writing! We understand that some first-time parents could take their toddlers to the beach when they were months old, so creating a beach list for toddlers can be tricky. 
Copy your first list to another sheet of paper and do a second check of your Scout Extra Large each bag items. If you haven't made a list, you can search for beach essentials for toddlers!
Do not be out under the sun for the whole day. The sun's rays harm you and your toddler's skin around 11:00 am to 3:00 pm, but the heat also matters in the country or city.
#2 Head Out Early or Go Late Afternoon
Your number 1 priority is your toddler. Though they may be a year older, their skin needs more care, and so is ours. Go before 11:00 am or earlier. By the time you get there, the breeze is cooler, and you have enough time to find your spot.
We recommend going late afternoon, but you may have only a few hours to enjoy the beach. If you can't help but go around 11:00 am to 3:00 pm, make sure everything is set and get a quick nap with your little one under a shade or have a good cold drink. If you're staying at a hotel, enjoying the indoors for a while as you wait for the afternoon would be better.
#3 Get Generous on that Sunscreen!
You must always have sunscreen on your beach with a toddlers checklist! Make sure your sunscreen is one with SPF 50+ protection or the Aveeno Baby sunscreen for kids with sensitive skin! You can also pick a kind that works well with adults and toddlers. 
Then, set a timer or alarm on your phone. It will remind you to reapply the sunscreen to your toddler and yourself! Apply sunscreen, especially to the skin exposed to the sun.
#4 Dress Toddlers with the Best Swimwear
One thing we learned about taking our babies to the beach is swimwear. It's always better to only expose less of their skin, and getting a UPF 30 or more swimwear would be better!
You can go for the i.play rash guard for toddlers and i.play reusable swim diaper combination or use a rash guard swimsuit from uideazone. Getting the rashguard and diaper combo lets you easily apply your sunscreen. 
You can also keep their head cool with the best beach hats for toddlers from Examaba with UPF 50 sun protection. We try to make our toddlers wear the Cocosand sunglasses for their eyes, even though they take them off most of the time! Luckily, ours has flexible lenses.
#5 Find Your Beach Space
It's always better to come early in the morning to find the best space for your toddler beach tent from MANP and build a play space, even in a beach for toddlers. Take note of stones, bottles, and other sharp debris on the sand. Those sharp points can pierce through the mat or hit your toddlers even if you have the best playpen tents or Camel Crown's thick outdoor blanket.
#6 Build a Little Play Space
Set up your Sport-Breall beach umbrella and POP N' Go toddler playpen to let your toddlers enjoy the outdoors! Toddlers are always curious about anything; this is the time to introduce them to sand and having fun outdoors. 
Since they were babies, we always brought a safe and colorful set of hahaland beach toys for toddlers. Make sure your beach toys for toddlers Amazon purchase is BPA-free and durable enough to sustain tons of throwing!  
Building your play space doesn't mean you just let them be with their beach toys toddlers set. Create a beach art for toddlers activity, play with them, build your mini beach, and even mold sandcastles to help them hone their creativity!
#7 Always Bring Toddler Food and Water
If you go a little early to the beach, plan a nap time for them and let them sleep inside the tent with you. Another schedule you should consider is snack time! Yes, besides milk, you need Amara Store cool Yogurt Melts as beach food for toddlers and part of your beach with toddlers checklist! You can keep food and drinks warm and cool when you put them inside a Lifewit cooler bag. 
One of our tips for toddlers at the beach is setting up a toddler beach chair! It makes it easier for you to feed your baby! 
#8 Swim with Safety
How to keep toddlers safe at the beach? You are at the beach, so make sure you help them have fun on the water! It is also a good bonding moment with you and your toddler. 
We were scared of swimming with our toddlers. To ease our worries and ensure they were safe, we made them wear Body Glove's life jacket beach gear for toddlers! Getting a floaty that's U.S. Coast Guard Approved is a great option too. 
Our toddlers did not like wearing those cool Zabert swimming goggles we got for them, and they kept taking them off. But we made sure to distract them with playing, and luckily enough, they didn't even know they were wearing the goggles until we took them off.
Why do we want them to wear goggles? The small waves near the shore can reach their eyes and hurt them. When you're at the beach, the strong breeze also carries bits of sand that could hurt their eyes.
#9 Don't Forget the Diapers
They may not be babies anymore, but toddlers are still in potty training. When you're at the beach, it's not easy to find good toilets. Sometimes, beaches only have public restrooms used by many people.
When traveling to another country, you want to prevent your kids from catching any germ-causing diseases. So make the Huggies disposable swimming diapers part of your things to take to the beach with toddlers! 
You can also continue potty training by bringing FAMI HELPER's foldable potty seat. Then, throw the waste in the toilet trash bin when you are about to go home. Used diapers are stinky, and bugs will flock to your trash bag, so make sure you lock your bag every time you throw something in them.
#10 Get a Bag for Trash
Most of the beach stuff for toddlers you bring to the beach is disposable, and sometimes, the beach trash bins are full, or you see none of them at all.
We often find it challenging to look for even half-empty bins at the beach. Sometimes, you can see them near a hotel, the outdoor toilets, and at the corners, where it is impossible to identify them. 
Instead of running around looking for the trash bins all the time, bring the Full Circle recyclable rash bag with you. Place it near your tent and throw everything you want to dispose of inside the bag. Then, throw your trash before leaving the beach.
#11 Cool Your Toddler with a Mini Fan
If you go to the beach early in the morning, expect the weather to be a little hotter as the hours go by. Start turning on the snawowo mini fan inside your tent to keep your toddler cool. Get a mini fan with a foldable tripod, and you'll quickly set it up as a stand fan or hang it anywhere in your tent. 
It's always better to use a tent that you can open on both sides or have mesh windows. But sometimes, waiting for the cold breeze to come in is not enough, so a mini fan helps keep your toddler comfortable sleeping or playing.
#12 Check the Tide
We usually just take our toddlers to the shallow parts of the waters, but checking in on the tides can be a great help. You don't want to ruin your beach experience and bonding time with your toddlers just because the waves are a bit strong or the tide is high or low as you would like it to be.
#13 Stay at a Toddler-friendly Beach
If you plan to take a vacation with kids to countries with the best beaches like Cuba, take time to look for beach resorts with tons of amenities. It is about the distance to the beach from your hotel, hospital, and more.
Of course, we don't want anything to happen when staying at a hotel with a baby, but when an emergency arises, we want to be near everything we need. Finding beaches and resorts with all the necessities near you would be best. This goes well for short trips to the beach in your hometown too!
#14 Keep Everything Safe from Water
It can't help that the most amazing beaches can be far away from hotels and other amenities, and our phone could be our lifesaver. It's also easy to take note of the time to reapply sunscreen to our toddlers again by setting alarms on our phones. Make sure it is safe with A Little Better's Biodegradable Ziplock Bags.
You can also put food inside the zip lock to keep it fresh for your toddlers to eat. You can also store your General Medi's first aid kits here! 
#15 Create a Small Pool
There are many ways to introduce your toddlers to the beach. You can play at the shore with them and slowly dip their feet into the beach water. But if you arrive at the beach late in the morning, creating your very own mini beach can be a better option. 
Looking at their excited faces after seeing a beach is one of the most beautiful sights you can see. It would be a bummer to turn their smile upside down when you can't let them play or swim with them when the sun's up! 
Set up the Peradix mini pool near your tent and fill it with beach water and sand to get that beach feeling. This way, you can control the water levels and let them enjoy swimming safely and while near you! 
#16 Bring a Towel for Each Toddler
Sharing a towel may seem like a space-saving option, but it's always safer and better to pat your toddlers with dry towels when it's time to go home. 
You can always go for a regular towel for your toddlers, but we like the towels with hoodies and character prints from Franco. As you dry them up for a change of diapers and beach clothes, a dry towel with a hood ensures you never miss drying their hair. They also look so adorable with a hood!
#17 Free Toddlers from Sand with Baby Powder
No matter how much you keep your toddlers dry with a good piece of towel, you can't help but find loads of sand on their skin. We found loads of them in our toddlers' underarms… everywhere! It was one of the most challenging parts of getting our toddlers ready for their dry beach wear!
While others advise using cornstarch to remove excess sand, we prefer California Baby's non talc baby powder, suitable for toddlers with sensitive skin. You can use it to keep their bodies cool any time than cornstarch. So make sure to pack one in your bag to use for yourself adn the whole family too! 
#18 Use a Mesh Bag for Wet Clothes and Sand Toys
Besides wet clothes, you have utensils, toys, and other beach items that end up wet after using them on the beach. So get the DiGeeONEGU's large mesh bag for all of your toddler's wet items. It is 24"x15"x8.5" and capable of carrying about 50L of water.
The water will drip through the bag, and you can place it at the back of your car! You will also not have to worry about wetting your dry clothes with seawater. 
#19 Carry Everything with a Beach Wagon 
With a long list of items to bring, getting yourself the Radio Flyer Beach wagon will help you carry everything without carrying your toddler and your beach items with toddlers at the beach! 
Use one with enough space for the toddlers to sit on. As the hours go, you can use the wagon to play around the shore! The beach wagon we recommend is foldable and easy for you to store anywhere after use. Plus, it has tons of pouches and a read that can hold up to 2 beach chairs! It's definitely a worth-it addition to your trip to the beach!
#20 Protect Your Toddlers from the Bugs
With sunscreen and rashguards, your toddlers may be protected from sun rays, but the shores are home to bugs. There are a lot of them! 
Make sure you use one that is paraben free and are non toxic, like the Babyganics Bug Spray. Always make sure to check the ingredients too! Some may of them may be toxic to your baby's skin.
Now that you are set to go to the beach with toddlers, you are ready to have a fun time with your toddler and the whole family at the beach. You also have everything you need for yourself! However, if you are traveling to Cuba with kids, you may want to work on your toddler's vacation wear and pack everything required for the long vacation first. 
Mums on Flipflops is a participant in the Amazon Services LLC Associates Program, an affiliate advertising program designed to provide a means for sites to earn advertising fees by advertising and linking to amazon.com, amazon.co.uk, amazon.ca, amazon.de, amazon.fr, amazon.it and amazon.es. Amazon and the Amazon logo are trademarks of Amazon.com, Inc. or its affiliates.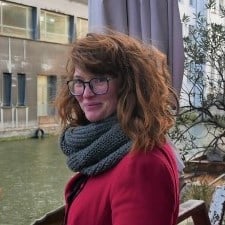 ABOUT THE AUTHOR
Babs Rodrigus is the co-founder and main writer of Mums on FlipFlops . She is absolutely crazy about travelling – especially together with her wife and kids. Babs loves animals, chocolate (what did you expect from a Belgian?), reading and writing.