Staying at a Hotel with a Baby (2023): 16 Smart tips for a stress-free trip
When you are at home, you have everything organized just so as to make caring for the baby as easy as possible. However, when you hit the road, all bets are off. Especially if you are flying, you end up at your destination with the bare minimum (which is still a lot!), you may be in a different time zone, and you are confined to one or two rooms with very thin walls. All of these things add up to make staying at a hotel with a baby a challenge.
Despite these challenges, we took our children on several trips during their first year and for all of these trips, we stayed in hotels. Here's what we've learned.
There's a good chance this post contains affiliate links. This means that if you purchase anything through one of our links, we'll receive a small fee (it won't cost you anything, promise!). As an Amazon Affiliate, we earn from qualifying purchases. If you would like to learn more about our affiliate partners, click here for our disclaimer.
Tips to make staying at a hotel with a baby a piece of cake
Well, I have to admit, it's never truly a piece of cake because no matter how well you plan it, kids are unpredictable. They might get sick or the baby might scream all night. There's not much you can do about that.
Fortunately, a trip with your baby will usually go just fine. Especially if you prepare by following the tips you can find below.
#1 Book a suite if possible
I know it's often not in your budget to upgrade your room to a suite.  However, if you can swing it, a suite makes life a lot easier.
If nothing else, it provides much-needed space.  It never seems to matter how we pack or set up the room, it always looks like a bomb went off within 15 minutes of arriving, and never gets better.  A suite at least gives you the extra space to spread out. 
Another benefit of a suite is providing your baby with a sleeping location further away from others in the room.  Especially if your baby is used to sleeping in their own room, sharing a small hotel room can make it difficult for anyone to get a good night's sleep as you keep waking each other up.  Having a suite with a door dividing the two parts is the golden lottery ticket.  However, just having the room broken up into two areas helps a lot too. 
When you are staying in a hotel with a baby and traveling, you likely have full days planned, so it's important for everyone to sleep well when you have the chance.
Depending on where you are traveling to, it may be difficult to get a larger room. If you are heading to Disney, check out these options for large families which can also be used to give you more space with a baby.
#2 Request a crib ahead of time
Do hotels have cribs? If you ever found yourself wondering, the resounding answer is YES! Hotels have cribs or pack n plays that you can request for your room. It's smart to do so because it's one less thing you need to bring with you. But you can still bring out our own sheets though, if that's what you prefer.
However, don't wait until you get there to book it! Julie learned the hard way during her first trip that you have to call ahead and have them add a note to your reservation that you need a pack-n-play.
The first time we traveled with our son, we got to the hotel really late because of flight delays. I knew that the hotel had pack-n-plays, so we didn't bring one with us. However, I hadn't actually requested it prior to check-in. Because we checked in so late, the only people there didn't have access to the room where the pack-n-plays were stored. Therefore, our son ended up sleeping on a blanket on the floor. This was horribly stressful for me and I didn't sleep a whole lot. I have called ahead of time since and never had a problem. Sometimes the pack-n-play is already in the room when we arrive, and other times I have to remind them at check-in, but they always have someone that can bring it right up.

Julie – My Favorite Job Title is Mom
When you're sharing your hotel room with your baby, some babies might be more comfortable in a sleeping place they already know. In this case, bringing your own travel crib or portable bassinet is a good idea. There are some compact and lightweight models on the market that even make taking them on a plane possible.
Another option is bed-sharing with your baby in the hotel room. We also do this at home, so it's a no-brainer that the baby will sleep in our bed when on vacation. But for parents who don't usually co-sleep, it might be an option too. If you don't want to put that tiny baby 'just' in the bed with you, you can bring along a sleeping nest like the Dockatot Deluxe. This makes it easier to prevent the blanket from going up and keeps your baby in its own cocoon at all times.
#3 Rearrange the furniture
The first thing you should do when you get to your hotel room is to rearrange the furniture. Hotel rooms are definitely not set up to be compatible with kids. The furniture is also arranged in a way to take up about as much floor space as possible.
Start by condensing as much of the furniture as possible. Push tables together put chairs under tables and squish the furniture in whatever way gives you the most space.
Plan out your "stations" in the room. You will want a play area, food station, changing station, sleeping station, and storage area. By thinking about these as you are organizing the room, you can maximize the flow of the space to make things a little easier.
Something to consider is where to put the pack-n-play. Ideally, you want the area that is the darkest and furthest from the rest of the family's stuff. If you can find a nice corner to tuck the pack n play into, that usually works best. Ideally, you want to be able to move around a little without waking up the baby.
If you are bed-sharers, push the bed against a wall. This way, Baby can sleep safely on the side of the wall – meaning they can't fall out, nor do they need to sleep in between you and your partner (which is less safe).
#4 Bring a white noise machine
Staying in a hotel with Baby almost always comes with more noise than at home. Whatever you can do to block out the noise of other people in your room and in the hallway is a plus. I love the Yogasleep Rohm Portable White Noise Machine that we take with us on every trip. You can hang it on the side of the pack-n-play which helps to keep your baby in their own little world. Don't forget to also bring the Iron Forge Cable extension cord in case your baby's sleeping spot isn't right by an outlet.  For everything else to pack for a baby, check out our essentials-for-baby's-first-trip packing list.
#5 Consider what needs childproofing
If you have a young baby that isn't mobile, this isn't a big deal.  However, for an older baby, a hotel room is a giant playroom with all kinds of new toys. 
Consider hiding cords, pushing things to the back of end tables, and putting trashcans on top of tables so they are out of reach.  If your child happens to be into playing with outlets, it may not be a bad idea to travel with a bag of Mommy's Helper Outlet Plugs to use in the hotel room.
#6 Choose a room with a fridge
With a baby, there is almost always a reason why a fridge is useful.  Maybe you are pumping and need to store breast milk, maybe you have an older baby that's drinking milk, or you just need to keep some snacks cold. 
Most nice hotel rooms are going to have a fridge. However, this isn't absolute.  If you are breastfeeding and need a place to store pumped milk, definitely call ahead and request that they put a fridge into the room if there isn't already one.  Most hotels have at least a couple they can put in if a guest specifically needs it for health (or breastfeeding) reasons.
#7 Make sure there is a continental breakfast
A continental breakfast is helpful when you are trying to save money.  It's a meal you can go eat in your PJs if you want, and it's free. 
If the hotel has a good breakfast, you can use it as a source of milk (if your baby is over a year) and even collect enough food to feed a toddler for most of the day.  Items like bananas, dry cereal, yogurt, and hard-boiled eggs are all common items included in hotel breakfasts.
#8 Request a first-floor room
We don't always do this, but it can be helpful. Having a first-floor room means you don't have to drag baby and all the stuff that comes with said baby up and down the stairs or elevator. This little detail can be helpful when you are tired after a long day.
#9 Consider a king-sized bed
If you don't have a reason you specifically need two beds, opt for a King room.  The single king bed gives you a little more floor space, and when traveling with a baby, every little bit counts.
Also, cuddling and playing on a large bed is much easier and safer than on a single one.
#10 Bring swimming stuff
When traveling, it's really easy to go an entire day with very little time where your baby actually gets to work out some energy.  This can make for a cranky child that doesn't want to sleep. 
If the hotel has a pool, this can be a great way to tire out your baby.  Bring a swimsuit and Huggies Little Swimmers Disposable Swim Diapers as well as swimming stuff for you. 
If the baby seems like he needs to work out some energy, you can hit the pool for a little bit at some point during the day.  This isn't something most babies get to do on a regular basis, so it doesn't take much to tire them out.
As an added bonus, the water in the pool is a great way to help your baby decompress after a long and tiring day.
Tip: a bath or shower has the same effect if your hotel doesn't come with a pool.
#11 Keep to the bedtime routine
You may want to put Baby to bed before you go to bed, and I bet you have a perfect bedtime routine that you plan to use in the hotel as well. 
However, don't forget to adapt your bedtime routine to suit your baby. This means getting yourself organized so that you know where everything you need is and don't need to turn on lights outside the bathroom after you put your baby to bed.  The last thing you want is to just get your baby to sleep and then realize you can't find something and end up waking the baby up looking for it.
#12 Set the air conditioning fan to run constantly
This can provide some background noise to cancel out the noise from other hotel guests (and you). You just need to make sure the temperature is set appropriately. Most hotels have an option where you can set the temperature but also set the fan to run consistently to cycle room temperature air.
#13 Plan for nighttime crying
No one likes to be in a room that's so loud it's waking up everyone on the floor, and a crying baby can certainly do that.  However, there's a big difference between being loud because your baby is crying and being loud because you are up partying and just generally being obnoxious. 
If your baby wakes up crying during the night, handle it similarly to how you would at home. The only exception may be if you usually let your baby cry it out for an extended period at home, consider putting a shorter limit on it after a certain time at night. 
Just remember that the majority of the people in the hotel are going to have kids, so they know what it's like when your baby won't sleep.  Do your best and know that rough nights may be part of traveling, especially if there are major time changes involved.  This is why you set up your room to make it as easy as possible to find a bottle and necessary supplies quickly in the dark.
#14 Consider renting baby equipment
You don't appreciate things like the Fisher-Price Rainforest Jumperoo or Fisher-Price Sweet Snugapuppy Swing until you are stuck in a hotel room without them. 
Renting baby equipment can be just the solution to having these items while traveling. We've never personally rented baby equipment (as we prefer to move locations frequently) but I've heard many positive reviews from moms that have. You can check out a couple of different companies like the Baby Quip and Travel Mamas.
#15 Splurge for a kitchenette
When you travel with a baby, you will find yourself washing bottles and sippy cups. If the only place you have to wash these is in the bathroom sink, it gets old real fast. Having a kitchenette gives you an extra sink and a place to spread out things you've washed while they dry.
If your baby is old enough to eat solids, that kitchenette will come in pretty handy too when preparing pureed vegetables and fruit.
Food, when you travel, can get expensive quickly, especially when you are feeding the whole family. You can also save a lot of money by preparing some meals in the room, which balances out the cost of getting the room in the first place. Also, meals out with a cranky and tired baby/toddler are draining. After a long day, it can be nice to just eat in your room. Obviously, you can also order some take-away, but that's usually not the most healthy option either.
#16 Pack everything but don't freak out if you forgot something
When you are only gone for a couple of days, you can survive the stress of not having something.  However, for longer trips, it can get rough if you find you didn't bring something because you weren't sure if you really needed it.  Grab my Ultimate Packing List and my list of baby travel essentials.
But, don't worry if you realize you did forget something. Unless you're traveling to Cuba with kids, you'll be able to buy what you forgot (although you might have to settle for an option you otherwise wouldn't pick).

Mums on Flipflops is a participant in the Amazon Services LLC Associates Program, an affiliate advertising program designed to provide a means for sites to earn advertising fees by advertising and linking to amazon.com, amazon.co.uk, amazon.ca, amazon.de, amazon.fr, amazon.it and amazon.es. Amazon and the Amazon logo are trademarks of Amazon.com, Inc. or its affiliates.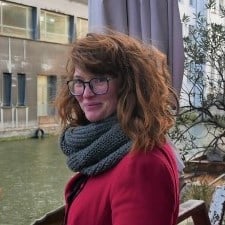 ABOUT THE AUTHOR
Babs Rodrigus is the co-founder and main writer of Mums on FlipFlops . She is absolutely crazy about traveling – especially together with her wife and kids. Babs loves animals, chocolate (what did you expect from a Belgian?), reading, and writing.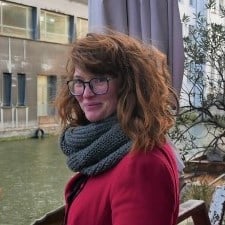 ABOUT THE AUTHOR
Babs Rodrigus is the co-founder and main writer of Mums on FlipFlops . She is absolutely crazy about traveling – especially together with her wife and kids. Babs loves animals, chocolate (what did you expect from a Belgian?), reading, and writing.