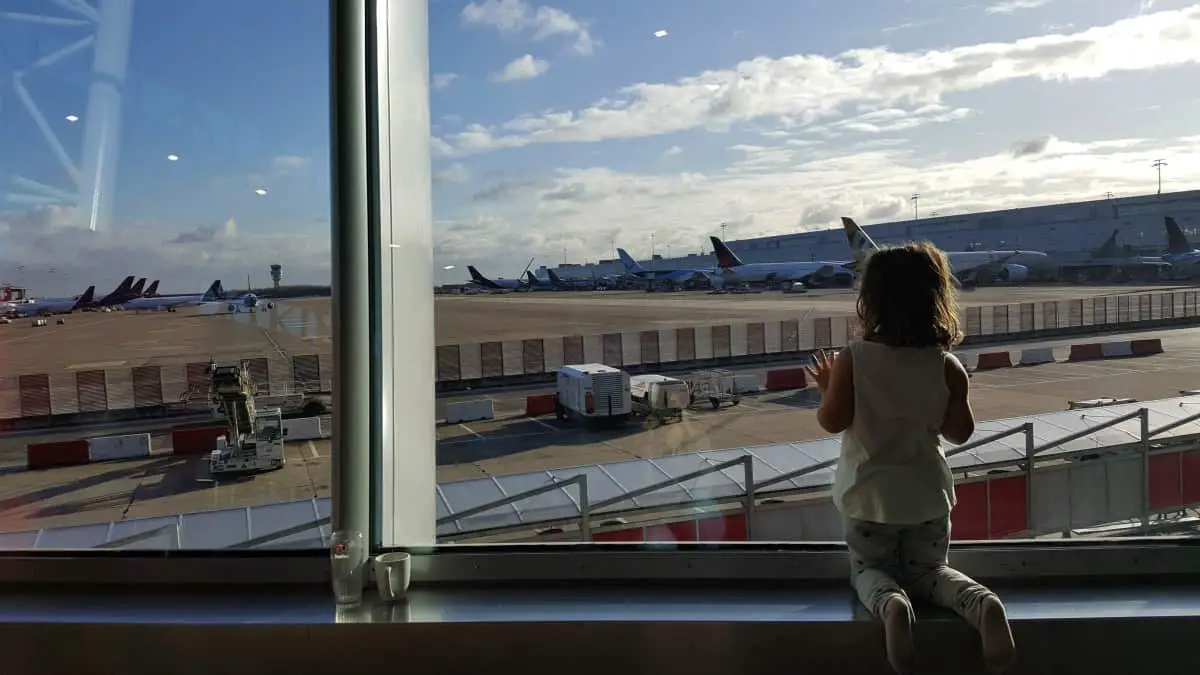 3 TIPS FOR FLYING WITH A TODDLER THAT ARE USEFUL WITH OLDER KIDS TOO
There's a good chance this post contains affiliate links. This means that if you purchase anything through one of our links, we'll receive a small fee (it won't cost you anything, promise!). As an Amazon Affiliate, we earn from qualifying purchases. If you would like to learn more about our affiliate partners, click here for our disclaimer.
Once upon a time, you may have faced a long haul flight with excitement for your next trip and resignation about the long hours sitting in a cramped chair while binge-watching movies.
However, you are a parent now. Those days are long gone, because honestly (and you can hear the squeaking voice of your great aunt in your head): will they stay in their seats? Will they eat something? Will they sleep? Will they behave?
Fear not! Flying with children may sound like a gruesome undertaking, but when you know what to expect and come prepared, you might even enjoy yourself. This is were we come in: we will give you the best tips for flying with a toddler and the best thing is: they are just as useful for your older children!
There's a good chance this post contains affiliate links. This means that if you purchase anything through one of our links, we'll receive a small fee (it won't cost you anything, promise!). As an Amazon Affiliate, we earn from qualifying purchases. If you would like to learn more about our affiliate partners, click here for our disclaimer.
Tip 1: Choose your airline and flight time wisely
Not every airline is the same nor provides sufficient care for your children. Furthermore, every family is different and thus has other priorities.
Ask yourself if that cheaper ticket is worth the smaller leg space or the lack of an in-flight entertainment system. Airlines that are generally considered family friendly offer extra luggage allowance and good child and baby meal options. Some even go as far as providing an in-flight nanny.
Some of the best airlines for family travel are Etihad, Air New Zealand, Qatar Airways and Asiana. This comparison table shows the top family-friendly airlines and their options.
Not only the airline is important, but your flight times are as well.
You know your child best, so think about lay-overs versus direct flights (do you want to offer up time so they can stretch their legs and lose some energy?).
You may also want to consider day and night flights. If your child is an easy sleeper, it may be the easiest to get a night flight so they can sleep a big part of the trip. However, if you fear they might not be sleeping at all due to the excitement, a day flight can be a better option.
TIP: if you are wondering how to survive jet lag with kids, take a look at this article!
Tip 2: Bring a big backpack full of snacks
On a long haul flight, you should be getting one or more in-flight meals. However, don't forget to bring your own snacks! You never know when you're going to need it, so bring enough of your own. Your kiddo might not like the on-board food. Or they might get bored and you need to entertain them for a bit.
Make sure to bring a variety of easy to eat (read: not messy!) food like breadsticks, crackers, grapes or apples. You can add a few sweets too, for those really tough moments.  
The trip isn't over after the flight. In general, you will need to pick up your suitcases and take a cab or other way of transport to your accommodation. This last leg of the trip may ask for some munching as well.
We usually bring one backpack with stuff and one with food. But that might be just us. We all get hangry when we run out of food and some of us even start panicking at the thought alone. Nope. Not talking about our youngest family member.
As sustainable travel is important, try to fill your snack bag with reusable containers. A Bentgo Box (#AffiliateLink), for example, is one of the best travel gifts for kids useful while you're at your destination as well.
Tip 3: Bring stuff to entertain your kid, but don't overdo it
Sure, you have to keep your kiddo entertained on that flight, but you don't have to bring Santa's bag with you!
The flying will be exciting enough for your little one, so let them look around and take it all in. There's a lot to see! They can watch the other passengers and flight attendants, spot other kids and they will probably spend a good portion of their time looking out of the window.
When it comes to games and toys, try to keep it simple. You can play easy games like I-Spy and Would you rather. They are very entertaining and you won't need any additional gear.
We always bring our daughter's own little backpack (what fits in there are the only toys she can bring on the trip). She is responsible for her own stuff and always so very proud when she can put it on.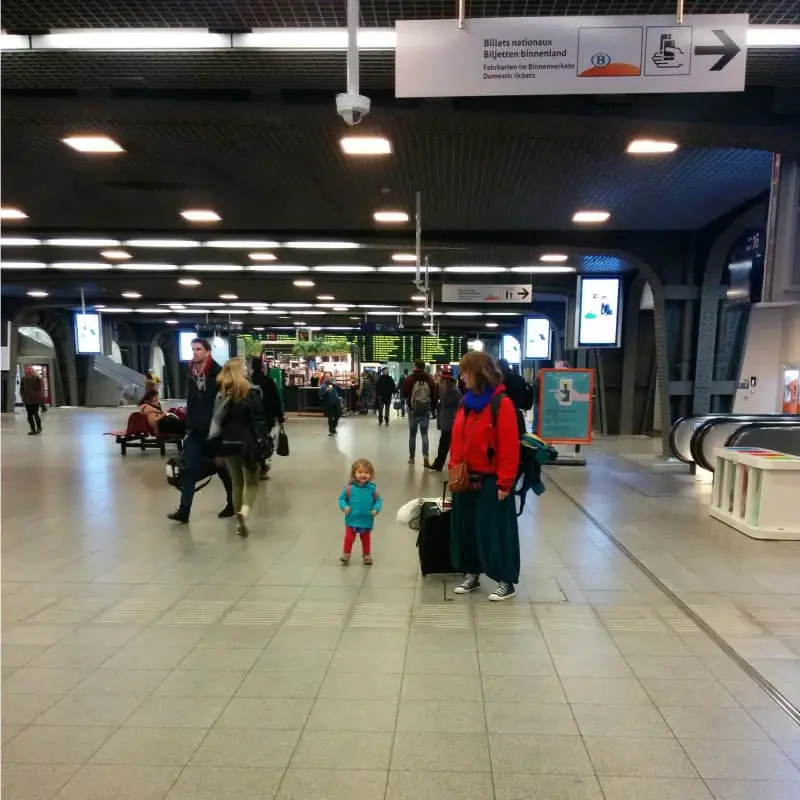 As a toddler, her backpack was filled with car toys and other little figures (the type you often get at Mc Donalds), a couple of books, her teddy bear, a memory game or other cards that she can hold and some paper to draw on.
Now, as a preschooler, we fill it with a couple of books, modeling clay (only bring this when your child is not all too messy!), her teddy bear and printed drawings of her favorite cartoons and coloring pens. She also likes imaginary play a lot, so most of the time, we are her tools for playing.
Some parents choose to bring a bunch of 1-dollar gifts which they hand to their kids every hour or so. For us, this isn't necessary as it is not all too hard to keep her entertained. But if you are worried, you can put a couple of presents into their plane bags. Unpacking is fun in itself and new toys are always more exciting than their regular ones. This will keep your kids occupied for a while.
And last but not least. Travel transport (be that flights, buses or trains) is our excuse to scrap any limitations to screen time. She can watch as many movies or play as many games as she likes.
Be aware that some kids (like our daughter) do not like the airplane earbuds or the movies are not in their native language and thus not that much fun. It's a good idea to download their favourite cartoons (Netflix!) and game apps on your smartphone or tablet. And don't forget to bring a headphone with limited volume levels so they can enjoy what they are watching without disturbing other passengers. You can find a great one here! (#AffiliateLink)
---
Mums on Flipflops is a participant in the Amazon Services LLC Associates Program, an affiliate advertising program designed to provide a means for sites to earn advertising fees by advertising and linking to amazon.com, amazon.co.uk, amazon.ca, amazon.de, amazon.fr, amazon.it and amazon.es. Amazon and the Amazon logo are trademarks of Amazon.com, Inc. or its affiliates.
---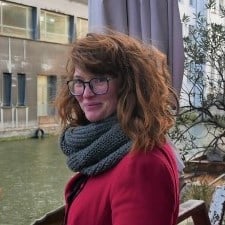 ABOUT THE AUTHOR
Babs Rodrigus is the co-founder and main writer of Mums on FlipFlops . She is absolutely crazy about travelling – especially together with her wife and kids. Babs loves animals, chocolate (what did you expect from a Belgian?), reading and writing.