Cuba with Kids (2023): everything you need to know for an amazing trip!
Are you thinking about visiting Cuba with kids? We believe that's a great idea! When we went to the island in February and March 2020, our daughter was a little over 4 years old, which was perfect. However, visiting with smaller and older kids won't be a problem either. We even saw a lot of parents travelling with (small) babies and we don't see any problem with that (except for bringing a lot of gear but more about that later).
We love to travel independently and therefore, the largest part of this article is dedicated to travelling around the country on your own. However, we've also dedicated a small section to all inclusive family vacations in Cuba.
There's a good chance this post contains affiliate links. This means that if you purchase anything through one of our links, we'll receive a small fee (it won't cost you anything, promise!). If you would like to learn more about our affiliate partners, click here for our disclaimer.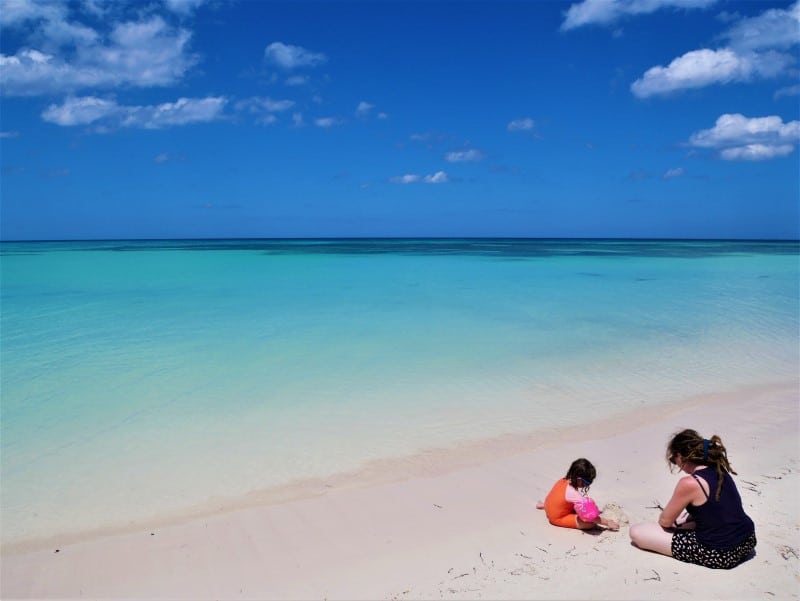 Visiting Cuba with kids: an introduction
---
Cuba is a thrilling destination that packs a whole array of diverse things to discover. From tropical turquoise beaches and colourful classic cars to interesting history and several hidden gems, Cuba has something for everyone. And with distances that are very manageable, it's possible to see quite a bit of the country in one trip. Kids will also love the country as they'll get to play on the beach, ride a horse and sit in a pink car!
However, we should mention that Cuba is something else. You might have an idea what it's going to be like before you leave, but trust me, you'll be getting a culture shock no matter what. As much as we loved Cuba, it's not the easiest country to travel around in, mainly because there aren't any shops. So, if there's one thing you should remember from this article, it's this: bring everything you think you'll need!
You'll have a hard enough time finding spots to buy drinks and snacks, you don't want to worry about sunscreen, a sun hat, diapers, toys or clothes. If you think you'll need it, bring it from home.
What to bring on your trip?
---
As I mentioned before, buying stuff in Cuba is not an easy job. Normally, we would bring snacks for our journey and hope that we didn't forget anything – but in the worst case scenario, you'll find a place to buy it. But not in Cuba.
Make sure to bring ALL your essentials! Not just expensive or difficult to find items, but gear that we consider pretty standard such as clothing, sun protection and beach toys. Especially when travelling with a baby, don't forget to bring diapers and milk powder (in case you need it) for your entire trip!
I'm not saying that if you ask around you won't find someone who can give it to you, but seeing as most products for locals are to be bought with coupons received from the state, that's not a risk you want to take.
We also brought along some snacks that would last us the entire trip (as cookies etc are hard to get by) and a tube of honey (since we usually buy bread and some things to eat with the bread as either lunch or dinner.
We knew we wouldn't be able to find cheese or marmalade, so to avoid having to eat out twice a day, we brought the honey). It turned out that one bottle of honey was not enough, but in the shop in Viñales (a real shop!), we found some marmalade which lasted us our entire stay.
Food & drinks
---
Breakfast
Breakfast is never included in your stay when you've booked a casa particular, but it is common practice that you'll eat there anyway. The regular price is 5 CUC and kids (under 6?) won't need to pay. The portions are large and you'll be offered a wide array of yummy food such as bread, sweet snacks, fresh fruit, eggs, hot drinks etc. Here you can see in great detail what we got for breakfast in each of our Casas.
However, Cuba is still Cuba and shortage is a real thing, so don't be surprised if something isn't available that day (not only in the casas particulares but also in restaurants).
Lunch and dinner
I don't know about you, but we prefer to only eat out once a day – usually for lunch – and just have some bread with a spread around 6 PM. It's both a financial and a cultural thing as eating out twice would drive up our budget quickly (especially in Cuba!) and in Belgium, we are used to eating one 'hot' meal and one bread meal a day.
Finding a place to eat isn't all that hard as there are many restaurants around. Food choices usually include pizza, risotto and chicken dishes, so it shouldn't be too hard to find something to eat, even with picky eaters.
Should you not want to eat out, you can almost always ask your host to cook for you. This will cost 8 to 10 CUC pp (kids don't have to pay) and is usually a 3-course meal including soup, salad, a main course and fruit as dessert. We've only done this twice. The first time was in Soroa, were restaurants weren't an option (talking about off the beaten track).
The second was during our stay in Playa Larga when Kath was in bed with the stomach flu, so it was just me and Little Elf having dinner. Since both I and our daughter were still recovering from the same virus, we specifically asked for just some chicken and white rice. But our host also made is a bunch of raw vegetables and some banana chips, yum!
Buying bread in Cuba wasn't too difficult most of the time, but you do need to know the working hours a bit. Bakeries are usually serving bread early in the morning and late in the afternoon, the times when locals are heading to and from work, so make sure to plan your bread buying during this time. Another plan is to mention this to your host, there's a big chance they'll offer to bring some bread back for you as they'll probably go there anyway to pick up bread for breakfast.
Buying spreads for your bread is a whole other ordeal and we'd recommend bringing some stuff from home like honey, marmalade or nutella. It's quite impossible to buy cheese or ham in Cuba as a tourist (in fact, cheese is often one of the products that run out of stock).
You can always try asking your host for this too, but we never did. We brought along a bottle of honey from home and in a little shop in Viñales, we found a pot of jam. Those 2 spreads lasted us our entire trip – not very versatile, but it did the trick. I'm the only one that likes butter on my sandwich, so I tried to save a bit from the breakfast table each morning.
Snacks
Finding snacks isn't all that easy. Candy and chocolate are extremely rare and can be bought per piece rather than in a bag like we are used to. In some little shops, you might find a small package of cookies (if you're lucky).
In some cities like Havana and Viñales (and I can imagine in Varadero and Trinidad as well) you can also find street vendors selling nougat, lollipops and other sweets.
Ice cream is a popular treat among Cubans, but again, not that easy to find. The best way to go about this is to look around and if you see someone walking around with a cone (or 2 most of the time!) ask them where they got it. The Cuban way of life is "buy it when you find it"
Fruit is the exception: bananas, water melon, papaya, guayaba and pineapple are widely available and pretty easy to find. Although vendors will probably try to sell them at 10 times the price – it might be worth checking with you Casa Particular host for the price. – although they might end up buying them for you as the Cubans are very sweet and caring.
Drinks
Drinks are pretty easy to get by. Water (and beer) is usually supplied in the fridge of your casa. At the end of your stay, you can just tell them how many bottles you used and they will be added to your bill.
Soft drinks and juice (the little cardboard boxes are pretty popular in Cuba) can be found in the small window-shops you can find anywhere or you can buy them in a restaurant too (this was our preferred method, especially in places where shops weren't frequently available, often this ended up being a lot cheaper too for some reason).
Transport in Cuba
---
There are 2 ways to travel around Cuba. You can either use public transport or you can travel around by (shared) taxi. Another option is to rent a car, but as the supply is much smaller than the demand, this will be quite expensive and you should book well in advance.
Also, pay in mind that there's often a shortage of gasoline, so make sure you don't get stuck somewhere (although there will probably be a couple of sweet Cubano's willing to help you out).
By bus
Travelling by bus is obviously the most budget option you'll find. Buses are operated by Víazul and more recently also Cubanacan.
The former is most commonly used and has fixed routes between major destinations. However, here also the demand is greater than the supply causing the buses to fill up pretty quickly. It's possible to book tickets on the spot but it's recommended to book them at least 4 or 5 days in advance.
Booking through the Víazul website is an easy way to ensure your tickets, however, bookings should be made 3 weeks or more in advance and sometimes it just won't work.
Although we very much wanted to use the Víazul bus, we only managed to book one of our tickets in advance. And eventually, we ended up skipping that one too, because Little Elf got sick the day before.
With all this being said, when you're travelling as a family it is a lot easier and often the same price to just take a (shared) taxi. Especially, since – in most places – you still have to get to and from the bus station, f.e. in Havana.
By taxi
When it comes to transport in Cuba, taxis are by far the easiest way to get from one destination to another. Colectivo taxis are regular or classic cars that you share with other people. You all pay a fixed price on a certain route. Make sure to book at least a day before, because otherwise, it's possible that you can't find one anymore!
Also, if you want to visit a more off the beaten track destination (f.e. Soroa), you might have a bit of trouble finding a taxi willing to go there and you'll end up paying the price to go to the bigger destination nearby (from Viñales to Soroa we paid the same amount as we would've paid for Viñales-Havana. Our casa host also had a pretty hard time finding someone willing to go "all the way" there. Yes, it's only an hour away.)
The other option is to book a private taxi. If you're travelling in a bigger group this might end up being cheaper than going by colectivo. It also depends a lot on the car. Some classic cars are able to transport up to 9 people + the driver, while regular cars can only do 4.
If you're heading somewhere that isn't on the classic tourist route, chances are you'll be forced to take a private taxi. This was the case when we wanted to go to Playa Larga from Havana. Our casa host couldn't find a colectivo that wanted to stop there, so we had to pay $100 for this 2,5-hour drive (in a pretty nice vintage car though. And with Little Elf being sick, we ended up being very happy we had the car for ourselves).
If you want to take a (colectivo) taxi from Viñales to Playa Larga, Cienfuegos or Trinidad, you'll swap cars in Havana. That way each driver can get home easily since it's quite the journey. You won't have to do anything, just let your driver guide you to the new car, sit back and relax!
If you want your kids to have their own place, you pay for a full seat, but if you keep them on your lap, it's free.
Accommodation in Cuba
---
Hotels in Cuba are almost entirely state-run and often (very) expensive. A much better option and a great way to support locals directly is by staying in a so-called casa particular.
These rooms in the house of a local are sometimes more of a guesthouse (even with a separate entrance) and sometimes more of a homestay (when the room is inside their house and you use their living areas as well). Of course, many people love to travel to Cuba for an all-inclusive holiday as well – especially in places like Varadero.
Casas particulares
Typically a casa particular in Cuba offers a room with 2 double beds (or at least a double and a single) with an ensuite bathroom for $20-30 a night. We loved that we never had to book a family room! Also, most casas have 2 rooms available, so even if you have a larger family, you can all stay at the same place.
There are tons of casas particulares available in every destination, so finding a good one should not give you any trouble at all. We booked all our accommodation in advance through Airbnb. We found this very convenient as the payment happens automatically (less money you have to drag along). Research told me we were supposed to book in advance because it was high season (February/March).
While we don't regret booking it beforehand (because truth be told, it is a lot easier to know where you'll be going, especially with kids), we find this fixed way of travelling difficult. After having experienced it ourselves, we can say that you can definitely wing it and book your next place in the previous destination (although we recommend buying a SIM-card so you can easily go online) if you prefer to do so.
State hotels
As a communistic country, Cuba has one or more state hotels in just about every destination. They are usually called "Villa + destination name", we've seen Villa Soroa and Villa Playa Larga. They are often large, with little houses dotted around the domain and a swimming pool, shop and other facilities. The state hotels are primarily focused on local Cuban travellers.
Unfortunately, most of these hotels are pretty run-down. As staying in these hotels just enriches the state and not the locals, we don't see any point in staying at them. However, if you're looking for an activity with kids in Cuba, paying for a day pass for their pool use might be a good idea. We did this once – in Soroa – and had a lot of fun in the pool until it started pouring.
Luckily the outside lounge was covered so we ended up playing board games and eating ice cream for a couple of hours more.
All-inclusive hotels
Who hasn't heard of the white sandy beaches of Varadero or Cayo Coco? The most touristic beach destinations in Cuba feature plenty of all-inclusive family hotels. It might be nice to add a couple of days in such a family resort into your itinerary. As the name suggests, in these types of hotels accommodation, food, and drinks are included in the price.
Cuba itinerary with kids
---
Havana
Havana is much more than just the logical first stop because this is where you arrive on the island. Rather than staying 1 night to recover from the journey, plan at least a couple of days to discover all the mysteries of the capital and take in the gorgeous clashes between old and new.
Havana with kids has much to offer. From rides in bright pink, blue or green classic convertible cars to pirate castles and rooftop pools, you won't get bored for a second in the city.
Viñales
Set in the most idyllic of locations – red glowing mountains that seem to go on and on – Viñales is a touristic village that somehow manages to keep its local feeling. You can see the real Cuba here, while at the same time, you'll come across many restaurants, a hop on hop off bus and other features for tourists. We were doubting if Viñales would be worth the travel time, but after spending 5 days we can guarantee that you will love it!
There are a ton of things to do in Viñales such as horseback riding, visiting a coffee farm, taking day trips to tropical beaches, and exploring caves. Both small and bigger children will have the time of their life!
Playa Larga
Playa Larga was our second off-the-beaten-track destination (the first one, Soroa, didn't make it on this list) and we recommend a stop here to explore Cuba's South Coast, the Natural Park with its many birds and just some playtime on the beach in a lazy town with a Caribbean laid-back vibe.
Most guesthouses are located in neighbourhood La Caletón, which is where we stayed and is perfect for your little beach getaway. Finding a casa on or very close to the beach is easy peasy. A couple of restaurants and a fun beach where you can use loungers from one of the beach bars. We loved our time here and ended up staying 9 days (albeit due to Covid-19 but we didn't get bored!).
If you'd like to do something else than playing in the sand or in the water, take a bird watching tour, go to one of the snorkelling spots along the coast, visit the next village Playa Girón with its famous museum or take a stroll into Playa Larga town.
Trinidad
Beautiful Trinidad is a must-do if you don't mind spending a couple of hours on the bus or if you travel faster than we do. We felt it would overcomplicate our schedule, but ended up regretting it actually.
The cobblestone streets and colourful buildings create a picturesque atmosphere. Let your kids loose in the small pedestrian streets and discover restaurants and small shops wherever you go.
When you're up for venturing outside of the city, head to Playa Ancon for some fun on the beach, the Valle de Los Ingenios with its charming train ride, or to National Park Topes de Collantes.
Varadero
Most people who are visiting Cuba, add a couple of days in Varadero to finish their trip. We also planned on doing this but had to cancel our last stop due to Covid-19.
Varadero is the proper beach destination, so if you don't like white sandy beaches and lots of fun in the sun, this is probably not your cup of tea. However, we figure that most kids love a couple of days of playing in the pool and on the beach with complete snorkeling gear.
Although the main activity is, of course, visiting the stunning beach, you could also discover a couple of parks in town or take the hop on hop off bus. Watersports and sailing trips to a nearby island are also an option. There's also the possibility to swim with dolphins, but – as fun and appealing it might sound – we like to stay away from any unnatural interaction with wild animals and would recommend against it.
The best time to visit Cuba
---
Cuba is the perfect Caribbean getaway to escape the North American or European winter, but that doesn't mean you can't visit in other months as well.
November to March are the best months to visit the island with lots of sunshine but not overly hot weather. There's often a bit of wind to cool down too and the rain clouds stay away during these months. December, January, and February is the high season so it can get pretty crowded (but Cuba, in general, isn't an off-the-beaten-track destination, so you'll bump into tourists just about anywhere).
April and May are good months too, especially since you can often find good deals on your bookings. It's less crowded, but it's starting to get hot! May also ushers the start of the rain season, although there are usually still plenty of dry days.
June to August is the low season with extremely hot weather and massive downpours at frequent times. Although the rain comes down hard and fast, it also finishes quickly, so if you don't mind the high temperatures, you can still enjoy plenty of the island. August adds a lot of humidity, so it can become quite uncomfortable. Another downside of the summer months are the mosquitos, which isn't the best combination with small kids!
September and October is also the low season because of the hurricane possibilities. With still quite high temperatures and a bit of rain, the weather is starting to look up, but we wouldn't want to risk getting caught in a hurricane with kids – even though the chance of that happening is actually quite small.
Final words
---
I hope you enjoyed reading this post about travelling to Cuba with kids and that you feel ready to take your trip. Cuba is an extraordinary country with amazing sights and wonderful people. It's not the easiest to travel around in, but if you remember to bring everything you might need from home, you'll enjoy discovering the Caribbean island with your little ones in tow.
We travelled to Cuba in March 2020. This article was first published in April 2021.
---

Mums on Flipflops is a participant in the Amazon Services LLC Associates Program, an affiliate advertising program designed to provide a means for sites to earn advertising fees by advertising and linking to amazon.com, amazon.co.uk, amazon.ca, amazon.de, amazon.fr, amazon.it and amazon.es. Amazon and the Amazon logo are trademarks of Amazon.com, Inc. or its affiliates.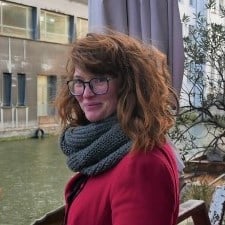 ABOUT THE AUTHOR
Babs Rodrigus is the co-founder and main writer of Mums on FlipFlops . She is absolutely crazy about traveling – especially together with her wife and kids. Babs loves animals, chocolate (what did you expect from a Belgian?), reading, and writing.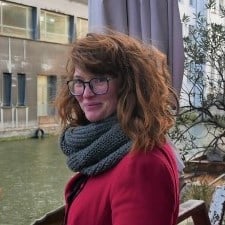 ABOUT THE AUTHOR
Babs Rodrigus is the co-founder and main writer of Mums on FlipFlops . She is absolutely crazy about traveling – especially together with her wife and kids. Babs loves animals, chocolate (what did you expect from a Belgian?), reading, and writing.