How much does a trip to Cuba cost? a complete guide (2023)
"Cuba is a country, unlike one you've ever seen." I've probably read that sentence about a thousand times during the preparation of our Cuba 2020 trip and well – surprise, surprise – I couldn't agree more. It's equally beautiful, warm and inviting as complex, broken down and outright difficult to travel in. And the same goes for the Cuba travel budget. We expected it to be a rather cheap destination, but it turned out that our trip to Cuba cost us quite a lot!
There's a good chance this post contains affiliate links. This means that if you purchase anything through one of our links, we'll receive a small fee (it won't cost you anything, promise!). If you would like to learn more about our affiliate partners, click here for our disclaimer.
Money in Cuba
---
Cuba uses a dual currency system. The main currency is the CUP (peso Nacional, /coop/), which is used by locals in daily life. The other currency is the CUC (peso convertible, sometimes pronounced as the separate letters but usually as /cook/) which is used for luxury items and everything in the tourism business. 1 CUC is worth 25 CUP and 1 CUC = 1 US dollar. Both currencies are marked with the American dollar symbol, so sometimes, you'll have to use some logical thinking to make up whether the price is in CUP or CUC.
As a tourist, you'll normally only use CUC's for transactions. You'll pay for your accommodation, restaurants and trips in the peso convertible. If you withdraw cash, you'll only be able to get CUC and if you exchange money, the standard currency is CUC as well. In theory, you won't ever need the local money.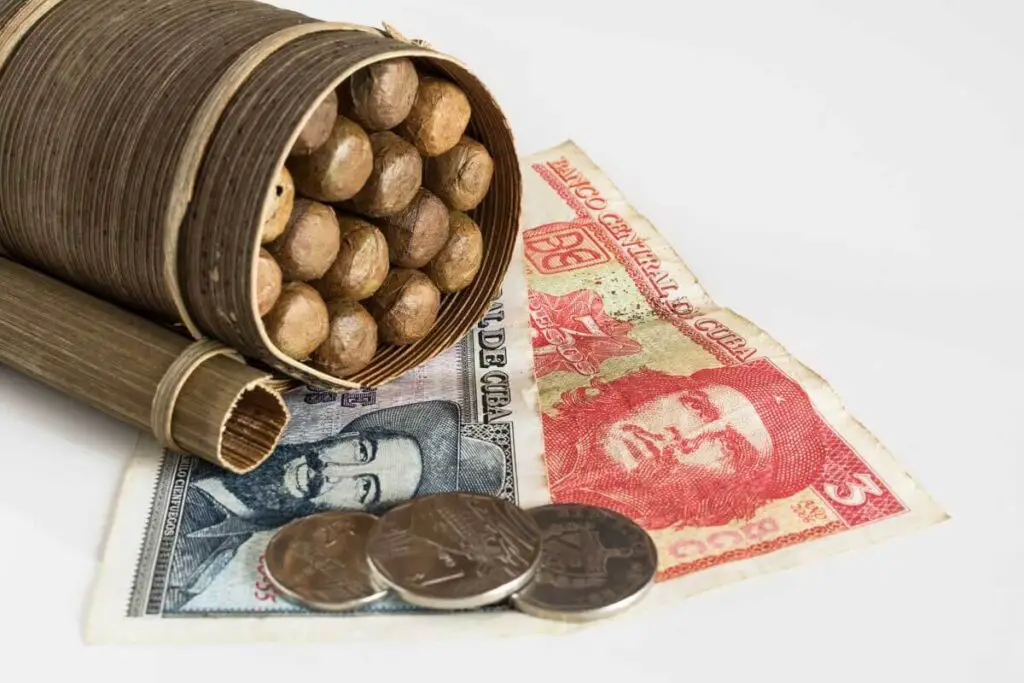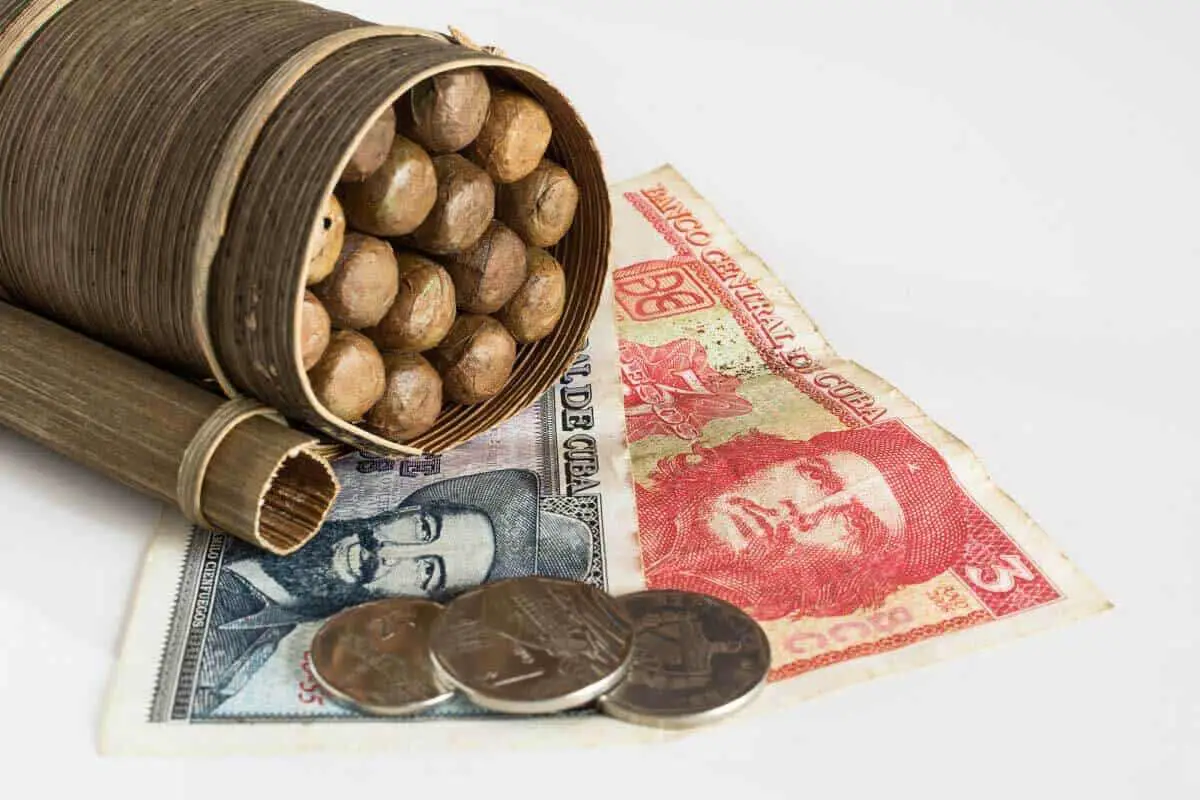 However, in small stores, street food shops, bakeries, ice cream parlours and fruit stalls prices are usually set in CUP. So, should you have some moneda nacional at hand, you can use it here. If you don't, fear not, you can still pay in CUC. In that case, there are 3 options:
The shop employee will do the math for you. Sometimes, they'll take a calculator so they can use the correct exchange rate (to give you an idea, we had two shops in Havana doing this), but usually, they'll just give you a round price.
You ask for the price yourself and in general, they will tell you 1 CUC, which is usually too much. (Think fruit stalls and bakeries)
You calculate how much it is yourself and hand them the correct amount in CUC without asking the price (and don't expect any change back). For example, we went to this really tiny wooden shed which had a sign saying "helados $3″. So, 3 CUP for an ice cream and we wanted 3, which made 9 CUP. 1 CUP is 0.04 CUC, so 9 CUP makes 0.36 CUC. We ended up paying 0.50 CUC, because that was the only small coin we had at the moment.
If you would like to use CUP, you can change your CUC's in a CADECA office. We never did, but we received change in CUP two times (correct change that is – not the typical tourism scam were they hand you back your change in CUP instead of CUC, the same amount but worth a whole lot less.)
How much did our trip to Cuba cost?
---
Total amount
24 days in Cuba cost us a total amount of US $2249,85 for 2 people (Our 4-year old daughter usually didn't pay – not for accommodation, breakfast, transport nor for activities. We usually shared 2 meals for the 3 of us, sometimes we did order an extra side dish such as french fries). This makes an average cost of travel in Cuba of $93,74 per day. During our trip, we visited Havana, Viñales, Soroa and Playa Larga. Our planned stop in Varadero was cancelled due to the Coronavirus.
We booked our flight (outward journey: 25/02/2020 & return: 18/03/2020) at the end of November with Air Europa from Brussels to Havana with a stop in Madrid. We paid a total amount of 1933,41 $ but that included a 196.93 $ fee for seats (our biggest fear is that we're seated separately). This price is for 2 adults and a child. Our flight back was delayed with a day due to the COVID-19 virus and got moved to Paris – but that's another story.
We usually budget between $ 55-65 a day for the three of us. As said, we didn't investigate enough upfront. With the Casas particulares in Cuba being rather cheap ($20-25 usually), we figured that our budget would be sufficient. Turns out we were wrong. There is no way we could've ever made it with that (Cuba) daily budget. Especially food is very expensive. Transport is too if you end up needing to use (shared) taxis which was the case for us. If you can pick destinations which are served by the Víazul bus, things could be a lot cheaper.
Chart & breakdown
| COUNTRY | TOTAL SPENT | TOTAL DAYS | COST PER DAY |
| --- | --- | --- | --- |
| Cuba | $ 2249,85 | 24 | $ 93,74 |
| ACCOMMODATION | FOOD & DRINKS | TRANSPORT | ACTIVITIES | OTHER | SOUVENIRS | TOTAL |
| --- | --- | --- | --- | --- | --- | --- |
| $ 525,75 | $ 874,60 | $ 421 | $ 295 | $ 57 | $ 41 | $ 2249.85 |
| $ 21,90 | $ 36,44 | $ 17,74 | $ 12,29 | $ 3,86 | $ 1,71 | $ 93,74 |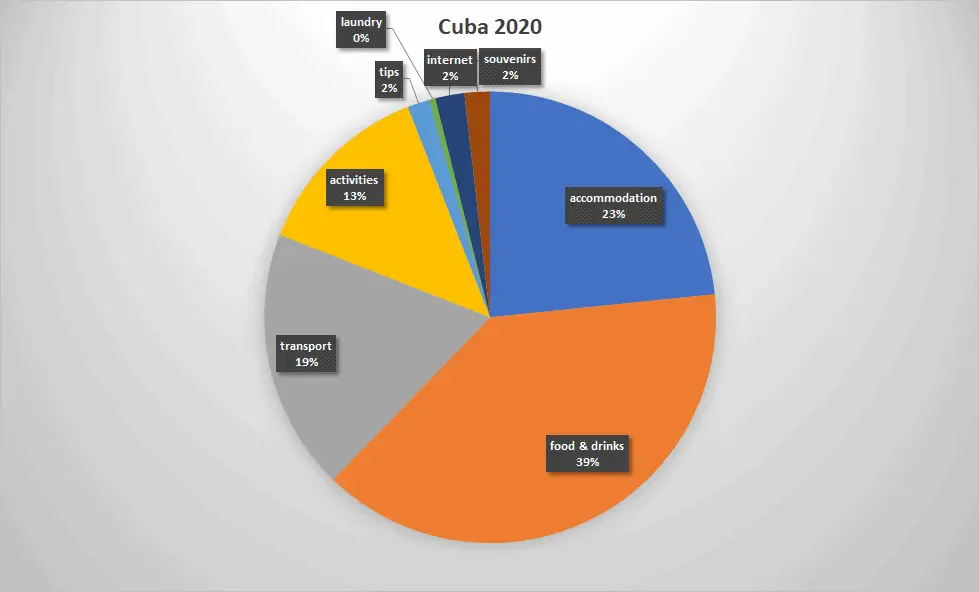 Accommodation in Cuba
Hotels in Cuba are almost entirely state-run and often (very) expensive (especially those in Havana! Yikes, an average of $ 400 a night when we checked the Lonely Planet). A much better option and a great way to support locals directly is by staying in a so-called casa particular. These rooms in the house of a local are sometimes more of a guesthouse (even with a separate entrance) and sometimes more of a homestay (when the room is inside their house and you as use their living areas as well).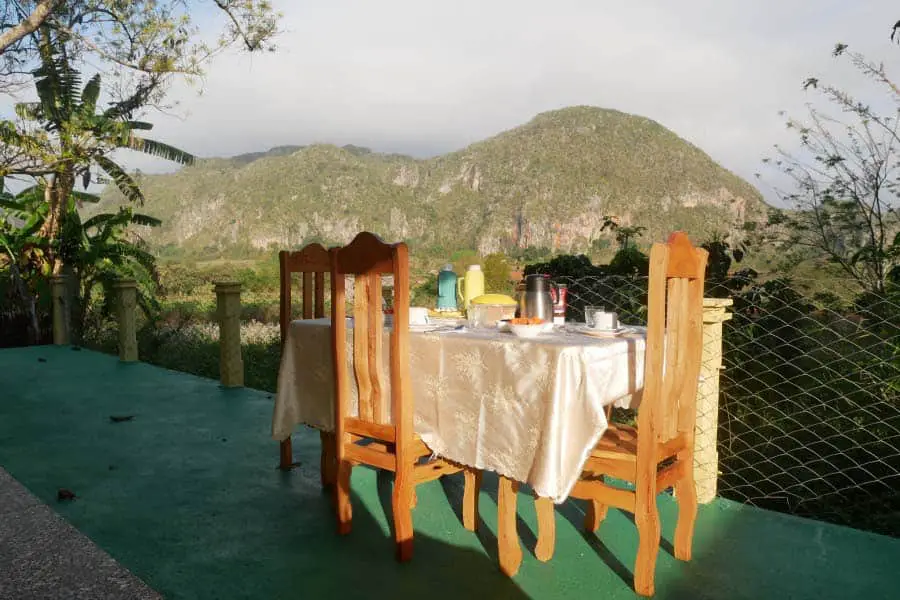 Typically a casa particular offers 2 rooms with ensuite bathrooms. In popular destinations, the average price will be about $20-$30 for a room. In more off the beaten track destinations, prices will be significantly cheaper ($10-15). This is definitely a great option to keep the cost of travel to Cuba low(er)!
Most rooms come with 2 double beds or at least a double and a single bed. Which means that you can have accommodation for as little as $2,5 per person. Especially useful when you're travelling with friends or as a family.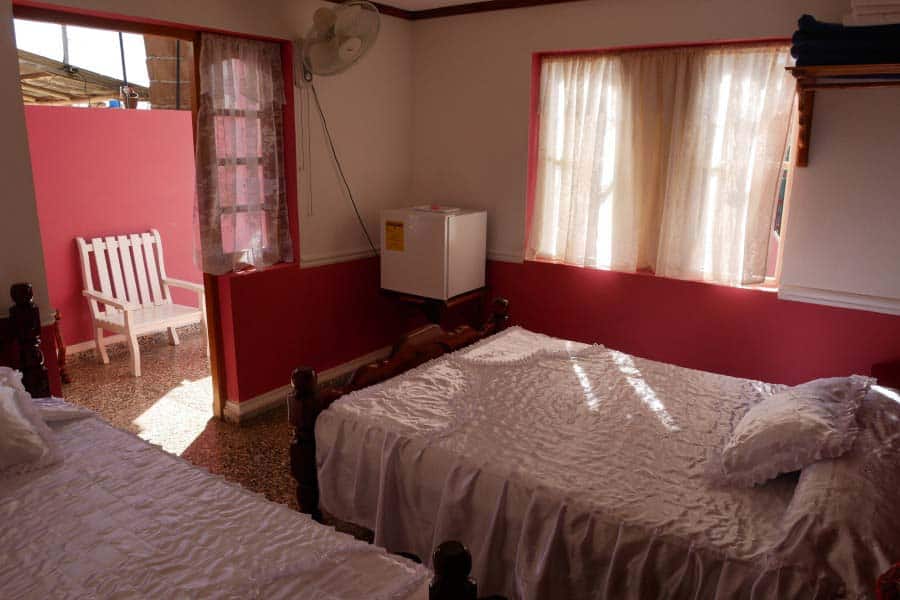 In Havana, we booked a private casa (1-bedroom apartment) in Havana Vieja, because we were worried about disturbing people when our jetlag kicked in (which was a great idea, N decided that 2.30 AM was her wake up hour that first couple of days).
| DESTINATION | PRICE | FEATURES | LINK |
| --- | --- | --- | --- |
| Havana | $ 35 | 1-bedroom apartment, 1 double & 1 single bed, balcony, kitchen, big refrigerator | Take a look on Airbnb |
| Viñales | $ 25 | separate building, 2 x double bed, refrigerator, porch with rocking chairs, amazing view | Take a look on Airbnb |
| Soroa | $ 12 | separate building, 2 x double bed, garden with sunbeds, refrigerator | Take a look on Airbnb |
| Playa Larga | $ 16 ($ 15 when booked directly) | in-house room, 2 x double bed, big closet, use of sitting area, refrigerator, massive garden with lots of birds, fantastic owners | Take a look on Airbnb |
We booked all our accommodation in advance through Airbnb. We found this very convenient as the payment happens automatically (less money you have to drag along). Research told me we were supposed to book in advance because it was high season (February/March).
While we don't regret booking it beforehand (because, truth be told, it is a lot easier to know where you'll be going, especially when going to Cuba with kids), we find this fixed way of travelling difficult.
After visiting the country ourselves, we would recommend booking the first place and maybe even the second (as we found internet in Havana the most difficult to find, which can be solved by buying a local SIM card). The other destinations all had fairly easy WiFI-access, so picking a casa particular while travelling should not be a problem at all. There are soooo many casas in every town or city that you'll definitely find something you like.
When our stay in Varadero got cancelled due to a Covid-19 infection, we extended our stay in Playa Larga, but briefly thought about taking a 1-night trip into Trinidad. We eventually decided not to (with the eye on the virus) but we would've had no problem at all finding a Cuba low cost casa online last-minute.
Food & Drinks in Cuba
Food in Cuba is a special business. We're not too crazy about it, especially since we spend the second half of our trip being very sick (throwing up in hotel rooms vs. Mums on FlipFlops 1-0). We became cautious about what we ate, and Little Elf's belly only started settling down after a regular hamburger with french fries. So, we allowed her to eat that for the next 6 days… Auwch.. mommy fail!
That being said, we had some great dishes as well (especially in El Olivo and Cuenca in Viñales). As a standard, the portions were large, so we always ordered just 2 dishes for the three of us, which kept the cost of traveling to Cuba down a bit as well.
The one thing you should be aware of in Cuba, is the possibility they run out of something. Sometimes that's cheese, sometimes that's eggs. Shortage is a very real problem and it's admirable how Cubans are so good at handling these things. So don't be surprised if you try to order something and get told: "There's no [fill in with whatever you're craving] today". Try again tomorrow! Or the day after. Or the day after that. You get the point, flexibility is key. Also, pick 2 items from the menu, that way you have a backup plan when your first choice is unavailable.
Cuban breakfast
We always ate breakfast in our casa particular, but it was never included in the price of our accommodation. For 5 CUC per person (kids don't have to pay!) we received a HUGE portion – we always had difficulties to finish it.
In Havana, our casa didn't offer meal service, so we went out to restaurant La Vitrola on the corner of Plaza Vieja for our daily Cuban breakfast food (bonus points because they open at 7.30-8 AM, so great for early risers, you know, those who yell "MOMMY WAKE UP" at 5.30 AM).
This is an overview of the things we got for breakfast on our 24 days in Cuba. Like me mentioned before, shortage is a big issue in Cuba so don't be surprised if something isn't available – not only in the casas but also in the restaurants ("sorry, no cheese today").
DESTINATION
BREAKFAST SPOT
PRICE
WHAT WE GOT
Havana
La Vitrola restaurant
European breakfast = 5 CUC
Fresh fruit platter = 3 CUC
Coffee = 2-3 CUC
desayuno Europeo: omelet with ham & cheese, toast, butter, marmelade, fresh juice (pineapple, guayaba, papaya or water melon).
2 other breakfast options were available (other types of eggs, cheese, vegetables, etc)

fresh fruit platter: banana, water melon, guayaba, papaya
Viñales
Casa Milagros y Yamilé
5 CUC per person
eggs (how you want them), toasted Cuban bread with ham & cheese, fresh mango or pineapple juice, tea, coffee, hot milk, buns, honey, crepes or something else of a sweet treat, fresh fruit platter (papaya, pineapple, banana)
Soroa
Casa Isabela
5 CUC per person
fresh guayaba juice (from their tree!), coffee, tea when we asked for it (with herbs from the garden), hot milk, bread, marmelade, butter, eggs how you want them, tomato & cucumber, meat croquettes with peas, mini pancakes, fresh fruit (pineapple & guayaba)
Playa Larga
Casa Ana/Gleybis
5 CUC per person
bread (regular and/or toasted), cookies, sweet treats (pancakes or torrejas - pain perdu with syrup), chocolate pudding, cheese, honey, coffee, hot milk, eggs how you want them, fresh fruit (pineapple, banana, papaya)
Cuban lunch
For lunch, we usually ate out in one of the many restaurants but a couple of times we stayed at our casa and enjoyed lunch there. Prices may differ a lot depending on the destination and the location of the restaurant.
Here's a list of things we ate for lunch and the total price we paid (and wherever we remember, the separate prices as well).
For Havana
PLACE
FOOD
PRICE
Lamparilla 361
- vegetable lasagna
- seafood risotto
- 1 organic orange juice
- 2x coca cola light
35,5 CUC
Al Pirata
- hamburger
- vegan hamburger
- 1 scoop of strawberry icecream
- 1 scoop of cookie icecream
- 1 milkshake pistache (huge!)
- 1 small bottle of water
- 2 home lemonades
22 CUC
La Vitrola
- ham & cheese accounts
- meat balls
- french fries
- 2x Tukola
- 1 small bottle of water

15 CUC
El Bodegón (inside the Fortaleza de San Carlos)
- chicken paella
- chicken & rice
- 4 apple juice
- 6 Tukola (we stocked up on drinks because they were that cheap: 0,50 CUC for a national soft drink & 0,40 CUC for apple juice)
16,45 CUC
La Vitrola
- chicken hamburger
- chicken fajitas
- 2 portions of french fries
- 2 x Tukola
- 1 small bottle of water
25 CUC
Bohemia
- 1 mojito ($6!)
- calamares tempura
- french fries
- bread portion
- grilled vegetables salad
- 2 x coca cola
- 1 Tukola
- 1 small bottle of water
40,5 CUC
For Viñales
PLACE
FOOD
PRICE
Charly's
- caesar salad
- french fries
- shrimps & rice
- 2 x coca cola
- 1 small bottle of water
20,3 CUC
El Olivo
- lasagne bolognese
- chicken paella
- 2 x house lemonade
- 1 small bottle of water
16,15 CUC
Charly's
- shrimps in garlic
- grilled chicken
- french fries
- 1 small bottle of water
- 2 x coca cola
27,10 CUC
Cuenca
- fried banana with tuna
- ham pizza
- grilled chicken
- 2 x Tukola
- 1 small bottle of water
21 CUC
Playa Arena (Playa Jutías)
- lobster rice
- seafood rice
- white rice
- 3 x Tukola
- 1 small bottle of water

21 CUC
For Soroa
PLACE
FOOD
PRICE
Casa Isabela
3 course meal
- bean soup
- grilled chicken with white rice, potatoes, tomato and cucumber
- pineapple & guayaba
20 CUC (10pp, kids don't pay even if they get their own portion)
Villa Soroa (be aware: we got very sick after this!)
- chicken & dark rice with green beans
- 3 x tukola
- 1 small bottle of water

18 CUC
For Playa Larga
PLACE
FOOD
PRICE
Sol y Caribe
- paella
- grilled chicken
- 2 x Tukola
- 1 big bottle of water
25 CUC
Bahia
- ham pizza
- tuna pizza
- white rice
- 2 x Tukola
- 1 small bottle of water
7,35 CUC
Casa Ana/Gleybis
2-course meal
- vegetable soup
- grilled chicken with white rice, fresh banana chips, tomato, cucumber & cole slaw
10 CUC pp (kids don't pay)
Casa Zuleyda Viñola
- 2 x hamburger with french fries
- 2 x Tukola
- 1 big bottle of water
17 CUC
Cuban dinner
As food in Cuba was so expensive, we decided to only eat out once a day (and N. goes to bed around 6 PM which makes going out for dinner inconvenient).
We brought a bottle of honey from home because we knew groceries aren't easy to buy in Cuba (we brought a LOT of cookies and nuts as well!). In Viñales, there's a rather big shop (for Cuban standards!) that sells marmalade and by that time the honey was already 1/3rd down, so we made sure to stock up a bit. In the hotel shop of the Villa Soroa (in Soroa, obviously), we also found lots of honey for sale, so it's not impossible to find something to eat on your bread. But we still recommend bringing something from home.
We bought fresh bread buns everyday. Bakeries are one of those kinds of shops where you either pay way too much (1 CUC as a standard answer) of just hand them the right amount. Or you can pay in CUP.
In Havana, at first, we paid the standard $1 no matter how many we bought (6 or 4 or 8 round buns or 4 round ones and 1 large one). After a couple of days, we started calculating. The buns were priced as CUP$1 which means 6 should be 0,24 CUC.
In Viñales, we found bread at La Baguette (across the baseball stadium). At times (usually early in the morning and in the late afternoon), they offer large long pieces of bread (like a very very thick baguette). During the day, you should usually be able to buy a bag of round soft buns (but we've had a couple of empty moments as well!). They come at 10 for 1 CUC (they were not priced, so we were only told the tourist price).
In Soroa, we couldn't find any bread at all, but we brought a bag of buns from Viñales. We probably could've asked our host at the casa (as you do with most things you need in Cuba).
In Playa Larga, the bakery only sells bread early in the morning and late in the afternoon. Our host offered to bring back some bread for us every day (as he went as well). The long bread comes at 3 CUP for one.
Drinks & Snacks
Drinks are fairly easy to get by. In Havana, there are lots of tiny (window) shops where you can buy water or sodas. They are often priced in CUP, so you should be able to pay a fair price. In smaller towns, we learned pretty quickly to buy our drinks from restaurants. Big and small bottles of water and cans of beer are generally sold in the casas particulares.
Prices may differ greatly. These are the minimum and maximum prices we paid for our drinks (not during meals in restaurants).
| DRINK | MINIMUM | MAXIMUM |
| --- | --- | --- |
| 1,5l of water | 0,80 CUC | 1,5 CUC |
| coca cola (regular or light) | 0,80 CUC | 1,50 CUC |
| national cola (Tukola or Fiesta cola, regular or dietética/diet) | 0,50 CUC | 1 CUC |
| apple juice | 0,40 CUC | 0,70 CUC |
Snacking is a favourite hobby of ours (woops), so we made sure to bring enough stuff to last us through 3 weeks of not being able to buy cookies & snacks like we're used to on a trip.
The things you can find in those little shops are chocolates or candy (that you buy by the piece!) – usually at 0,50 CUC each. They're also little street carts where you can buy nougat or lollypops (1 CUC/lolly). In the touristic centre of Havana, you can also find very expensive fried banana chips (2 CUC).
The tourist store in Viñales is the only place we've seen that offered Lays chips (4 CUC for a tube!). They also sell cornflakes, hygiene products, marmalade and cookies.
Transportation in Cuba
There are 2 ways to travel around Cuba. You can either use public transport (only bus is an option either with Víazul or with the newer company Cubanacan). Or you can travel around by (shared) taxi.
Although we very much wanted to use the Víazul bus, we only managed to book one of our tickets in advance. And eventually, we ended up skipping that one too, because of the throwing up part mentioned above.
Buses in Cuba
Getting around in Cuba by bus will most likely bring you to the Víazul bus network. These buses have lines between the most popular destinations in the country and are designed for tourists.
The biggest problem is that the amount of tourists in Cuba has greatly increased, while the Víazul schedule hasn't – in fact, some routes and lines have been removed as of February 2020. This means that booking a ticket with Víazul is far from straightforward and easy – although you should be able to book it online (we managed to book 1 trip out of 4).
After visiting the country, we believe it would've been a lot easier than we were told online, but by then our schedule was put together in such a way that we couldn't add any Víazul trips anymore.
However, we made sure to pay attention, so below are the prices for the most common destinations. All prices are in CUC and have been checked in December 2020 (and seem to be lower than when we visited in March 2020, this is probably due to Covid 19)
| ROUTE | PRICE | DURATION |
| --- | --- | --- |
| Havana - Viñales | $10 | 3 hours |
| Havana - Varadero | $10 | 3 hours |
| Havana - Cienfuegos | $20 | 4 hours |
| Havana - Trinidad | $25 | 5h40 hours |
| Trinidad - Varadero | $20 | 5 hours |
Taxis in Cuba
When it comes to transport in Cuba, taxis are by far the easiest way to get from one destination to another. Colectivo taxis are regular or classic cars that you share with other people. You all pay a fixed price on a certain route. Make sure to book at least a day before, because otherwise, it's possible that you can't find one anymore!
Also, if you want to visit a more off the beaten track destination (f.e. Soroa), you might have a bit of trouble finding a taxi willing to go there and you'll end up paying the price to go to the bigger destination nearby (from Viñales to Soroa we paid the same amount as we would've paid for Viñales-Havana. Our casa host also had a pretty hard time finding someone willing to go "all the way" there. Yes, it's only an hour away.)
The other option is to book a private taxi. If you're travelling in a bigger group this might end up being cheaper than going by colectivo. It also depends a lot on the car. Some classic cars are able to transport up to 9 people + the driver, while regular cars can only do 4.
If you're heading somewhere that isn't on the classic tourist route, chances are you'll be forced to take a private taxi. This was the case when we wanted to go to Playa Larga from Havana. Our casa host couldn't find a colectivo that wanted to stop there, so we had to pay $100 for this 2,5-hour drive (in a pretty nice vintage car though. And with Little Elf being sick, we ended up being very happy we had the car for ourselves).
If you want to take a (colectivo) taxi from Viñales to Playa Larga, Cienfuegos or Trinidad, you'll swap cars in Havana. That way each driver can get home easily since it's quite the journey. You won't have to do anything, just let your driver guide you to the new car, sit back and relax!
These are the recent prices of shared and private taxis [researched in December 2020]. You can book all these taxis online through Holiday Taxi or you can make arrangements while you're there (which will sometimes be cheaper for the private taxis, the collectivo prices are pretty spot on). If you want your kids to have their own place, you pay for a full seat, but if you keep them on your lap, it's free.
DESTINATION
PRICE
TIME
Havana - Viñales
$25 (shared)
$120 (private)
2-2,5 hours
Havana - Varadero
$25 (shared)
$120 (private)
3 hours
Havana - Playa Larga
$35 (shared)
$140 (private)
3 hours
Havana - Cienfuegos
$35 (shared)
$140 (private)
2h45 hours
Havana - Trinidad

$40 (shared)
$160 (private)
4 hours
Viñales - Trinidad
$50 (shared)
$200 (private)
6 hours
Viñales - Varadero
$45 (shared)
$180 (private)
4,5 hours
Activities and sights
While activities in Cuba aren't overly expensive, they will still take up a significant amount of your budget depending on how much you do and see.
We try to not overdo our days as all three of us easily get over-stimulated, so we need down-time to ground ourselves. This is great for our budget because we usually plan a small activity on one day and a bigger one the next, with some beach/relax days in between as well.
All prices mentioned are per person. Children under 6 never have to pay.
| ACTIVITY/SIGHT | LOCATION | PRICE | DURATION | INCLUDED |
| --- | --- | --- | --- | --- |
| T3 hop on hop off bus | Havana | $5 | 1 day | Hop on hop off bus for the entire day |
| Fortaleza de San Carlos de la Cabaña | Havana | $6 (<6PM) / $8 (>6PM) | 1 day | Entrance to the Fortaleza |
| T1 hop on hop off bus | Havana | $10 | 1 day | Hop on hop off bus for the entire day |
| Hop on hop off bus | Viñales | $5 | 1 day | Hop on hop off bus for the entire day |
| Horseback riding & tobacco farm | Viñales | $15 | Half day | 2 hours of horseback riding and a 1-hour guided visit to a tobacco farm |
| Cueva de los Indios | Viñales | $5 | About 1 hour | Entry to the cave + boat ride to get back outside |
| Day trip to Playa Jutías | Viñales | $20-25 | Full day | Taxi colectivo to and from Cayo Jutías |
| Botanical Garden | Viñales | Free (gift) | About 30min to 1 hour | Entrance to the small botanical garden |
| Orchid Botanical Garden | Soroa | $3 | About 2 hours | Entrance to the botanical garden |
| Waterfall | Soroa | $3 | About 2 hours | Entrance to the waterfall (hike) |
| Tour Las Salinas | Playa Larga | $15 | Half day | Guided birdwatching tour to Las Salinas. The taxi is not included in the price! ($35) |
Other: tips, laundry & internet
Tips
Giving tips is a standard practice in Cuba and should be calculated into your budget, especially if you come from a country that doesn't share this tipping culture (like us!). It's expected to add an additional 10% to your restaurant bill, give your taxi driver a couple of CUC's and a couple of smaller coins for street musicians and street artists. Expect to be tipping just about anybody you meet and offers you some kind of service.
We ended up tipping $ 35.5 on our entire trip, but this doesn't include the tips in restaurants. We've added those to the meal price (which you can see in the eating section above).
Laundry
We didn't encounter a laundry service where you hand off your clothes and pick them up the next day like we know them from other countries nor did we see any public laundromats.
But as with most things in Cuba, your casa particular will take care of this. We've had our laundry done for us in Viñales for $10 and we were allowed to use the washing machine of our new Cuban family in Playa Larga. They didn't charge us for this as they said we did it ourselves, but we used soap and water so we made sure to leave a big tip when we left to cover their costs.
Internet
Internet and Cuba have long been incompatible, but when we visited in March 2020 the country was catching up quickly with the rest of the world. When Babs' mum visited Cuba in 2017, wifi was available but only in a couple of hotels and you had to use the mandatory wifi cards.
Only three years later, most Cubanos have a smartphone and use the internet (and Instagram and Facebook) through 3G. As a tourist, you can still buy the little Etecsa Wifi cards and search for a wifi hotspot, but more and more restaurants and even casas particulares are starting to offer free wifi. An Etecsa wifi card is valid for 60 minutes of internet and costs $1. Be aware that they might not be available when you want them.
However, you can also purchase a Cuban SIM card for $40 that includes 2 GB of data, which will allow you to access the internet on your smartphone anywhere. Don't forget to bring your passport when you go to an Etecsa office to buy the SIM-card.
Souvenirs
Every destination has it's souvenir buying possibilities. From the many shops in Habana Vieja to the artisanal markets in Viñales and Las Terrazas.
Bringing home souvenirs is highly personal and can range from zero to hundreds of dollars (if you buy some local artwork for example), so it's impossible to tell you how much this will affect your Cuba travel cost.
However, we can tell you what we've bought, so you'll at least have some idea of the prices.
A small set of maracas: $3
Big tote bag Cuba: $10
Cd from a local band: $10
Small wooden mask: $8
5 wooden bee hummingbird: $10
A single Cuban cigar (on the tobacco farm): $3
A bottle of ground coffee (on the tobacco farm): $10
What should your Cuba travel budget be?
---
As mentioned, we spend a lot more than we usually budget for our trips, but hopefully, after reading this article you'll be better prepared than we were to determine what the cost to travel to Cuba is and what your travel budget should be.
Visa: the Cuban visa cost depends on your way of applying. Online this cost may run up towards $110-150. You can also request your Cuba visa at the Cuban embassy in your home country. This ranges from $20-75. Some websites offer this as a service and will add an additional cost, but it gets sent to your home.
Accommodation: hotels in Cuba are pretty expensive, but staying at a casa particular is a much better choice: you'll directly support the locals, it's a great cultural experience and they're super cheap. The average casa is about $20-25 a night (usually for a room with 2 double beds!), although you can find much cheaper ones as well.
Food & drinks: food will make up a big part of your Cuba travel costs. Buying groceries to cook for yourself is hardly possible and eating out isn't cheap. Calculate $5 for breakfast, $2-3 for lunch if you eat a sandwich at a bar and $7-10 for dinner. Also, add $5 for drinks and snacks.
Transport: if you book all your transportation through the Viazúl bus service, you'll be off the cheapest with all transfers being between $10-25. For shared taxis, count on $25 to $50 for the same distances. Private taxis are much more expensive ($100-200 per taxi).
Activities: there are tons of free activities to do in Cuba, but whenever you visit something you'll likely pay $5-$15 per activity. Although the cost of tours in Havana tends to be a bit higher (a classic car tour with a photoshoot is $35).
Other: calculate about $3 for tips, $1,75 for laundry and $0,25 for internet a day. This makes an extra $5 a day.
Final thoughts
---
So, what do you think of this Cuba trip cost overview? Did you expect it to be like this, or were you somewhat surprised? Make sure to leave a review to tell us if and when you're visiting Cuba and if you found this article helpful.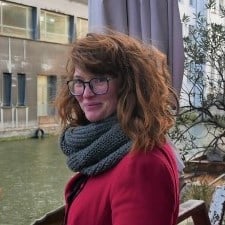 ABOUT THE AUTHOR
Babs Rodrigus is the co-founder and main writer of Mums on FlipFlops . She is absolutely crazy about traveling – especially together with her wife and kids. Babs loves animals, chocolate (what did you expect from a Belgian?), reading, and writing.