Visit Off the beaten path Cuba in 2023: 7 unique places to discover
We always like to broaden our horizons when visiting a new country. Staying on the touristy path is fun and there are definitely some well-known places in Cuba that are more than worth a visit such as Havana or Viñales.
However, discovering a bit of Cuba off the beaten path will allow you to learn more about Cuban culture and the daily life of the Cubanos.
As we weren't able to visit all these places during our 24-day Cuba itinerary, we asked some travel bloggers to tell us a bit more about their favourite hidden gems in Cuba.
There's a good chance this post contains affiliate links. This means that if you purchase anything through one of our links, we'll receive a small fee (it won't cost you anything, promise!). As an Amazon Affiliate, we earn from qualifying purchases. If you would like to learn more about our affiliate partners, click here for our disclaimer.
---
How to go off the beaten path in Cuba
Cuba is a major touristic destination with over four million visitors each year.
Most of them, however, stay within the borders of the big destinations in the Western part of the island: Havana, Viñales, Trinidad, Varadero and a couple of East coast islands that are famous for their all-in resorts such as Cayo Coco.
The Eastern side of the island is much more undiscovered – although there aren't many places where you'll find yourself the only visitor in town.
On the other hand, it's also possible to find quieter, more authentic spots in Western Cuba as well. We visited two of those ourselves: Soroa and Playa Larga.
With any of the destinations you can find below, you can be sure to discover a more authentic Cuba.
7x off the beaten path Cuba
#1 Baracoa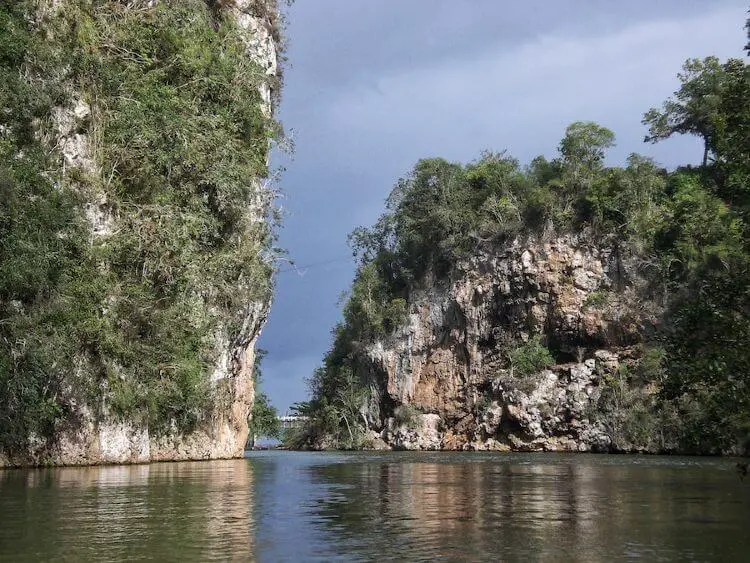 Baracoa is one of the nicest places to visit in Cuba, yet it is often overlooked because, isolated as it is, it's not exactly easy to get to.
Those who make the effort to go will find a small town that is significantly less touristy than the rest of the country; where the atmosphere has remained truly genuine; and where the vibe is truly (and beautifully) Caribbean.
The city itself is small and can be explored in half a day – just walk around the historical center and then follow the Malecon for nice sea views.
The surroundings of Baracoa, however, deserve at least 3 days! 
One day is needed to hike El Yunque – the flat top mountain that can be seen from pretty much anywhere in Baracoa.
The hike isn't hard per se, but the heat and the fact that the terrain is very muddy make it a bit more challenging.
You need a guide for the hike – hire one at the very entrance of the park and make sure to ask him to take you also to the beautiful waterfalls where you can swim, after the hike!
Not far from Baracoa there are many lovely beaches.
Playa Maguana is by the nicest. It's about a 45-minute drive and once there you will find some nice local restaurants to have a bite after you have enjoyed your day swimming in the clear waters. 

Finally, make sure to head to Boca de Yumuri for another day trip out of town. It's a canyon sort of place with a river flowing in the middle and onto the sea where it's nice to go on a boat trip.
Contributed by Claudia | My Adventures Across the World
#2 Playa Larga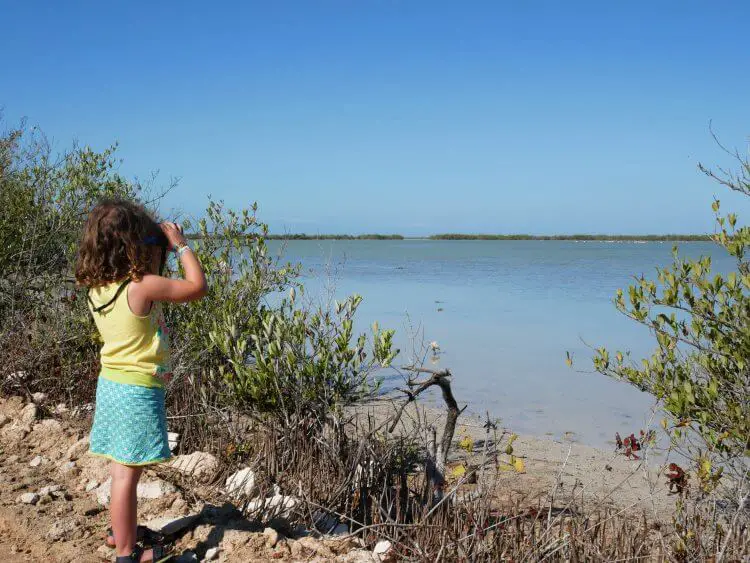 Not way off the beaten track in Cuba, but still non-touristy enough to feel the local vibe, Playa Larga was our favourite destination on the island.
There are two main parts in the town, Playa Larga itself and Caletón, a suburb if you can call it that, where most casas and restaurants are located.
We very much enjoyed our stay in the latter with its dirt path leading up to a tranquil beach, colorful houses, and overall laid-back atmosphere.
Most people visit the town for the famous bird-watching you can do in the nearby Nature Reserve. But it is also great as a base to explore Playa Girón, do some snorkeling or diving in the area or just relax on the beach in Playa Caletón.
There are many guest houses to choose from, with a lot of the options right on the beach.
If you're looking for budget beachfront accommodation in Cuba, B&B El Varadero or Hostal Danay are great choices. We stayed at Casa Ana/Casa Gleybis, which is about five minutes from the beach but with a gorgeous garden with lots of hummingbirds.
Playa Larga is a great stop on the route between Havana and Trinidad and you'll definitely be able to spend a fun couple of days there.
#3 Santiago de Cuba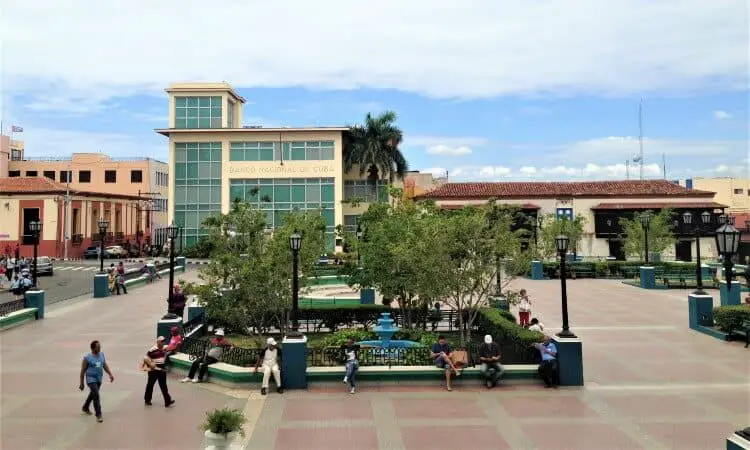 Often overlooked but highly worth a visit is Santiago de Cuba, Cuba's second-largest city filled with music and history.
This is the city where the Cuban revolution started, it's where Fidel Castro lived as a student and where the typical Cuban music originated at Casa de la Trova.
There are so many places to visit in Santiago de Cuba so give yourself at least two days (three if your Cuba itinerary allows it) to explore! 
The Moncada Barracks is a must-visit during any Santiago trip. Fidel Castro and his group of rebels attacked these barracks on the 26th of July in 1953. This date is the official start of La Revolución, which shaped Cuba, its culture, economy, and position in the world.  
Fidel Castro House is another highlight, though sadly it's not open to the public. You can however check out the place where he lived while studying in Santiago de Cuba.  
Probably one of the most well-known buildings in Santiago de Cuba is the Casa Diego Velázquez. This beautiful Andalusian-style mansion is the oldest house in Cuba. Inside you can visit the Museo de Ambiente Histórico Cubano, an interesting place to spend an hour or two. 
Impossible to miss when walking around Santiago de Cuba city center is the impressive Catedral de Nuestra Señora de la Asuncion. If you want to go inside, please dress and behave respectfully. Next to the Cathedral is Parque Céspedes, a popular meeting place for locals. Most days you can enjoy live music here from one of the benches at this lovely plaza.
Contributed by Lotte | Gezond Weekmenu 
#4 Holguin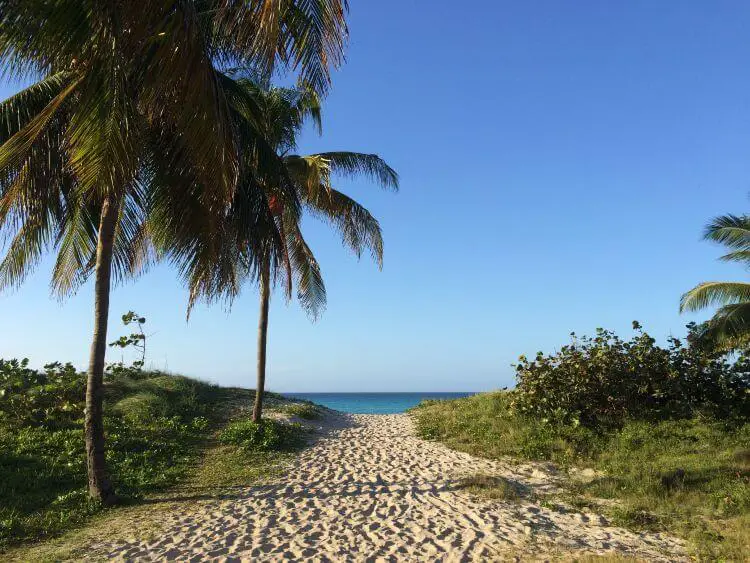 If you're looking for a lovely and quaint city to explore outside of Havana, consider Holguin on the eastern end of the island.
This relatively small and walkable yet beautiful colonial city has so much to offer visitors and is a gateway destination for some of the best excursions in Cuba.
In addition to nearby beach resorts, there are plenty of accommodation options in town at all price points, though choosing a casa particular in Holguin is always a favorite option for finding a comfortable place to stay, and with a local feel.
In addition to exploring Holguin's beautiful, restored city center and climbing to the top of the Loma de la Cruz for an incredible view over the city, Holguin is a fantastic home base for exploring the rest of Cuba.
Holguin is just a short drive from some of Cuba's most beautiful beaches, including Guardalavaca, well known as being home to some of the island's most luxurious resorts.
From Holguin you also can embark on a trek of Pico Turquino, Cuba's highest peak set within the Sierra Maestra mountain range – not only is the area stunning, but it holds importance in Cuba's revolutionary history, with Fidel Castro's base camp located at the Comandancia de la Plata. 
Contributed by Carley | Home to Havana
#5 Cienfuegos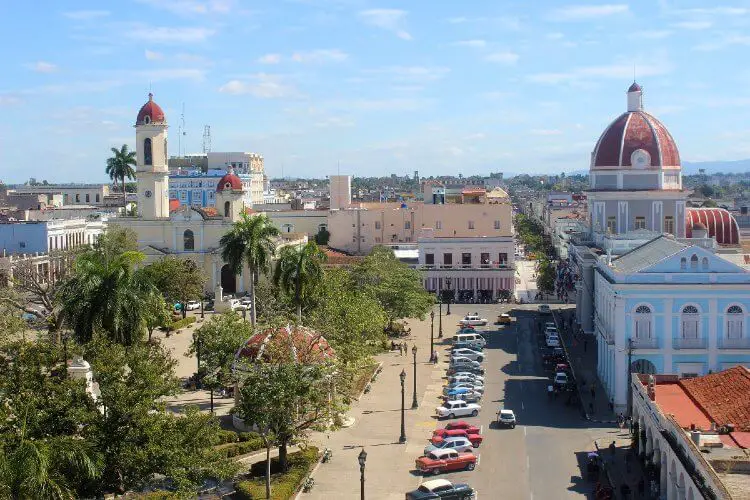 Cienfuegos is a stylish town in the south-central part of Cuba, at the Caribbean Sea.
It's around three hours away from Havana and one hour from Trinidad, its main competitor when it comes to attracting tourists. And still, the two towns couldn't be more different.
The first reason for this lies in its history. Cienfuegos is unique in Cuba because it was a French colony and not a Spanish one.
The typical French charm joined the Caribbean rhythms and splendid sunsets and the result is Cienfuegos, the town of one hundred fires.
It evolved as the main commercial port in the area. Because of this, in 1860, it was the newest and the third richest town in entire Cuba, especially due to the sugar industry.
Cienfuegos, just like Havana, has its own Malecón. Continued by El Prado, it's the longest promenade in Cuba, even longer than the Malecón in Havana.
One can take a walk in the evening and watch probably the most beautiful sunsets in Cuba. It's just like the sky is set on fire.
The heart of the city is Jose Marty Park, the only place where one gets wireless.
The park is surrounded by Arco de los Trabajadores, which commemorates the Independence of Cuba, the theatre, the government palace, the Cathedral Purísima Concepción, the oldest building in Cienfuegos, and Ferrer Palace.
Tourists can visit the blue palace and climb on its roof for the best views over the town and the port.
Close to Cienfuegos, there's El Nicho waterfall, the most beautiful waterfall in Cuba, and Laguna de Guanaroca. Both make for interesting day trips from Cienfuegos, the "pearl of the south", as the residents proudly call it.
 Contributed by Raluca | Travel With A Spin
#6 Sancti Spiritus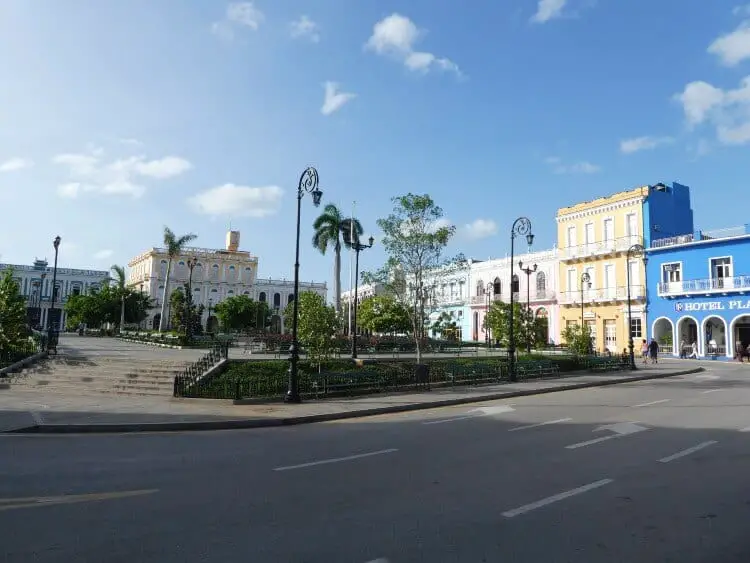 Sancti Spiritus in Cuba is often overlooked in favour of Trinidad or Santiago de Cuba, but you should put this glorious spot on your list of offbeat places to visit in Cuba. 
Sancti Spiritus is one of the original seven cities of Cuba and here you'll find narrow cobbled streets, gorgeous colonial buildings, and one of the nicest city center parks in the whole of Cuba. 
Head to Sancti Spiritus for tranquillity and some fabulous people-watching without the hustle and bustle of the big city. 
The Yayabo Bridge is the only colonial-era stone bridge remaining in Cuba, and you can get spectacular views of it from the riverside Café Yayabo.   
You'll get a slice of regular Cuban life in Sancti Spiritus with no jiniteros to hassle you. The Casa de la Trova here is a great spot to visit on an evening for some music, dancing, and a slice of Cuban life. 
The Rancho Hatuey hotel has family rooms and air conditioning with a restaurant and a bar but you'll also find a plethora of Casa Particulars in the city center too. 
Sancti Spiritus may not be UNESCO world heritage listed, but head here for a relaxed time and experience a slice of a chilled-out Cuban city without the tourist crush and bustle. 
You can reach Sancti Spiritus easily on the Viazul bus network on the Havana to Santiago de Cuba route.
 Contributed by Sarah | Cuba's Best
#7 Soroa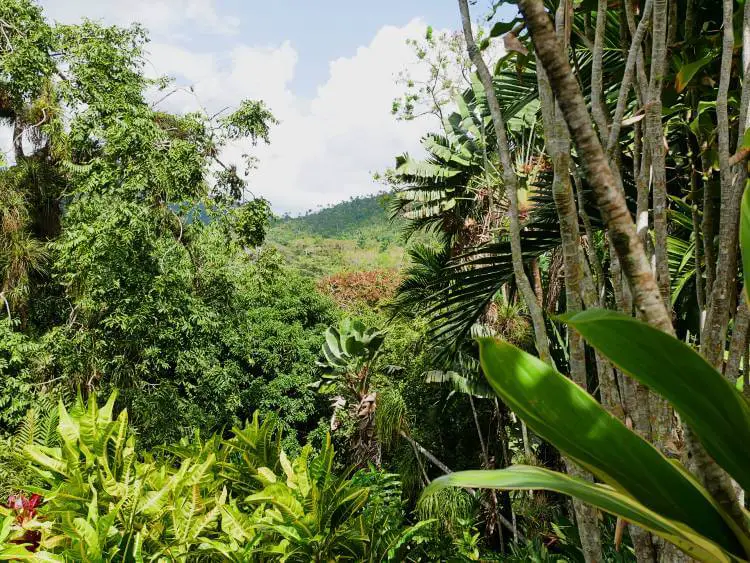 Soroa is a tiny hamlet on the road to Las Terrazas, a somewhat bigger village that attracts plenty of daytrippers who are attracted by the nearby eco-hotel, the overall artistic vibe of the place and the nearby Las Terrazas Nature Reserve.
Soroa consists of one main street, filled with casas particulares, a hotel and two sights: an orchid garden and a waterfall.
The former is often visited by tourists from Havana on a tour to Las Terrazas, so it is actually quite busy. The waterfall is mostly popular with locals, so you can have it all for yourself if you go there on a weekday.
If you're up for some true hiking, head over to the Mirador Loma el Mogote which offers spectacular views over the area.
In the orchid garden, you can easily spend an hour or more. There's a small cafe at the top where fresh juices were being sold and a live band was playing at the time of our visit.
For the waterfall, you should count on about an hour to walk there. It's a clear and paved path but it goes uphill quite a lot. Both attractions can be visited on the same day so staying two nights should be enough.
If you would like to prolong your stay, head over for some pool fun at the Villa Soroa hotel. This is a state-owned hotel (and as we like to support the locals rather than the state, we don't recommend staying there. Also, the reviews aren't that great), but you can pay for the pool use.
There's also a (covered, very useful when the rain starts pouring down as it did in our case) restaurant on-site and a small shop in the hotel where you can actually buy things like swimming gear and honey (the only shop we found like this on our entire trip!). The overall feeling is a bit rundown though.
Another possible way to spend your days in Soroa is by taking a trip to Las Terrazas. There are no buses running between the two villages, so you'll have to take a private taxi which is rather expensive.
Pay in mind that there are no restaurants in Soroa except for the restaurant in Villa Soroa.
We'd recommend ordering diner at your casa particular, you'll be much better off with the food over there.
There aren't any bakeries in town either, so we were glad we'd brought a bag of buns from Viñales. Although, your casa hosts will more than likely be able to find you something for lunch as well.
We enjoyed our stay at Casa Isabela and can also recommend the casa next door Doña Dunia.
For those with a private car and seeking a little more luxury, head up to the luxury hotel and restaurant Castillo en Las Nubes that is situated at the top of a hill and boasts some amazing views
Final thoughts
Did you like to read about these unusual things to do in Cuba? We would love to discover some more of these destinations in off the beaten track Cuba. Which ones are on your to-visit-list? Let us know in the comments!
Pin this article for later!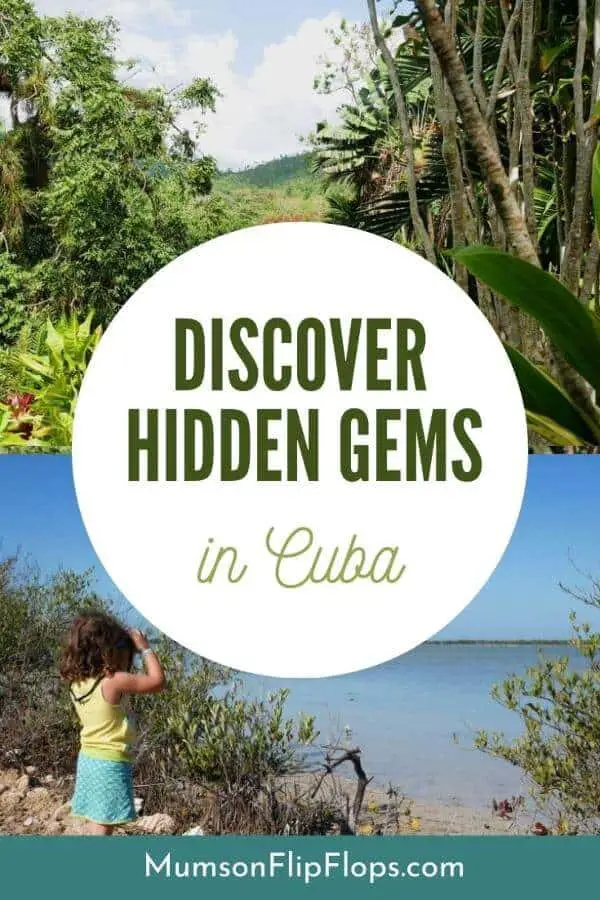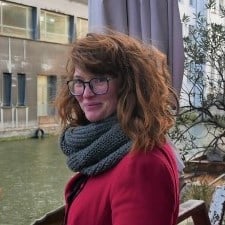 ABOUT THE AUTHOR
Babs Rodrigus is the co-founder and main writer of Mums on FlipFlops . She is absolutely crazy about traveling – especially together with her wife and kids. Babs loves animals, chocolate (what did you expect from a Belgian?), reading, and writing.