The Best Baby Carrier for Hot Weather [2022]: Summer Wraps, Slings & Buckle Carriers
Hooray, you've got a trip planned to Thailand, Cuba, Puerto Rico, or another tropical place. Because traveling is so much easier with a baby carrier, you want to know how to make baby wearing in a warm climate comfortable for both of you and learn more about the best baby carrier for hot weather.
Truth be told, it's going to be hot anyway because of the shared body heat. However, some baby carriers are better suited for a warm climate than others. Read on to learn more about the best baby carriers for summer and by carriers, we mean the broad category of buckle carriers, woven and stretch baby wraps for hot weather as well as breathable baby slings.
There's a good chance this post contains affiliate links. This means that if you purchase anything through one of our links, we'll receive a small fee (it won't cost you anything, promise!). As an Amazon Affiliate, we earn from qualifying purchases. If you would like to learn more about our affiliate partners, click here for our disclaimer.
The best baby carrier for hot weather: top picks
#AffiliateLinks
Comparison chart
NAME
IMAGE
AGE
FEATURES
PRICE
Ergobaby Cool Air Mesh
360 AP: 4-24m
Adapt: infant-24m
Omni 360: infant-24m

- large waist belt
- front/back/hip/face forward (Ergo 360) carry
- most popular baby carrier in the US
$$$
Lillebaby All Seasons
Complete All Seasons: infant-24m

Carryon All Seasons: 2-5+ years
- multifunctional (zip-down panel)
- big waist belt
- front/front outward/back/hip
$$$
Lillebaby Complete Airflow
Complete airflow: infant -24m

Carryon Airflow: 2-5+ years
- big & sturdy waist belt
- almost entirely out of mesh fabric
- front/front outward/back/hip
$$$
Beco Cool
Gemini: infant-24m
Toddler: 2-6 years
- fits most body types
- less bulky than many others
- front, face forward, hip & back carry
- extra safety buckles
$$$
Tula Coast
Standard: 4-18m
Free-to-grow: infant-24m
Explore: infant-24m
toddler: 24m-4+ years
- big hip belt
- funky designs
- front/back/face-forward (explore)
$$$
Integra Solar
size 1: infant-2,5 years
size 2: 18m-3,5 years
size 3: 3-5+ years


- soft waist belt
- waterproof
- front, back
$$$
Boba X
infant-5 years
- foot straps & seat extenders for bigger children
- suitable for all climates
- micro adjusts to your child's body
- front, back carry
$$$
Mebien muslin ringsling
all ages
- muslin fabric
- single layer
$
Pura Vida Sling
all ages
- bamboo & linen fabric
- single layer
$$
Beachfront Bay Sling
all ages
- mesh fabric
- waterproof
- single layer
$
Beachfront Baby Wrap
0-12m
- stretchy mesh fabric
- waterproof
- front carry only
$
Wrapsody Breeze wrap
all ages
- cotton gauze fabric
- front, back, hip carries
- best summer baby wrap
$$
Didymos Linen
all ages
- linen fabric
- very precise and comfortable tying
- front, back, hip carries
- Didymos wraps are the best baby wraps in the world
$$$$
Didymos Didyklick
all ages
- cotton
- front, back and hip
$$$
Baby Carrier for Hot Weather: REVIEWS
The best soft structured baby carrier for warm weather
A lot of people choose a buckle carrier because they are super easy to use.
When opting for a full buckle baby carrier, you actually have quite a lot of options. In general, this kind of carrier tends to be cooler than most wraps, because it's open at the sides. A lot of brands have developed extra cool baby carriers as well. They are (partly) made out of mesh fabric.
Are you interested in the best baby carrier for toddlers? Scroll down, we've got a whole section of this article devoted to babywearing a toddler in hot weather but we also have a general article on the best carriers for toddlers and preschoolers.
Ergobaby Cool Air Mesh
This Ergobaby carrier might well become your best travel buddy. It is lightweight, comfortable, and comes with a mesh back panel, so it's one of the best breathable baby carriers.
The big waistbelt is stiff (which can be a downside if you'd like something that folds small) and gives really great support. You can easily carry your baby on the front, the hip and the back.
Unlike other mesh baby carriers, the Ergobaby makes its shoulder straps in mesh fabric as well! Another feature is the UPF 50+ sleeping cover.
It can be used from 4 months (or newborn if you use an insert, but that will be HOT, with the Original or 360 All Positions) or newborn (with the Adapt or Omni 360) up to 45 lbs (20 kg). Although we experienced that the Ergobaby didn't offer sufficient support to our daughter's knees anymore around 18 months. We'd recommend a decent toddler carrier for older children.
TIP: We do not recommend outward facing positions on this website because they are usually not ergonomic. The Ergobaby 360, however, is in fact ergonomic. Just make sure you wait until your baby can sit unassisted and has sufficient neck control. On top of that, be aware of over-stimulation! Turn your baby in time back to you for comfort and rest.
It can be somewhat tricky to determine which Ergobaby is best for a hot climate and your family:
Líllébaby Complete
The LÍLLÉbaby Complete baby carriers really are all-in-one carriers! They adapt to your growing baby, so you can use them with your newborn up to 45 lbs without a separate infant insert.
With the LÍLLÉbaby you can carry your child on the front, the hip and the back (and even face forward, if you'd like that).
You get to choose between 2 main types:
Tula Coast
It is no surprise that one of the most famous baby carrier producers offers a version to keep your baby cool in hot weather.
As with the other Tula carriers, it is comfortable and durable. What makes it tropical-resistant is the mesh panel on the back and the mesh hood, leaving room for air to brush in.
The Tula Coast has a big pocket on the waist belt and additional padding at the leg openings, the shoulder straps, and the waist belt. This breathable baby carrier can only be used for front and back positions.
2. The best ring sling for hot weather
If you are looking for the best ring sling for summer, we've got some great news for you: all ringslings are airy, light, and easy to travel with as they consist of only one layer wrapped around your baby!
TIP: If you want to learn more about ringslings and why they are the perfect travel assistant, check out our guide to the best baby carrier for traveling.
They're perfect for hot weather because you usually carry your baby on the hip, which allows more coolness between the two of you. They come in a variety of blends, so you can opt for cooler fabrics like linen or silk to make them even more heat-resistant.
The biggest downside of a ringsling is the fact that you mostly carry on the hip (little babies are carried in front and – although you don't see it that frequently – it is possible to back carry as well) and that means all of the weight is put on one shoulder. Therefore it is not the kind of carrier you want to use for hourlong walks. However, it is absolutely lovely for strolling around or when you have an overactive toddler that loves to get in and out every 50 meters.
3. The best baby wraps for summer
4. The best infant carrier for summer newborn
5. The best toddler carrier for hot weather
Even though the brands state that their carriers allow up to 45 lbs (20kg), as your child gets older they won't be comfortable anymore in a regular baby carrier.
A 2 or 3-year old still gets tired very quickly, especially in the heat. Therefore, a toddler baby carrier is not an unnecessary luxury!
When it comes to the best carrier for a toddler in summer, the same rules as above mentioned, apply: stay in the shade as much as possible, hydrate and take regular breaks.
A lot of people prefer a soft structured carrier for toddlers over a wrap or sling because those tiny walking humans tend to run around, hop in, hop out and repeat. Can you imagine tying your wrap a zillion times in 86 degrees?
If you do prefer wrapping your toddler, choose a woven wrap to prevent shoulder and back pain. You don't need a special toddler wrap. Click here to take a look at the best wraps for hot weather.
A ring sling can be very useful, especially with an active toddler. Sitting on the hip is probably a child's favorite position and it's a lot easier to do so with the support of a sling than just your arms. Ringslings are one size only, so take a look here to pick the best one for you.
TIP: Children love to imitate their parents. Get your little boy or girl their very own doll baby carrier. Check availability and price at Amazon or Boba.com .
#AffiliateLink
LÍLLÉbaby CarryOn
The Lillebaby CarryOn is suitable for children from 20 up to 60 lbs (9-27 kg).
Like its smaller brother, the toddler carrying backpack has 3-way adjustable straps, a removable hood and features 2 pockets.
The biggest plus of the CarryOn is its wider and taller torso, which keeps even taller children comfortable.
We consider this the best toddler carrier for hot weather!
ACCESSORIES
If you are looking for a summerproof solution for a baby wearing item you currently own, take a look at this baby carrier sun cover! (search for 'cover' in the search bar) (#AffiliateLink)
It fits over any baby carrier, wrap or sling AND even a stroller or car seat! Speaking about versatility!
This lightweight sunshade for baby carriers are suitable from birth up until 18-24 months and have a protection factor of UPF 40+.
---
Hot weather won't stop your baby from drooling on your babycarrier or yourself, here you can find some extra cute drooling and teething pads.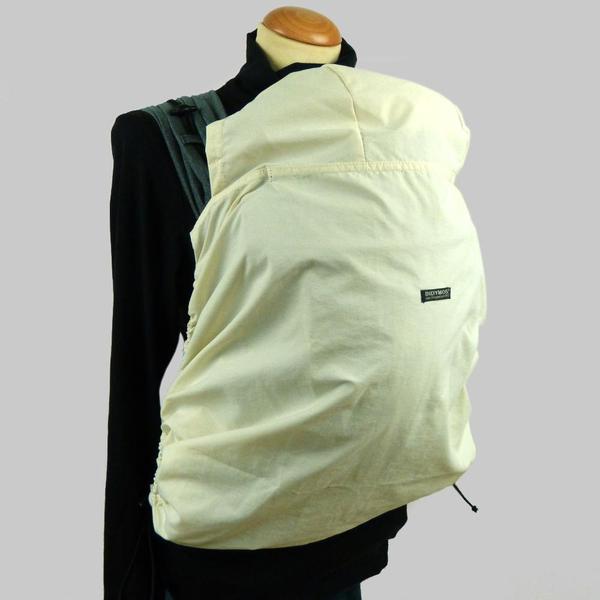 INFORMATION GUIDE
---
What to consider when buying a baby carrier for hot weather?
When deciding on the best baby carrier for summer heat, there are 2 options:
you either chose a carrier that is specifically designed for the heat and/or the water (but unless you live in a place that has warm weather all year round, you're probably not going to use that one as your only carrier). However, you can always use a baby carrier hot weather during colder times, you just have to dress your baby/yourself appropriately.
or you go for one that is versatile and can be used in winter and in summer (but as it was not designed solely for a hot climate, it might not be the best baby carrier for warm weather).
TIP: The most important thing to think about when carrying your baby, is overheating. Make sure you always dress your baby appropriately and remember that your carrier acts as a layer of clothing.
How to keep your baby cool while baby wearing in a hot climate
Dress both yourself and your baby in light and airy clothes. 100% cotton or linen are known to keep the body cool. Another option is sport or hiking clothes that are breathable and dry quickly.
When you put a muslin cloth between your baby and yourself, it prevents things from getting too sticky. You can easily swap it out when it gets wet.
Keep both of you hydrated. Water is so important in the prevention of overheating! Drink enough liquids and make sure to take regular (breast)feeding breaks when your baby is too small to drink water.
Water can be used in other ways than drinking as well. Spray it on your baby's feet and hands to cool down for a bit (don't forget yourself either!).
Make sure to stay in the shade or use hats to cover your and your little one's heads. Wearing an umbrella works as well! You can use the sleeping hat of your buckle carrier or the tail of your ring sling to keep your baby's face out of the sun.
If you are babywearing with a wrap, choose a carry that has as few layers of fabric as possible. You can practice your single layer carries here. A good alternative is a ring sling, which always has just one layer of fabric.
Take regular breaks in the shadow to cool down!
Other things to keep in mind when choosing the best baby carrier summer
UV Protection: Some baby carriers for hot weather include UV protection, so this might be a good option when your baby is too young to wear sunscreen and you'll be walking in the sun a lot.
Coverage: a lot of carriers come with a kind of hat, either a piece of fabric which you can button to your carrier or an actual hoody. You can easily hide your baby's face from the sun with them. It serves as rain protection as well and it makes sure the neck is supported if they fall asleep.
Ventilation: some carriers come with zippers to allow extra ventilation.
Fabric: the best fabric for hot weather is something light and breathable. Linen and 100% cotton serve this purpose really well. Muslin is a great choice too. If you're going for a full buckle carrier, you can opt for one with a mesh lining. Some wraps and ring slings are even completely made out of mesh fabric (The Beachfront wrap & ringsling) (#AffiliateLinks). An added bonus is that these kind of carriers are waterproof as well.
Back Carry: if your baby is old enough to be carried on the back (when they can sit independently, usually around 6 months), this is definitely the best choice. It just feels a lot less sweaty when you have your baby on the back.
Color: it may sound obvious, but dark colors attract the sun. So if you're planning on traveling to a warm climate, opt for a white, beige or brightly colored one.
Water: if you like to spend a lot of time in or near the water, it might be a good idea to choose a carrier that is designed for water activities. A fast-drying fabric is more comfortable for both of you. They especially come in handy when you want to go swimming with a little one while you must have your hands free for an older sibling.
TIP: You can find our blogpost on the best waterproof baby carrier here.
---
Mums on Flipflops is a participant in the Amazon Services LLC Associates Program, an affiliate advertising program designed to provide a means for sites to earn advertising fees by advertising and linking to amazon.com, amazon.co.uk, amazon.ca, amazon.de, amazon.fr, amazon.it and amazon.es. Amazon and the Amazon logo are trademarks of Amazon.com, Inc. or its affiliates.