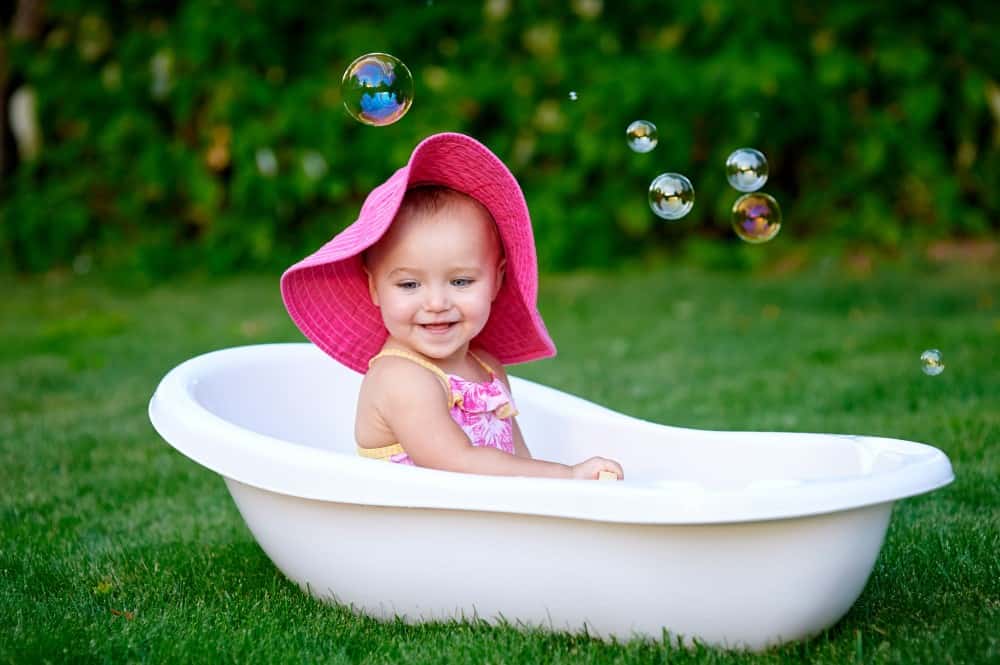 WHAT IS THE BEST TRAVEL BABY BATH (INFANT TO TODDLER): REVIEWS & GUIDE FOR COLLAPSIBLE AND INFLATABLE BABY TUBS [2022]
We all know it: kids can be messy and that doesn't change when traveling – quite the opposite! At home, you probably have the luxury of an actual baby bath on top of a bathtub and/or shower. But in general, you won't have that while traveling.
How are you going to get your little one clean? Read on to find our information guide to bathing a baby while traveling and a comparison chart to find the best baby bath for travel for your family.
There's a good chance this post contains affiliate links. This means that if you purchase anything through one of our links, we'll receive a small fee (it won't cost you anything, promise!). As an Amazon Affiliate, we earn from qualifying purchases. If you would like to learn more about our affiliate partners, click here for our disclaimer.
The best Travel Baby Bath 2022: top picks
---
comparison chart
---
IMAGE
PRODUCT
Blooming Bath Lotus

foldable | 1.1 lbs | 0m – 6m

CHECK PRICE ►
Puj Flyte

foldable | 1.23 lbs | 0m – 6m

CHECK PRICE ►
Summer Fold Away

foldable & inflatable | 3.75 lbs | 0m – 3 years

CHECK PRICE ►
Stokke Flexi Bath

foldable | 3.4 lbs | birth (with separate newborn support) – 3 years

CHECK PRICE ►
Weylan Tec Medium/Large

foldable | 14.55 lbs | 6m – 145 lbs (2 kids or 1 small adult)

CHECK PRICE ►
Baby Joy

foldable | 5 lbs | birth – 3+ years

CHECK PRICE ►
Intime inflatable tub

inflatable | 2.4 lbs| 6m – 4/5 years

CHECK PRICE ►
Mommy's Helper Froggie

inflatable | 1 lbs | 6m – 24m

CHECK PRICE ►
Disney Inflatable Tub

inflatable | 1.8 lbs | 6m – 18/24m

CHECK PRICE ►
Munchkin Duck Inflatable Bathtub

inflatable | 1.6 lbs | 6m – 15m

CHECK PRICE ►
We'll help you decide which inflatable or collapsible baby bath tub will suit your family the best. Below we've made a detailed description of each baby bath based on all the reviews we could find, but you can first take a quick look at our comparison chart.
Buying guide
---
How do I bathe my baby on a trip?
IN THE TUB: in case your hotel room features a bathtub, it is possible to bathe your baby in there. However, you might not always have enough room to kneel comfortably. An alternative might be to get in the tub with your little one.
IN THE SINK/WITH A SPONGE: in case the sink is big enough, you can opt for bathing your baby over there. However, make sure to scrub it good really good first. Another option is to put your baby on a warm, flat surface (f.e. a thick towel) and use a sponge and the sink water to clean your baby.
IN THE SHOWER: showering your baby might seem like the easiest option because you can always count on having a shower at your room and you don't need to drag additional items. However, it is also the most dangerous way of bathing your baby! It is easy to slip or drop your kid. Always make sure to keep a tight hold and block the water from hitting your baby directly.
WITH A SLING: if you are into babywearing or if you don't want to drag along a portable babybath than this is a good option to bathe your little one. The downside is that you have to get wet as well. You can shower together without the risk of a slipping baby. Using soap might get more difficult as the fabric covers most of your child's body.
TIP: If you're interested in using a ring sling in the shower, take a look at our article on waterproof baby carriers.
WITH A PORTABLE BABY BATH: Not feeling comfortable with any of the above options? A travel baby bathtub might be the perfect solution! Yes, you have to take it along with you (though an inflatable infant bathtub doesn't take up that much space), but it makes traveling with a baby that much easier!
Did you realize that a portable baby bathtub is right up your ally? Deciding which one you need, depends entirely on the way you like to travel? Do you always take a flight out to a foreign country? Do you prefer to go on an RV-road trip (read more about the best way to pack a motorhome here) or do you like to camping? Read on to find the best travel bath for your family!
Until what age do I use a travel baby bath?
How long you are going to use an inflatable baby tub evidently depends entirely on yourself. Some people never use one, others invest immediately in an inflatable toddler tub to last a couple of years.
We believe that those first 6 months are the hardest to cover without a portable baby tub. As long as your baby can't sit independently, you'll have the annoyances and dangers mentioned above.
But even if your baby is capable of sitting, you're not out of the clear yet. You still have to hold your baby in the shower or sit on your knees in a too small hotel bathroom.
An inflatable or collapsible baby bath can generally be used until around 3 years old. Which makes them an even better option if you're planning to use an inflatable bathtub for toddlers as well. Some of the tubs we recommend can be used until the age of 5 or even older!
What type of travel tub do I need?
Whether you're traveling by public transport, car or plane, you really don't want to be carrying around an actual baby bath. They are not made to be transported and while not necessarily heavy they tend to be rather bulky. In fact, there are only 2 types of baby baths that are an actual option to add to your travel gear.
Foldable baby baths: this kind of travel bathtub generally folds flat. That way, it will never be really tiny, but it's more durable than the inflatable baby baths. They'll likely won't break during the time you're using it (so they might even last more than 1 kid!)
Inflatable baby bathtubs: this kind of travel baby tub can be inflated either by an air pump or by mouth. Like most inflatable products, it takes up very little space when deflated. The biggest con is the possibility of air leaks, especially when dragging it around in a suitcase.
Accessories
The baby travel bathtub guide isn't complete without mentioning some cute accessories. We weren't able to resist some mentioning some of these cute bath toys. Check out these adorable floating ones from Munchkin or this one that automatically sprays water from Agedate.
For your baby, we recommend a travel set of baby products, like this one from Puracy has everything you need)! This will be good for your baby's skin and smells amazing.
We also used fast drying – absorbing and super soft washing cloths, like the ones from Arus. The cloths can also be used as an instant bib or even as a baby wipe.
(#AffiliateLinks)
Reviews
---
1. The best portable infant bathtub
Blooming Bath Lotus – baby bath in sink, tub or shower (#AffiliateLink)
PRO
use in sink, tub or shower (if you're careful)
use as a pillow while you bathe your baby with a sponge
CON
not very compact, even when folded
takes a long time to dry without dryer
The Blooming Bath Lotus is a folding baby bath tub that is primarily used in the sink. The soft polyester flower leaves will prevent your baby from hurting themselves.
The materials used are all safe both for your little one and for the environment. The new 4-leaf design is made from a soft, quick drying fabric and is easy to fold to travel/store away.
The flower travel bath baby measures 33 inches (84cm) from tip to tip, while the centre of the flower is 8″ (20 cm). Because it is this big, the portable baby bath tub will take up quite some space in your suitcase.
You can use this fold up baby bath in the sink or regular bathtub of your accommodation. In the shower is possible as well, but keep in mind that it's not recommended to run the water directly on your baby (because the temperature might change at all times).
Another way to use this portable bathtub for baby is as a washing pillow. You can put your baby down and bathe them with a sponge.
When you're finished bathing your baby, wring out the excess water and hang it up to dry (or put it in the tumble dryer for 10-15min if you have one available). Unfortunately, even when you wring it as hard as possible, it will still take quite some time to dry, especially in a more humid climate. And when it doesn't dry properly, the travel baby bath support might become smelly.
You can put the travel infant bathtub in the washing machine and dryer, but on a gentle cycle only. Many parents recommend washing it after every other use to prevent mildewing.
For our Canadian readers: Click here to buy the blooming bath tub / For our readers from the UK: Click here to buy the blooming bath tub
---
Puj Flyte Tub – in sink baby bathtub (#AffiliateLink)
PRO
easy & compact for travel
mold-resistant
easy to dry
CON
use in sink only
can't hold much water, so it cools down quickly
bigger babies outgrow it fast
The Puy tub is a collapsible baby tub meant for use in the sink. The ideal sink-size is 16-19″ (40,6-48 cm) (left to right) x 11-13″ (28-33 cm)(front to back) x 4-6″ (10-15 cm) (deep). In addition, you can use it as a baby bath insert as well.
It's a great travel companion because it folds flat so you can put it into your suitcase (not in a carry-on!). This makes it convenient for storage as well (at home or away)! It measures 24″ x 10″ x 1.5″ (61 x 25.4 x 3.8 cm) when folded. At 1.23 pounds (560g), it's pretty lightweight as well.
This baby fold away bath is made from a sturdy (but soft!) closed-cell foam which is toxic-free. Therefore, it is mold-resistant. The bottom has a grippy texture that prevents the foldable tub for babies from sliding around.
Cleaning the fold up baby bath is simple with some soap and water and you can wipe it dry in a couple of seconds. There is a little hole in the corner that you can use to hang it (use a hair tie to make a loop so you can attach it to something in the bathroom of your accommodation).
Because the travel bath for baby can't hold much water, it tends to cool off quickly. It's a little inconvenient to have to add warmer water frequently – or you can just keep it running.
Many reviews mention that your baby doesn't have much room for splashing and playing, but since we're looking for the best travel baby bathtub, this gets the job done.
The Puj Flyte travel infant bathtub is suitable for babies from birth to about 6 months or until 17 pounds (7,7 kg) according to the firm. However, many parents report that bigger babies outgrew this tub at the age of 3 months.
For our Canadian readers: Click here to buy the Puj Flyte / For our readers from the UK: Click here to buy the Puj Flyte
2. The best collapsible baby bathtub
Stokke flexi baby bathtub foldable (#AffiliateLink)
PRO
from birth (with newborn support)
great for toddlers and even small preschoolers
easy and quick to set up
very sturdy, does not break
easy to store
heat-sensitive plug
CON
folds flat but still large, so takes up a lot of space in the suitcase
can be slippery
locking hinge might break
deep but small and narrow! Only 26″ (66cm) long, so no swimming for bigger kids
The Stokke Flexi Bathtub is a lightweight foldable baby tub that is very suitable to add to your list of travel gear for kids.
It weighs only 3.4 pounds (1.5 kg) and provides ergonomic and flexible support. The colored lines on the bottom are meant to prevent your child from slipping, but some parents mention that their babies have a hard time sitting because it's a bit slippery.
It was designed to save space and thus folds flat so you can store it easily and even put it in your suitcase (although it would take up a lot of space and it won't fit in a carry-on of course!). This results in dimensions of 26″ x 9.4″ x 13.7″ (66 x 24 x 34.8 cm) when in use and 8″ x 9.4″ x 3.9″ (20.3 x 24 x 10 cm) when folded.
A heat-sensitive rubber stopper makes it easy to drain the water. If you put the stopper under a corner it will be even easier. Many people choose to just dump the water because taking the stopper out and putting it back in is a bit of a hassle. The locking hinge holds the tub down when it's folded, but might break after a while. The travel tub for baby is very easy to clean.
You don't have to use this portable baby bath solely while traveling, it is perfect at home as well! Babies tend to outgrow their baby baths quickly but are still too small for that grown-up bathtub. That's where the Stokke bath can come in. It's the perfect size for an in-between baby tub and it fits perfectly in a standard bath.
This foldable bathtub for baby is suitable from birth to 3 years, which makes it an excellent portable bathtub for toddlers too. However, when you use it for your newborn, you'll need the newborn support, which isn't foldable and thus not travel-friendly at all!
Be aware that Stokke states it is suitable up until 4 years, but many parents say it is too small for their preschooler. Don't forget it is only 26″ (66 cm) long, which is not big at all! A toddler won't be able to swim in it, but because it is quite deep, it will still be a comfortable bath.
The Stokke Flexi Baby is the best foldable bathtub for toddlers!
For our Canadian readers: Pick your favourite Stokke Flexi bath here / For our readers from the UK: You can buy the Stokke Flexi bath here
---
Baby Joy baby folding bathtub (only available in Canada) (#AffiliateLink)
PRO
large, deep and spacious
sturdy, one piece
from birth (included baby sling) to 3+
adjustable back
CON
too big for a suitcase
plug can be easily removed by kids
slippery
seat might pop down because of warm water
The Baby Joy foldable baby bathtub is made from safe and non-toxic materials.
Thanks to the deep and spacious tub, your baby (and even a toddler) gets to enjoy a very comfortable bath.
Like a proper tub, this newborn to toddler fold away bath tub has a removable plug for quick water drainage. Kids tend to be quick in figuring out how to remove the plug, so keep a close eye if you want to prevent having to fill the tub over and over again.
The bottom legs are non-slip so you can use this travel bathtub on any flat surface. The inside is reported to be slippery, so if your little one can't hold themselves yet, you might want to add some anti-slip stickers.
Because it comes as one piece, it is easy to clean and easy to transport without losing parts. It comes with a handy storage block for toiletries as well.
You can use the foldable baby bath tub with a newborn as well. It's possible to recline the position and it comes with a special padded mesh sling. This way it is easy to keep your tiny baby's head above water. One thing to mention is that warm water makes the plastic go soft and the upright position pops back down because it can't hold the baby's weight.
The Baby Joy portable bathtub is convenient as a travel companion, folding entirely flat by pushing 4 safety button buckles. The dimensions of the bath are 33.5″ x 20.1″ x 8.7″ (85 x 51 x 21.6 cm), while the height reduces to a mere 2″ (5 cm) when folded. The net weight is 5 pounds (2.3 kg).
Quite a lot of parents mention that this travel baby bath tub is too large for traveling and easy storage. Because of the dimensions, it is not very suitable for airplane holidays. However, it will do perfectly on a road trip or to use at home if you don't have a tub or a baby who is scared of the large bathtub.
The folding bathtub is suitable for babies from birth but it's also a bathtub for a 3 year old (and it's so big that even preschoolers could get in!) and is available in bright blue, green and pink.
The Baby Joy tub is the best foldable infant bath tub we could find and definitely the best portable infant to toddler tub!
For our UK readers: The Baby Joy foldable baby tub isn't available on Amazon UK. There are several similar options but none of them come with a baby sling. You can, however, buy a separate sling here. Click here for the Keraiz baby bath tub travel, here for the iSafe and here for the GoBuyer.
3. The best inflatable baby bathtub for travel
Fajiabao baby bathtub inflatable (#AffiliateLink)
PRO
durable and sturdy for an inflatable tub
very big: up to 5 years!
inflatable pillow to prevent slipping
CON
too big for a baby
slippery
The Fajiabao portable bathtub is one of the most durable inflatable tubs for your baby.
As it is filled with air, leaks are likely to occur. However, this portable bathtub for kids will last somewhere between a couple of months and 2 years. Which makes it a lot more sturdy than the inflatable duck tub or the Disney baths. And they even add a small tube of glue to your package, to make sure you can keep on using your baby bath even if problems should arise in the future.
The outer size is 38.5″x25″x11″ (97.8 x 63.5 x 28 cm) while the inner size is 30″ x 15.5″ x 10″ (76.2 x 39.4 x 25.4 cm) and you can easily put it in your suitcase when folded. Because of this large size, it is suitable for kids until 3 years, but parents state that even kids up until 5 years fit in this baby inflatable tub!
The Fajiabao inflatable bathtub for kids is made from safe and non-toxic materials. Unfortunately, it smells quite a bit at the beginning, but the odor fades quickly. The bottom of the tub holds a special drainage outlet for easy emptying.
The ribbed design should prevent your child from slipping, but it still is quite slippery. An inflatable pillow in the middle makes it easier for your baby to stay upright. It has a separate inflation valve so you can just leave it flat for bigger kids, it won't hinder them.
A storage pocket on the side and a loop to hang it to let it dry, makes this baby inflatable bath even more convenient. As does the curved back, which makes rinsing hair a lot easier.
You can use this inflatable bathtub for shower or you can put it in the regular tub. You can use the 3 valves to blow it by mouth or with an air pump. The high walls will prevent your little one from tipping over, unless they are into wall climbing for toddlers.
The Fajiabao travel bath weighs 2.4 pounds (1.1 kg) and is available in blue and pink. There are many baby tubs for showers available on Amazon with a very similar design.
It is suitable for children age 6 months to 3+ years. Although it states to be an inflatable infant bathtub, parent reviews mention that it is too big for a newborn. It is better to wait until a baby can sit independently because the inflatable travel baby bath is that large.
It is the perfect travel bathtub for toddler, as a 3 year old will still have a lot of space and even older kids will fit in. It's a great transitional tub as well!
The Fajiabao tub is the best inflatable baby bathtub for toddlers!
The Fajiabao inflatable bath tub baby isn't available on Amazon Canada and Amazon UK. There are a lot of similar (or even exact) designs. You can check them out here for Canada or click here for the UK.
---
Mommy's Helper Froggie inflatable tub baby (#AffiliateLink)
PRO
cheap
(optional) saddle horn to prevent slipping
perfect for travel (ultra-lightweight/compact)
removable drain
CON
saddle horn may cause discomfort for baby boys
fill up enough or it might tip over
no suction cup for drying
The Mommy's Helper Froggie baby travel bathtub is a very simple and straightforward blow up baby bath.
The inflatable tub for babies measures 19,5 x 10 x 7,5 inches (49,5 x 25,5 x 19 cm) and deflates into a tiny package – as per usual with a blow up baby tub.
The main feature of this simple rectangular baby travel bath tub is the saddle horn. This obstacle can be inflated to prevent your little one from slipping and sliding. Inflating is optional, so when your child is bigger, you can choose to use it as a toddler bath tub (for shower) without the saddle horn.
It is easy to inflate through the 3 valves (bottom, sides and saddle horn) and deflating goes very quickly. Therefore, it's a great travel companion!
It's a great tool to use as a baby bath for shower, but it fits snuggly into a regular tub as well. You can use the large drain hole to let the water out or you can just lift it up and top it over – as it is small enough to do so. Also, don't forget to stuff something (a bath toy for example) underneath the bottom to make the draining process easier.
As with many products made from plastic, there is a chemical smell when opening the package and for the first couple of days.
The inflatable bathtub for babies is easy to tip when empty, so make sure to fill it enough to prevent that from happening while you are bathing your baby while traveling.
The Mommy's Helper baby tub for shower or travel is suitable for babies and toddlers age 6 to 24 months. Make sure that your little one can sit up on their own more or less stable because if not, this travel bathtub for baby will not offer enough support.
For our Canadian readers: Click here to shop the Mommy's helper inflatable tub for toddlers / For our readers from the UK: unfortunately, the Mommy's helper inflatable bath baby is not available on Amazon UK
---
Disney baby bathtub inflatable (#AffiliateLink)
PRO
lightweight & easy to transport
large storage pockets that are great for playing
suction cup to let it dry
CON
small and undeep
non-detachable support pillow
slippery
temperature display isn't useful
no drain
The Disney travel baby and toddler bath is a cheap portable baby tub that is going to be a whole lot of fun for you and your baby! The material is PVC that is free of BPA, Phthalates and heavy metals.
This baby inflatable bathtub measures 20.5″ x 7″ x 30.5″ (52.5 x 17.8 x 77.5 cm) and weighs 1.8 pounds (800g). It is not very deep, so your little one will only be splashing around in it, but as it is only suitable for small children that's hardly a problem.
Bear in mind that this isn't a large inflatable baby bath. The inside compartment measures 19″ (48.3 cm) but it comes with a non-detachable support pillow which limits the actual bathing space to 16″ (40.6 cm).
The features officially include a non-slip surface, a water temperature display and large storage pockets for soap and shampoo. Many parents report that it is very slippery, so make sure you always stay near to your child! Also, buying some non-slip bathtub stickers won't hurt. Check them out here.
The temperature display works but with very subtle shading, making it very hard to see. You should not rely on this! The large pockets are usually a big success and great for some baby play time.
You should inflate this infant travel bath by mouth. If you find it hard, make sure you squeeze the inflaters because they are self-closing and only open up if you squeeze while blowing. The baby inflatable bath tub comes with two valves: one for the bottom and one to inflate the sides.
Unfortunately, there is no drain, so you'll have to push it over to get the water out. Because the sides stick out a bit, the inflatable baby bath tub is hard to fill without a shower head or bucket.
The Disney inflatable tub for baby has a suction cup so you can hang it out to dry. Make sure to dry it really carefully afterwards, because all the holes and nooks make it attractive for mold.
Please note that this is an inflatable bath tub for baby and thus susceptible to air leaks. Some parents manage to keep it over a year, while others mention it already started deflating after a couple of days. But in any case you probably won't be able to use this tub for your child's whole infancy and toddlerhood.
The Disney travel bathtub can be used for children from 6 months to 18/24 months. Toddlers that are over 18 months won't have a lot of space in the inflatable infant tub. Parents report that it is bigger than the duck inflatable tub we mention below.
Your little one can choose their favorite Disney character: Mickey Mouse, Nemo and more.
For our Canadian readers: you can find the Disney inflatable bathtubs for toddlers here / For our readers from the UK: the Disney portable tub for toddler is only available in an expensive princess-version. You can find it here. We recommend choosing another baby bath (inflatable) such as the Tiny Tots, Munchkin or Infantino whale tub
---
Munchkin white hot inflatable bathtub baby (#AffiliateLink)
PRO
cheap
removable drain
cute design
CON
difficult to inflate and deflate
suction cup doesn't work (well)
small (can only be used from 6 to about 15 months)
The Munchkin inflatable bathtub for baby is a good choice when you want a lightweight travel bath that is cheap above all.
Thanks to the padded design, your little one gets a safe and comfy environment. The duck's tail offers additional back support for your baby. The Munchkin bath tub is sturdy and doesn't fall over when it's filled with water.
The Munchkin white hot inflatable duck tub should be inflated by blowing into the 2 valves (one for the bottom and one for the sides and head). It is recommended to use an air pump as many reviewers say that it takes ages and is a lot of hard work to get it filled by mouth. You should always squeeze the valves when blowing, but it might still take up to 30 minutes.
Deflating the inflatable duck bath isn't that easy either. It might be useful to open the valves and let it deflate naturally overnight. This will save you a lot of time.
The White Hot safety technology tells you when the water is too hot for your baby's skin. However, it doesn't seem to work adequately for everybody. Some parents mention it already shows HOT with lukewarm water, while others say that the letters become unreadable when the water is too hot.
The bottom of the duck inflatable tub is textured, making sure the child doesn't slip. However, parents report that it still is quite slippery.
It comes with a removable plug for easy emptying, but it is so small that it can be tipped over as well. Because of the form, it's a little difficult to fill without a removable shower head.
The Munchkin inflatable duck comes with a suction cup at the back, which you can use to attach it to the large bathtub to prevent it from sliding around. Furthermore, you can hang the Munchkin inflatable tub to dry, but the suction cup doesn't work all too well.
The material is a sturdy plastic, so normal bathing shouldn't get it punctured easily. The reports on air leaks are so-so, meaning that some people get an inflatable duck bath tub that doesn't stay inflated from the very start, but others use it for a couple of months without problems. However, don't expect it to last all of your kids. The price makes up for that though.
The Munchkin inflatable safety duck tub was voted the best baby bathtub 2016 by Babycenter. The bathtub weighs only 1.6 pounds (0.7 kg). Inflated it measures about 31″ x 19″ (78.8 x 48 cm), although the inner size is only 19″ x 10.5″ (48 x 26.7 cm). It deflates to a package of about 9.3 x 2.9 x 8.8 inches (23.6 x 7.4 x 22.4 cm).
The Munchkin travel bath can, in theory, be used from 6 to 24 months, but is actually perfect for babies between 6 to 15 months. It is too small to suit a toddler and very few people can use it for kids over 18 months. The inflatable bathtub for shower or traveling is available in a duck or swan design, although, keep in mind that the latter is smaller.
For our Canadian readers: you can find the Munchkin inflatable bathtub toddler here / For our readers from the UK: Buy your Munchkin duck tub here
FAQ
How do I bathe my baby while traveling?
What kind of baby travel baths are there?
There are 2 types of portable baby tubs: inflatable and foldable.
The first category inflates by air and can be deflated to transport. They are very compact, but also prone to tears and leaks.
The foldable bathtub folds flat to take with you. They don't pack that small, but they are more durable.
Click here to find out what the best inflatable and foldable tubs are.
What is the best portable tub for babies when roadtripping?
What is the best portable baby bathtub when flying?
Less is more when you are traveling by plane. If you decide to bring a travel bath for your baby on your trip, it should be as compact as possible. Although they are more likely to leak over time, an inflatable baby bathtub is still your best choice. They are compact and easy to store in your carry-on or checked luggage.
Click here to read in-depth reviews of the best baby inflatable bathtubs.
What to do with the time difference after flying for a long time?
From our experience, giving our baby a bath made her calm down and prepare her for nappy time. After a long flight, all we wanted to do was going to bed and get some sleep but as you know sleeping and babies isn't always an easy combination. So to keep your bathing rituals from home can help your little one to adjust to jetlag and give yourself some time to fight the jetlag as well in a happy way.
---
Mums on Flipflops is a participant in the Amazon Services LLC Associates Program, an affiliate advertising program designed to provide a means for sites to earn advertising fees by advertising and linking to amazon.com, amazon.co.uk, amazon.ca, amazon.de, amazon.fr, amazon.it and amazon.es. Amazon and the Amazon logo are trademarks of Amazon.com, Inc. or its affiliates.
---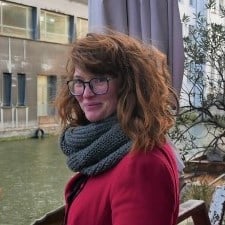 ABOUT THE AUTHOR
Babs Rodrigus is the co-founder and main writer of Mums on FlipFlops . She is absolutely crazy about travelling – especially together with her wife and kids. Babs loves animals, chocolate (what did you expect from a Belgian?), reading and writing.